Correctly selecting and installing the ideal component provides significant health, environmental and economic benefits.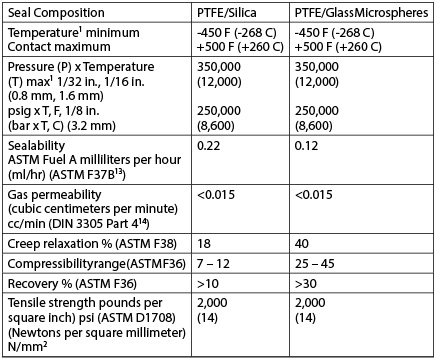 Table 2. The typical physical properties of two different PTFE gaskets for flanged equipment connections
Temperature and pressure should not exceed continuous maximums, and their product should be less than the P x T factor. Also, the material must be chemically compatible with the media. Lower sealability and permeability values are recommended if the media requires a tight seal, and lower creep is desirable if the application involves thermal cycling. For non-metallic and worn flanges, gaskets with higher compressibility will seal with less load and fill in any surface irregularities.
Proper Installation
Installing a seal correctly is as important as selecting the correct seal for the application. The key to effectively sealing gaskets is compression. Packing rings for pumps and valve stems must be properly seated and compressed. Pump packing should be lubricated and run in carefully to avoid burning. Many sealing suppliers provide training to ensure the proper installation of their products.
If the incorrect seal is selected or the correct seal is installed improperly, the result is premature failure and leakage. Several conditions contribute to such failures—including the following:
Packing that has been burned from excessive shaft speed

Extrusion caused by excessive equipment clearances

Wear from abrasive media

Deterioration from chemical contact



Blowout as a result of inadequate or uneven loading

Crushing from overloading and the application of grease

Safe sealing requires taking precautions to minimize risk and working with a supplier that can provide technical support and training on the proper installation procedures. A cogent plan for the selection and application of safe sealing products will yield significant health, environmental and economic benefits, and the peace of mind that comes with them.
Pages