The Jordan, Knauff & Company (JKC) Valve Stock Index was down 15.7 percent over the last 12 months, while the broader S&P 500 Index was down 0.7 percent. The JKC Pump Stock Index also decreased 19.0 percent for the same time period.1  
The Institute for Supply Management's Purchasing Managers' Index (PMI) increased to 51.3 percent in May from 50.8 percent in April, indicating improved manufacturing activity for the third month in a row. The average reading over the last 12 months has been 50.3 percent. Continued expansion was seen in production, new orders and export orders. The Prices Index jumped 4.5 percentage points to 63.5 percent, its highest level since 2011, with 13 of the 18 industries reporting higher input prices.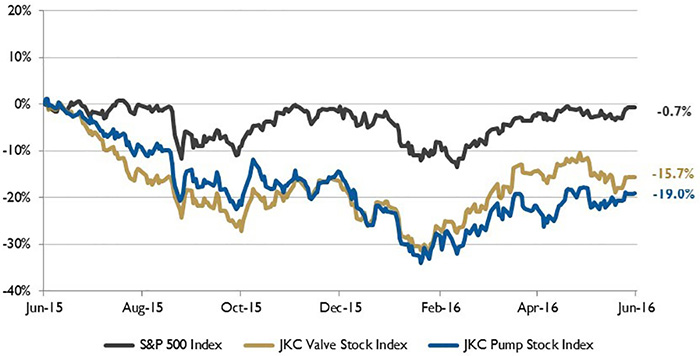 Figure 1. Stock indices from June 1, 2015, to May 31, 2016. Source: Capital IQ and JKC research. Local currency converted to USD using historical spot rates. The JKC Pump and Valve Stock Indices include a select list of publicly traded companies involved in the pump and valve industries weighted by market capitalization.
The Commerce Department reported that consumer spending rose 1 percent in April, its highest percentage gain in almost seven years. Durable goods spending rose 2.3 percent, and non-durable goods and services spending rose 1.4 percent and 0.6 percent, respectively. Personal income increased by 0.4 percent and disposable personal income grew 0.5 percent for the month. Wages and salaries grew 0.5 percent. Personal income is up 4.4 percent on a year-over-year basis.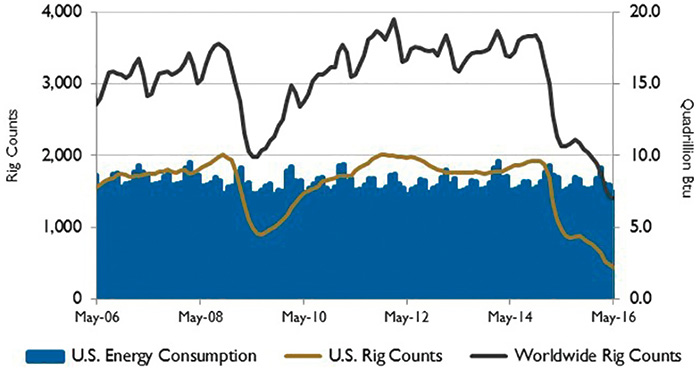 Figure 2. U.S. energy consumption and rig counts. Source: U.S. Energy Information Administration and Baker Hughes Inc.
The Bureau of Labor Statistics reported that the U.S. economy added just 38,000 jobs in May, the lowest level since 2010 and the third straight monthly decline in job gains. The unemployment rate fell to 4.7 percent and the labor force participation rate fell to 62.8 percent. The job numbers were depressed by a 35,000-workers strike at Verizon, but weakness was widespread as employment fell in all producing sectors. Private services jobs grew by 61,000, the smallest gain in almost four years. 
Driven by strong economic growth in China and India, the U.S. Energy Information Administration projects that world energy consumption will grow by 48 percent between 2012 and 2040.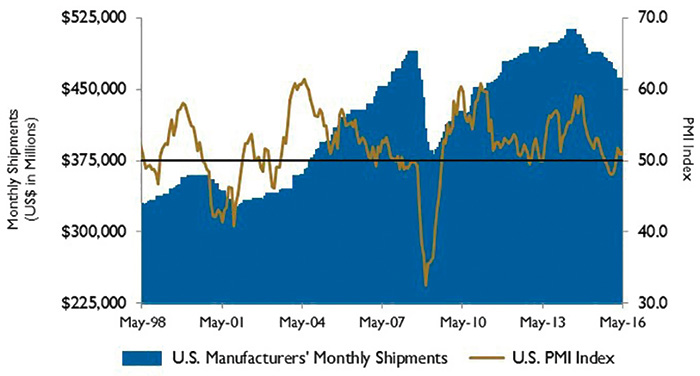 Figure 3. U.S. PMI and manufacturing shipments. Source: Institute for Supply Management Manufacturing Report on Business and U.S. Census Bureau
Renewables and nuclear power will be the fastest growing sources over this period, with renewable energy increasing by an average of 2.6 percent per year and nuclear power increasing by 2.3 percent per year through 2040. Fossil fuels are projected to account for more than three-quarters of world energy consumption through 2040, with natural gas consumption increasing by 1.9 percent per year. Liquid fuels consumption, mostly petroleum-based, is expected to decrease from 33 percent in 2012 to 30 percent in 2040.
On Wall Street, the Dow Jones Industrial Average gained 0.1 percent, the S&P 500 Index gained 1.5 percent, and the NASDAQ Composite rose 3.6 percent in May. Energy stocks were down for the month even though the price of Brent crude oil rose 3 percent and the price of West Texas Intermediate crude rose 7 percent. The technology sector was the largest gainer during the month.