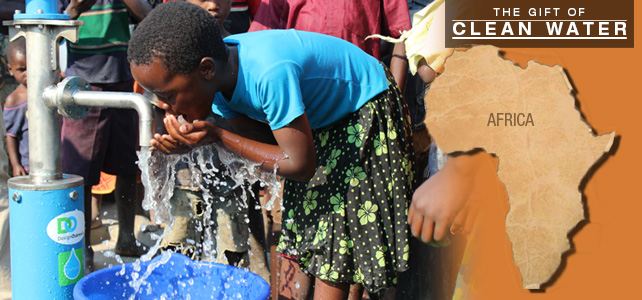 Of the world's 750 million people who live without access to clean water, more than half call Africa home. These 358 million people who lack access to safe water spend hours each day fetching water from compromised sources that often make them sick. The lost time from miles of walking and days of severe illness prevent parents from working and children from going to school. 
In sub-Saharan Africa alone, villagers—mostly women and children—spend 40 billion hours collecting water every year—water that leads to millions of school days missed because of preventable water-borne illness.
More than that, 600 million people lack access to improved sanitation, which continues the vicious cycle of contaminated water and illness.
Most of these problems could be prevented with access to a pump and well that is uncontaminated by runoff. This groundwater, scientists have found, is more plentiful than originally thought. A 2013 discovery of massive aquifers in much of Kenya and Namibia has led scientists to believe that, despite frequent African droughts, the continent is sitting on significant amounts of groundwater. While the water is there, many rural areas lack the infrastructure and resources to tap into this valuable resource. And when they do receive pumps and other technologies, maintaining them is often impossible.
To compound the problem, many scientists predict that more frequent droughts will lead to 25 percent less water in Africa by the end of the century. Still, only 4 percent of Africa's available water is being used. Even in the face of increasing drought, access to wells and pumps will help many African people gain access to a life-giving resource that is right under their feet. 
Articles