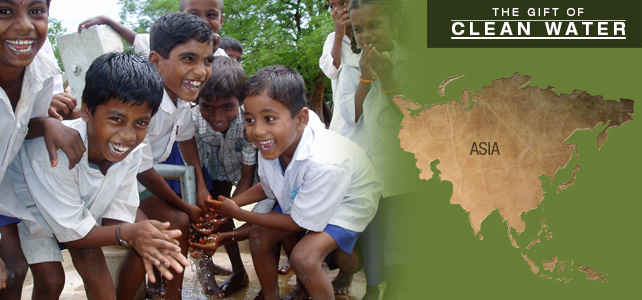 Vast and diverse, Asia is a region of the world facing unique and widespread water challenges. While some areas are plagued by drought, others are engulfed in monsoon floods and torrential rain. Both problems contribute not only to damaged infrastructure and displaced people but also to contaminated water supplies.
Because of lack of adequate water treatment infrastructure and dense populations in certain areas, water contamination is often the norm. These preventable illnesses are responsible for high child mortality rates and frequent missed school.
In some regions, drought dries up these water sources, leaving people with little water at all.
Nearly 370 million people in Asia's developing countries live without access to clean water. Like in other developing nations, women and children walk miles each day to various water sources that are often laden with water-borne disease.
While the crisis is real, the situation is improving in some areas. In Southeast Asia, for example, the number of people lacking access to safe drinking water has decreased from 119 million to 78 million between 1990 and 2006. The population having access to improved sanitation facilities increased from half in 1990 to 67 percent in 2006. According to a 2008 report by UNICEF and World Health Organization, the percentage of the population having no access to improved drinking water sources is less than 75 percent in only three Southeast Asian countries.
As more infrastructure is developed to continue to improve access to clean water, water security will become an even more critical issue. According to the Asian Water Development Outlook 2013, about two-thirds of the 49 countries evaluated in the study have inadequate water security measures. As in any part of the world, water security is essential to life.
The population of Asia is expected to continue to increase dramatically—by 60 percent in urban areas by 2025—and these problems will become more complex and challenging. Thankfully, countless companies and organizations are working to reverse the numbers and ensure that every individual has access to water that is clean and secure.