Photos courtesy Xylem Watermark
This article is part of a special
Pumps & Systems
series, "The Gift of Clean Water." For more articles, images and statistics from this series, please visit
our "Gift of Clean Water" page.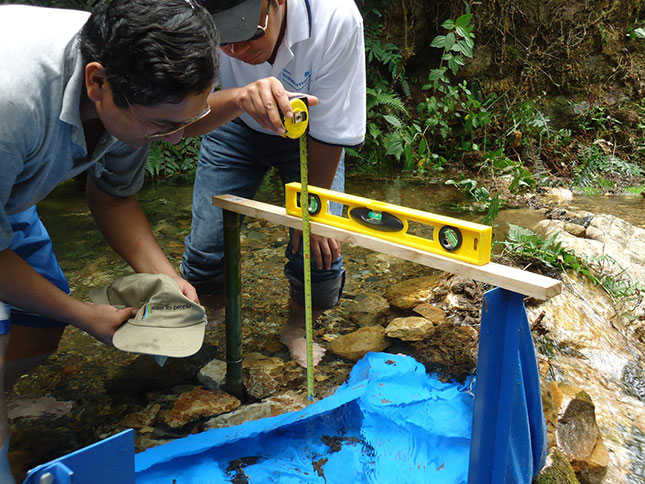 Xylem employee volunteers with Water For People test the flow of a stream while in the field in a remote, mountainous region of Peru.
The ongoing Syrian conflict has forced more than one million refugees into Jordan, already one of the world's 10 most water-deprived countries. The Mafraq City Zaatari refugee camp is experiencing a particularly significant water shortage. It opened in July 2012 with 100 refugee families and is now home to more than 120,000 Syrians. It is the world's second largest refugee camp behind Dadaab in eastern Kenya.
For more than five years, Xylem Watermark has partnered with Mercy Corps, an international humanitarian organization, to solve challenges of epidemic water scarcity. With funding from the United Nations and a $150,000 grant from the Xylem Emergency Response Fund, Mercy Corps worked to create water infrastructure improvements for Zaatari.
The effort began with the construction of two new deep wells close to the Zaatari camp. The wells are fitted with a submersible pump, backup generator in case of power grid interruptions, a chlorination facility, adequate onsite water storage, booster pumps, site security and amenities to increase access to fresh water.
At full working capacity, the two wells can provide enough water to meet the daily needs of approximately 88,000 Syrian refugees—about 73 percent of the total population of the camp. Providing the Zaatari camp with its own water supply has alleviated the pressure on other water resources used by local communities. Through the new infrastructure, local residents now have access to the same volume of water per person as they did before the Syrian refugees began arriving.
This is one example of how Xylem Watermark has addressed the complex development challenges of the world's water crisis since 2008. Through partnerships with five primary international nonprofit organizations—Mercy Corps, Water For People, Planet Water Foundation, China Women's Development Foundation and Fundación Avina—the company delivers sustainable water solutions through school- and community-based projects, disaster response efforts, and disaster risk reduction projects that secure water in vulnerable areas.
From 2011 to 2013, the partnership with Mercy Corps supported disaster risk reduction projects in China, Colombia, Ethiopia, Indonesia, Nepal and Tajikistan. Activities in these projects included the construction of flood walls and analysis of dewatering systems. The focus has been on water, sanitation and hygiene education for students, teachers and families.
Through these efforts, Xylem Watermark and Mercy Corps reached more than 950,000 people. The partners responded to 22 water-related disasters in 18 countries, providing clean water to more than 720,000 people. Jordan and other communities have received advanced filtration systems, water-saving network improvements and improved sanitation tools.
An active employee engagement program is critical to the project's success. Xylem employees are educated about the global water crisis, take a leadership role and rally their colleagues. They are given the opportunity to experience these water challenges through Global Volunteer Trips. Employees receive paid leave to participate, allowing them to see first-hand how their efforts to solve water issues make a difference for real people around the world.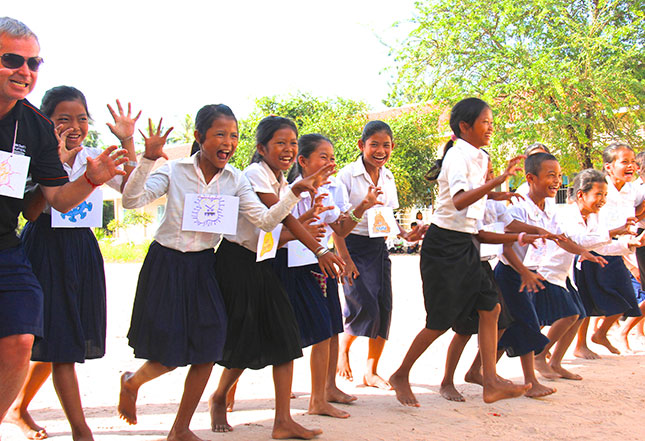 As part of every tower build with Planet Water Foundation, Xylem volunteers provide WASH education. In this image, volunteers use a game of tag to teach students about germs.
Long-Term Success with Real-Time Monitoring
Nearly half of all water projects eventually fail without proper ownership and accountability. Xylem Watermark prioritizes the monitoring and evaluation of its projects with Water For People. Through Field Level Operations Watch (FLOW) technology, an open-source Android application, volunteers in the field are empowered to analyze water source functionality and report findings in real time to a public, online database. This technology allows for the long-term tracking success of completed projects, and it quickly addresses non-functional water points. Company employees teach local leaders how to repair and maintain these water points, ensuring that any breakdown can be addressed immediately.
Cascas District of Peru
The innovative, sustainable and flexible approach to problems has allowed the partnership with Water For People to thrive and support other local programs. One example is the Cascas district in Peru.
While Peru has a rapidly growing economy, approximately 30 percent of Peruvians live in poverty, and only 85 percent have access to improved water sources. Only 72 percent have access to adequate sanitation.
An agricultural economy, Cascas is the capital of the province of Gran Chimú. The total population is 14,191, and 68 percent of them live in rural areas with no access to sanitation and fresh water solutions.
The project involved the construction of a water system for the community of Jolluco. The first water system completed in the district now provides water to more than 1,000 people daily. The project also implemented water, sanitation and hygiene (WASH) education programming in four schools and created a plan for building the capacity of water and sanitation committees. Improving the community's water system was the first step toward a sustainable solution to the sanitation crisis and ultimately transfers ownership of local water systems to community members.
Since 2008, the partnership between Xylem Watermark and Water For People has provided more than 230,000 people with clean water solutions. More than 60 employee volunteers have participated in global trips with Water For People's World Water Corps.
Tumkur, India, Aqua Tower
Through a partnership with Planet Water Foundation, a U.S.-based nonprofit development organization, Xylem Watermark focuses on schools, children and rural communities in China, India, the Philippines and Cambodia that lack access to clean, safe water. For the August 2012 project in the Mount View and Dodderi Schools of Tumkur, India, the mission was to build one Aqua Tower serving 1,000 people and offer WASH curriculum to provide clean water and sanitation and hygiene education.
Before the project, the Tumkur area suffered severe drought. Many wells dried and were unable to provide consistent water to the community. The Dodderi Government School drilled deeper bores to alleviate the situation. In both schools, the need to purchase bottled water has lessened since the completion of the project. The instances of sickness and diarrhea have decreased following the successful installation of the Aqua Towers and deployment of the WASH program.
More than 150 employee volunteers have joined Planet Water Foundation in the field to build water towers and provide sanitation and hygiene education to local school children. To date, 48 water tower installations have been completed throughout China, India, the Philippines and Cambodia. More than 48,000 people now have clean water, proper sanitation and hygiene education.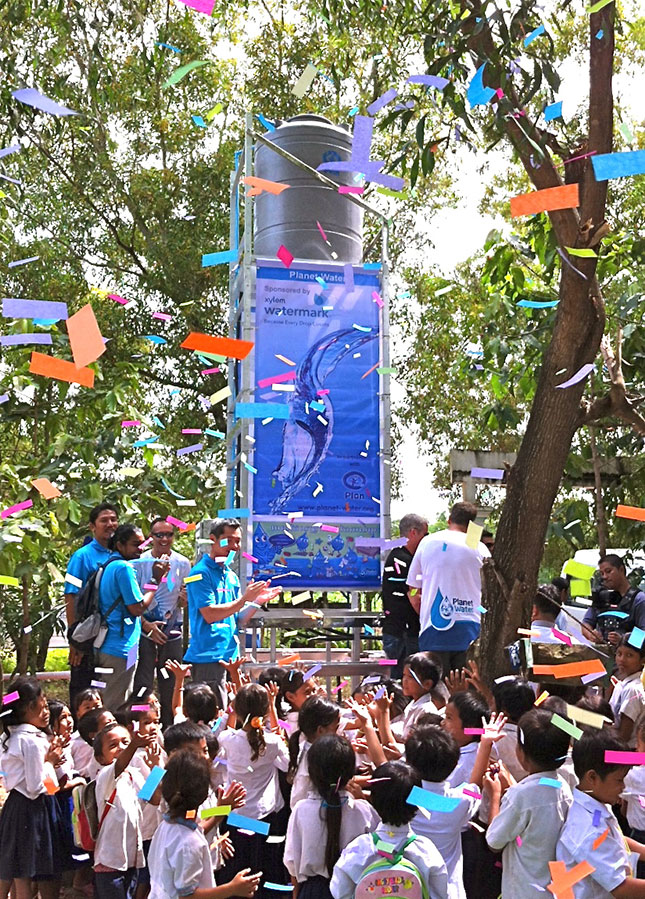 Students and Xylem employees celebrate the completion of a water tower at a project in China with nonprofit partners Planet Water Foundation and China Women's Development Foundation.
Stepping Pumps Aid Rural Farmers
Farmers comprise almost one-third of the global population. A third of those are subsistence farmers who produce a minimal amount of food annually. In India, more than 140 million farmers work each day to cultivate enough crops to feed their families. They haul water to their fields and face a daily battle to keep their crops watered.
Dozens of worldwide philanthropic organizations are working to help subsistence farmers by providing seeds, rudimentary equipment or donating the time of volunteers. Products such as Xylem's Saajhi™ Stepping Pump, a manual advanced stepping pump that was engineered, designed and vetted within rural agricultural markets, has helped increase production.
Though the product design is simple, the research behind it embodies what the rural farmer needs in a water management system. The technology is designed for the smallholder farmer. During development, extensive in-field customer profiling and research identified the irrigation needs of the rural farmer and the key elements for product longevity.
Saajhi Stepping Pumps have been placed in more than 10 countries—including Asia, Africa and South America. Impact studies are being executed to measure the economic, social and environmental effects of this pump within rural communities.
Essence of Life Strategy
The Stepping Pump is part of Xylem's Essence of Life (EOL) business strategy, a planned portfolio and channel construct. EOL leverages an exclusive hybrid value chain that brings together the citizen sector (private and non-governmental organizations), business and government partnerships.
This collaboration provides a sustainable engagement strategy, driving rural customer shared value that is supported by technology and synergistic rural community market and channel leadership.
Through Xylem's small form factor, direct-current and human-powered pumping solutions have been created to differentiate water management systems that contribute to sustainable, secure smallholder irrigation prosperity. EOL addresses the aspirational nature inherent in many rural communities and unlocks rural enterprise.
The Impact
In 2010, Xylem Watermark achieved its first milestone by reaching more than 500,000 people with clean water and sanitation solutions. In 2011, it committed to reaching one million more by 2014. Through partnerships, Watermark has reached more than 2.3 million people since 2008.
Each partner provides crucial on-the-ground expertise and offers a geographic breadth of social impact. The full spectrum of water challenges are addressed by providing financial support, water technology, sanitation equipment and hygiene education.