Images courtesy Grundfos.
This article is part of a special
Pumps & Systems
series, "The Gift of Clean Water." For more articles, images and statistics from this series, please visit
our "Gift of Clean Water" page.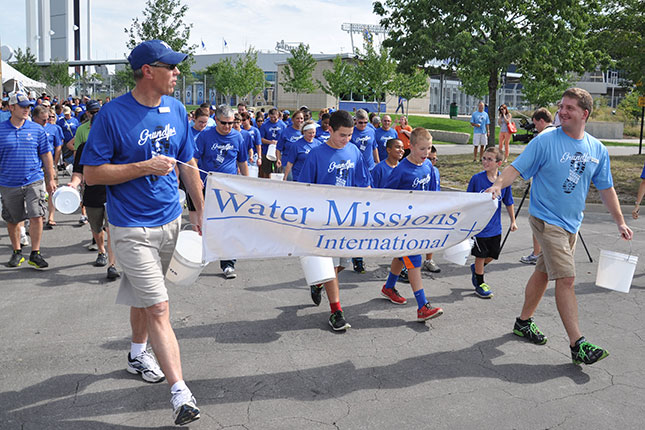 Participants of the 2013 Kansas City Walk for Water begin a four-mile journey to and from the water source.
For many years, the people of Dei, Uganda, a small fishing village off the shore of Lake Albert, depended on a contaminated lake for their drinking water. For these villagers, water was not a source of wellbeing. It was a birthing ground for sickness and disease and caused frequent cholera outbreaks.
The lack of access to safe water stripped them of opportunities for education and work and contributed to a devastating cycle of poverty.
"When basic needs are not met, we know that water is the difference between life and death," says George C. Greene, III, co-founder and CEO of Water Missions International, a nonprofit engineering organization. "Fatal waterborne diseases spread rampantly in untreated drinking water."
Since it was founded in 2001 by Greene and his wife, Molly, Water Missions International has provided relief to more than 2.4 million people in developing countries and disaster areas.
A Technology Solution
The people at Water Missions International had the heart and the determination but needed the appropriate pumping technology.
Five years ago, Water Missions president and chief operating officer George Greene IV made a simple call to Grundfos, a global pump manufacturer, but this was not an average inquiry about pumping equipment. The conversation aligned a crucial need with the technology required to develop a holistic solution that now provides life-sustaining freshwater resources to thousands.
In 2008, Water Missions International began using Grundfos' SQFlex, a versatile pumping system, to draw groundwater in remote areas in which water is scarce and the power supply is either unreliable or non-existent.
SQFlex pumps are fitted with a permanent magnet motor that allows for the efficient use of energy from several alternative supply options, including solar or wind.
Building off this innovative technology, Grundfos created LIFELINK, a water management solution that combines modern pumping technology with a sustainable model for ongoing financial management. A solar-powered SQFlex pumps groundwater into an elevated water tower for storage. The water is then gravity-fed into an automatic water-tapping unit.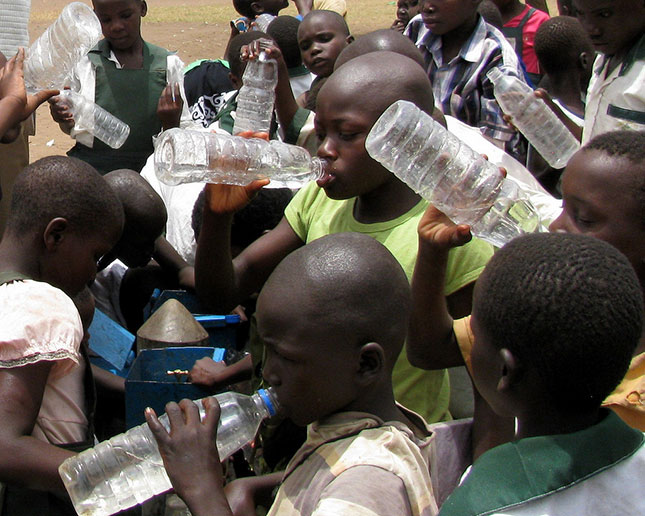 Children enjoy safe water at a local school.
Using a mobile banking system, villagers pay a nominal fee to draw water from the system. The funds finance the ongoing service and maintenance of the system, ensuring sustainable operation for many years. LIFELINK also provides real-time monitoring capabilities for analyzing project performance. Water Missions International began using LIFELINK in 2011.
"We are so grateful for everything Grundfos does to support our efforts to reach out to people in desperate conditions," says George Greene IV. "Thanks to their innovative technology, support from the foundation, employee-organized Walks for Water and employee giving through the Water2Life campaign, we have been able to provide safe water for thousands of people in need."
After learning more about the nonprofit organization and its mission, Grundfos executives discovered that their corporate values aligned perfectly with Water Missions International's goal to provide communities in the developing world with safe water.
"Our relationship with Water Missions makes sense in so many ways," says Terry Teach, director of business development for Grundfos North America. "They seek to deliver clean water to people in need. We are in the business of moving water. They focus on remote areas around the world. We build products that use solar or wind power to pump that water. They believe in the importance of making water treatment systems viable for many years.
"Our LIFELINK technology features an innovative payment model that prevents the mismanagement of funds and finances system maintenance."
Employees Get Involved
Many Water Missions International projects use SQFlex or LIFELINK technology, but a couple locations are especially important to Grundfos employees because of their role in raising funds for the installations.
Since 2012, Grundfos North America employees have hosted Walk for Water events in their communities to raise money for Water Missions International.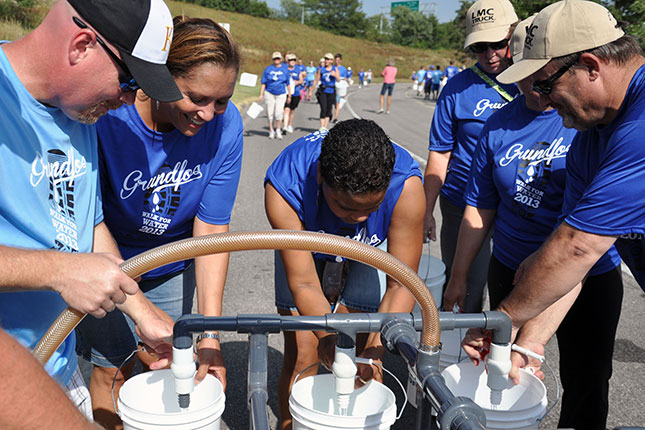 Participants of the 2013 Kansas City Walk for Water pause halfway through the walk to fill their buckets with water.
The Walk for Water is a non-competitive, educational event that represents the trek of those who walk almost four miles per day to provide their families with what is often contaminated water.
Halfway through the 3.5-mile walk, participants fill three-gallon buckets with water, simulating the true burden of life in a developing nation.
"Grundfos' partnership with Water Missions International has allowed us to connect incredible technology with incredible need," Teach says.
"Our expertise in the water industry gives us a unique opportunity to help those who go through so much to obtain their daily water."
Last year, Grundfos hosted events in Chicago, Toronto and Kansas City, Mo. Employees, partners and sponsors raised more than $55,000 to help fund three safe water systems to the Dei, Uganda community.
Today, the 10,000 residents of Dei have access to safe water daily and no longer fear waterborne illnesses.
"Grundfos' support of Water Missions International shows that its values are more than words on a page," says Lauren Jernigan, regional coordinator for Water Missions International.
"Thousands of Ugandans wake up each day with access to safe water thanks to the 2013 Walk for Water events hosted by Grundfos facilities in North America."
Community efforts
The inaugural Walk for Water was in Kansas City, Mo., in 2012. It raised $50,000 for two LIFELINK systems in Dauphine and Rossignol, Haiti. Teach visited Haiti shortly after the systems were installed.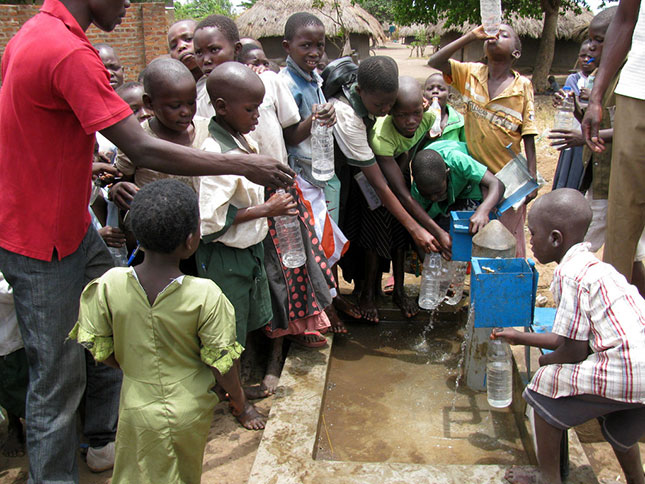 Children and teachers at a local school now have access to clean water thanks to the efforts of Grundfos and Water Missions International.
"As we drove through Haiti, we saw quite a few water systems that had been installed and then abandoned," Terry says. "The people need long-term, sustainable solutions to lift themselves out of poverty."
The women and children of the two villages no longer spend hours each day walking to a contaminated water source to gather water in five-gallon buckets. Access to clean water close to home has given them time for education and work and prevented sickness from waterborne diseases.
"What Water Missions International is doing with Grundfos' help is truly transforming people's lives," Teach says. "Thanks to the installation of sustainable safe water systems, Haitians are not only able to significantly improve their health, but they are also able to better their overall well being and quality of life."
Teach and the team from Water Missions International were greeted in Dauphine by the cheers of hundreds of villagers.
A village leader explained Grundfos' contribution to the crowd, pointing toward a company flag flying in the heart of the village, indicating the location of the new water station.
"It was very moving to see this area of hope and progress," Teach says. "Grundfos employees can take great pride in being a part of that. Thanks to those who participated in the Kansas City Walk for Water, the entire village of Dauphine has access to safe, sustainable water."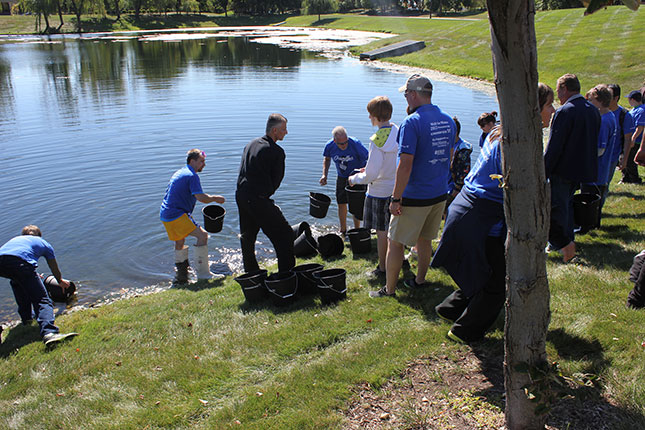 Participants of the 2013 Chicagoland Walk for Water fill their buckets at a local pond, simulating the true burden of life in the developing world.
The team also visited Gorman, a village in which Water Missions had installed a water system to draw groundwater into a water tower.
Since the pump and tower were installed, the villagers were able to build a school that supports about 200 children whose water-fetching duties previously prevented them from receiving an education. Because villagers pay a small fee for their water, Water Missions International can sustain the system and invest the proceeds into its maintenance. The 4,900 villagers of Dauphine and Rossignol now have safe water every day.
Elsewhere in Haiti, the main source of water is typically a heavily contaminated, garbage-filled river that is used for bathing and washing clothes. In a country where houses are made of plastic tarps and metal scraps and where electricity and paved roads are scarce, clean water is a step toward growth.
"Our trip to Haiti was both heart-wrenching and heartwarming," Teach says.
"It was so sad to witness the extreme poverty and bleak living conditions of people across the island. I will never forget the moment when the children of Dauphine presented me with a Grundfos flag in gratitude of the life-changing gift they had just received."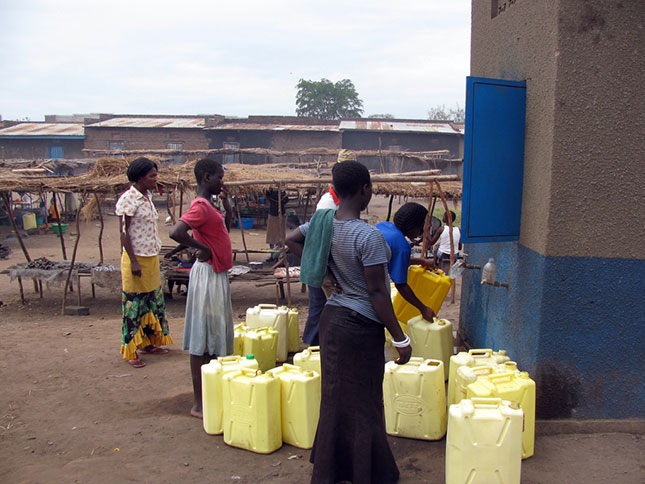 Villagers fill their buckets with clean water at the local market.
Sustainable Solutions
Part of the money raised for both Uganda and Haiti was used toward the training needed to sustain the technology and the hygiene lessons needed to prevent contamination. From the genesis of a project to implementation, the two companies have sustainability in mind. Education is as important as technology.
This summer, Grundfos will once again host Walk for Water events at its facilities throughout North America. To learn more about Water Missions International, visit www.watermissions.org.