ORLANDO, Fla. (Dec. 18, 2014) – The West Halls of the Orange County Convention Center in Orlando, Florida, were packed with people from across the globe, Dec. 9-11, for this year's POWER-GEN International conference and exhibition. More than 20,000 power professionals representing 90 countries gathered to network and learn about the newest products and services offered by nearly 1,400 exhibiting companies.
As part of Power Generation Week, POWER-GEN International provides comprehensive coverage of the trends, technologies and issues facing the global power generation industry today. This year, the conference portion of the event featured nearly 50 sessions divided into 12 tracks, including industry trends and competitive power generation; demand response and virtual power plants; environmental issues; emissions control; fossil technologies; gas turbine technologies; on-site power; and plant performance.
The 2014 keynote session, "Powering Innovation and Efficiency," featured David Walsh, president and CEO of Mitsubishi Hitachi Power Systems Americas; Mauricio Gutierrez, executive VP and chief operating officer of NRG Energy; Kimberly S. Greene, executive VP and chief operating officer of Southern Company; and Bob Perciasepe, president of Center for Climate and Energy Solutions.
The three-day event was preceded by pre-conference workshops, competitive power college courses taught by recognized experts in their respective fields and technical tours of local power generation complexes, including Cane Island Power Park and Cape Canaveral Next Generation Clean Energy Center.
On the show floor, attendees connected with providers who are addressing the industry's most complex challenges. Pumps & Systems was on-site to meet with some of these key players and learn how their innovative solutions are advancing the global power generation industry.
Atlas Copco
Show attendees got a sneak peak of Atlas Copco Portable Energy's Tier 4 Final QAS 275 generator, which is slated to appear on the market in the second quarter of 2015. Thanks to the new generator's MTU engine and aftertreatment system that includes a diesel oxidation catalyst and a selective catalytic reduction process designed to convert mono-nitrogen oxides into nitrogen and water vapor, the generator does not require a DPF.
The generator features a Leroy-Somer AREP alternato, Deep Sea 7310 controls and a standard skid mount.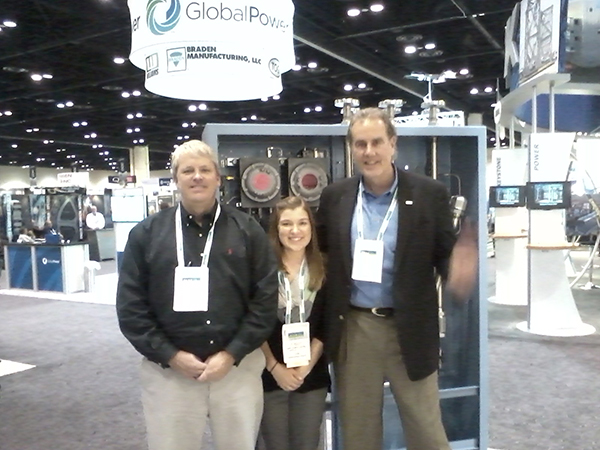 Left to right:
Pumps & Systems
National Sales Manager Derrell Moody,
Pumps & Systems
Managing Editor Amelia Messamore, Environment One Corporation Director of Communications George A. Vorsheim Jr.
Environment One Corporation
Environment One Corporation introduced several new products, including the Generator Condition Monitor Air-Cooled Apparatus, also known as GCM-A2. As power densities in these types of equipment continue to rise, the probability of overheating—and, as a result, equipment downtime—becomes a much greater threat. The GCM-A2 provides early warning signs of overheating by detecting pyrolysis particles in the generator cooling air. The presence of high levels of these particles is a good sign of overheating. Not only do these capabilities reduce equipment downtime, they also contribute significantly to the safety of facility workers.
National Instruments
Introduced in September and on display at the show, NI InsightCM Enterprise is a new online condition-monitoring solution that provides insight into the health of rotating machinery. Building on the industrial Internet of Things, NI InsightCM Enterprise is an end-to-end software solution designed to help companies manage risk and maintain profitability by analyzing sensory information so users can remotely diagnose machine faults.
Designed to help operators, maintenance professionals and IT specialists monitor and analyze equipment operation, NI InsightCM Enterprise acquires sensor data, delivers advanced algorithms, displays raw results, generates and manages alarms, and integrates into the end user's existing IT infrastructure.
Parker Hannifin
Parker Hannifan launched seven diverse product lines at this year's POWER-GEN, including the SensoNODE mobile wireless solution, which monitors equipment pressure, temperature and humidity in liquid and gas applications. The product uses Bluetooth technology to convey vital equipment data to the user's iPhone, iPad or iPod touch. This tool provides information end users need to remotely analyze and assess equipment health.
The other product lines launched at the show include the CLEANDiesel fuel filtration and condition-monitoring solution, the 890GT-S Outdoor Central Solar Inverter, the 890GT-B Outdoor power conversion system for energy storage, the SCOUT cloud-based wireless sensor, smart cylinders featuring the Intellinder actuation sensor and the Sentinel purifier with an automatic monitoring system.
Rexnord
A provider of process and motion control products, Rexnord had several power-generation products on display, including its elastomeric, Addax, Falk, Lifelign and Thomas couplings, each having their own unique characteristics designed to meet a variety of industry challenges.
Rexnord elastomeric couplings, for example, are non-lubricated, material flexing couplings designed for vibration dampening and with a high capacity for misalignment, making them ideal for several different applications within any industry. Addax couplings also reduce vibration, and their lightweight design is intended to increase bearing and equipment life.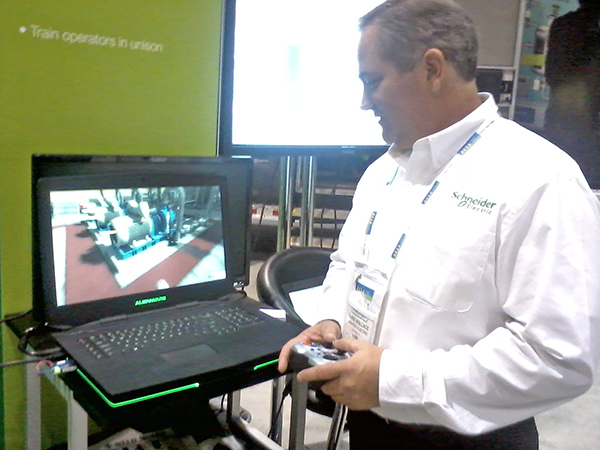 Demonstration of the EYESIM 3-D virtual reality simulation software
Schneider Electric
With the completed acquisitions of InStep Software just weeks before the show and Invensys earlier this year, Schneider Electric has expanded its portfolio of power-plant modernization solutions. During POWER-GEN, the company displayed several solutions, including its new Foxboro process automation solutions, Advantis asset management products, SimSci EYESIM 3-D virtual reality simulation software, Triconex safety and critical control platforms, PRiSM predictive analytics software and its Wonderware SmartGlance mobile reporting solution.
The Advantis product suite, for example, contributes to power-plant modernization by providing a "cradle-to-grave" analysis of plant operations, providing detailed information about every aspect of a pump's or other piece of equipment's life cycle, maintenance history and workflow. Product managers were at the booth to demonstrate recent enhancements to Avantis, which are intended to extend usability and collaboration capability.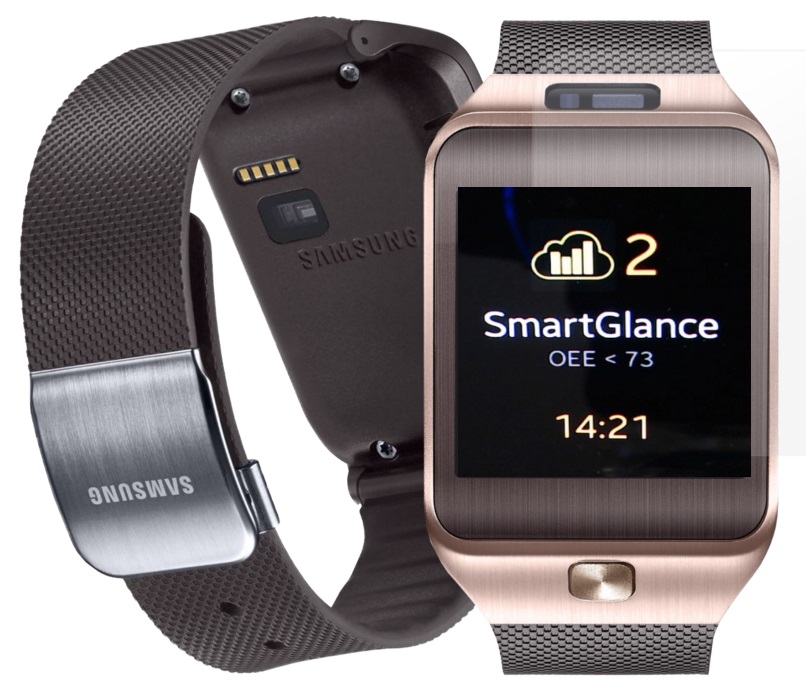 PRiSM provides continuous real-time asset performance monitoring and early fault detection by mining and storing historical data to "train" the system for optimal operation. Using advanced pattern recognition, PRiSM detects deviations in operating behavior that are often early warning signs of machine failure.
In addition, the company highlighted upgrades to its Wonderware SmartGlance mobile reporting solution, including support for wearable technologies, which were intended to simplify and streamline monitoring and analyzing real-time industrial process data via mobile devices.
U.S. Water
U.S. Water, which provides innovative water treatment services based on chemistry, equipment and engineering, highlighted their recent recognition as a "game changer" within the state of California.
Presented by the California Governor's Office of Business and Economic Development at the 100th Annual Vanguard Awards Dinner, Nov. 20, the California Game Changer Company of the Year Award is given to individuals and companies who have had a statewide economic or policy-related impact regarding key issues within the state.
In an effort to help California facilities reduce water use by 20 percent by 2020, U.S. Water has been collaborating with California agriculture, medical centers and businesses to develop solutions for water conservation.
Victaulic
Victaulic, which provides facilities with innovative piping systems and services as well as fire protection systems, had several new and updated technologies on display. One new product featured at the show was the FireLock Series 745 Fire-Pac for power plant fire protection. The preassembled fire-protection valve is enclosed in a secure metal cabinet and is designed to save space. It features a water supply shutoff valve, sprinkler system fire protection valve, alarm line pressure switches, air supervisory pressure switches and a control panel with pressure gauges and a fire alarm.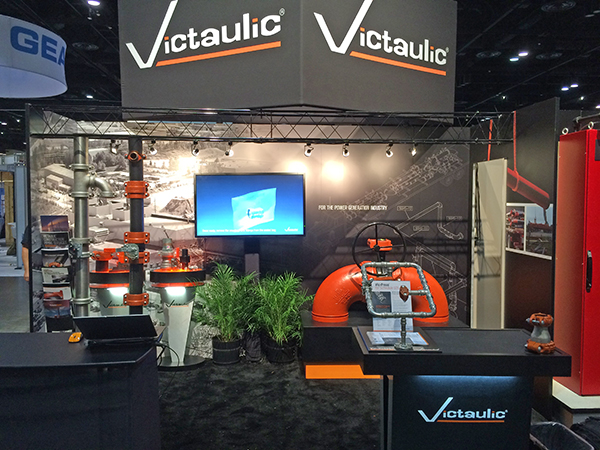 One of Victaulic's main focuses at the show, however, was the company's emphasis on its prefabrication services, particularly within the natural gas sector. Focusing on its BIM capabilities and extensive drawing packages, Victaulic emphasized to show attendees the company's ability to help customers meet their design challenges and mitigate risk through prefabrication.
WEG
WEG's new line of open three-phase induction motors—the W40—was on display at the show and is available with standard NEMA frame sizes. These motors are compatible with compressors, blowers, oil well and fire pumps, as well as industrial refrigeration applications. The W40 motor line features a rated output of 60 Hertz (Hz) at 15 to 2,250 horsepower (HP), either two- or four-pole models in NEMA frame sizes from 254T – L6808/09. Input voltage ranges from 208 to 4,160 Volts (V), and the product is available with ODP (IP23) protection for frames 256T to L5810 and WPI (IP24) protection for frame L6808/09. As an option, models are also available with 5,000 to 6,000 V, six- or eight-pole, and WPI and WPII protection for frame sizes 5010 and up.
In addition to the W40 line and several other products, WEG also featured their W50 motor line, which is designed for the most severe industrial applications. This line features a rated output of 125 to 1,750 HP, with two to twelve poles in frame sizes 5009/10 to 7009/9/IEC 315 to 450. Voltage ranges from 440 V to 6.6 kV, and the line offers IP55 to IP66 protection.