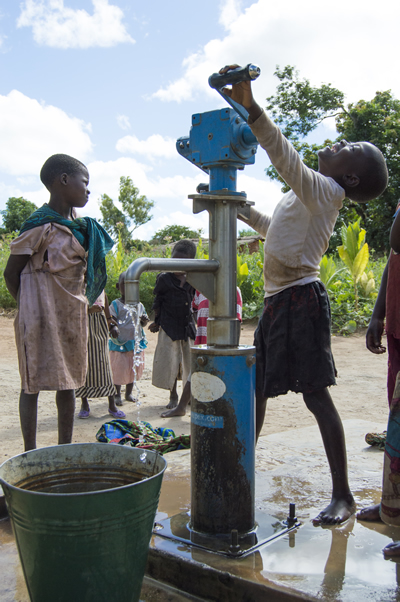 A child in Malawi demonstrates that the LifePump is easy to use regardless of size or strength.
BIRMINGHAM, Ala. (Sept. 21, 2015) - In May, the Pumps & Systems team traveled to Zambia and Malawi to report on how innovative pump technology is changing lives across rural Africa. Having seen firsthand how clean water can completely transform entire communities, Pumps & Systems decided to help provide yet another village with access to this powerful resource.
Through Design Outreach, a humanitarian engineering nonprofit, Pumps & Systems is raising $9,200 to install a LifePump in a village in Malawi. This money is used not only to install the pump but to provide the resources, tools and training needed for the local African community to maintain the pump. Each LifePump serves about 300-400 people. That's 300-400 people who will have access to a clean, consistent, reliable source of
water—some for the first time in their lives.
Pumps & Systems
Managing Editor Amelia Messamore speaking with local Zambians.
I will never forget the joy on Vickness Nyirenda's face and the light in her eyes when she told me about the difference clean water has made in the lives of her family and neighbors. I will never forget the contagious laughter I heard as the women of Zolomondo village in Malawi scrubbed their laundry with bucketsful of fresh, abundant water. And I will never forget the children who raced to turn the LifePump's handles as fast as they could, knowing their lives would be drastically different because of it.
The Pumps & Systems team is excited to be working with Design Outreach to provide others just like Vickness and her neighbors with this same hope and opportunity for a better life.
For more information or to donate, please visit hundredpump.doutreach.org/campaigns/malawi-13.