The United Nations General Assembly in 1993 designated March 22nd as World Water Day as part of an international campaign that emphasizes the importance of freshwater and managing Earth's most precious resource.
The U.N. Water group, which coordinates World Water Day with governments and other partners around the world, said the effort "is about taking action to tackle the water crisis."
Here's what the group says about this crisis on worldwaterday.org: "Today, there are over 663 million people living without a safe water supply close to home, spending countless hours queuing or trekking to distant sources, and coping with the health impacts of using contaminated water. The Sustainable Development Goals, launched in 2015, include a target to ensure everyone has access to safe water by 2030, making water a key issue in the fight to eradicate extreme poverty."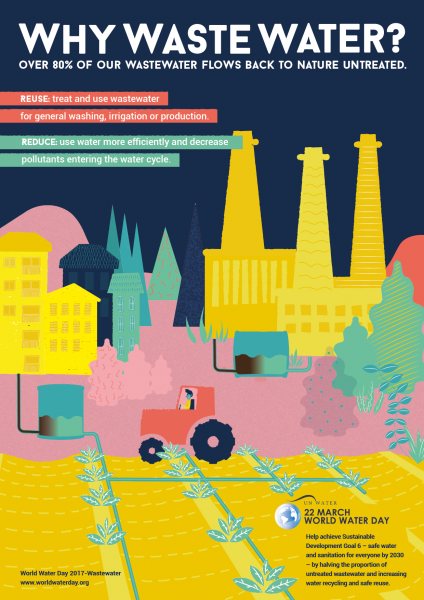 World Water Day each year has a specific theme, and in 2017, it's the topic of wastewater. This year's campaign theme asks the question "Why waste water?" about the need to reduce and reuse wastewater. Check out these statistics from U.N. Water:
Globally, more than 80 percent of the wastewater generated by society flows back into the ecosystem without being treated or reused.
1.8 billion people use a source of drinking water contaminated with feces, putting them at risk of contracting cholera, dysentery, typhoid and polio. Unsafe water, poor sanitation and hygiene cause around 842,000 deaths each year.
By 2050, close to 70 percent of the world's population will live in cities, compared to 50 percent today. Currently, most cities in developing countries do not have adequate infrastructure and resources to address wastewater management in an efficient and sustainable way.
In response to World Water Day's theme this year, residents in developed countries should ask themselves how to conserve water and how to help others in need. Water utilities are facing challenges around the world with improving their delivery efficiencies and eliminating water wasted in their infrastructure. Steps must be made to ensure clean water supplies around the world and, just as importantly, how to preserve this resource.
Across the planet, governments and communities are rallying in support of World Water Day. Already, there are around 100 events listed on the World Water Day website.
Additionally, Pope Francis will address the world from the Vatican on World Water Day. Watch the livestream at worldwatervalues.org.
World Water Day encompasses a 24-hour period every year, but its message is critical to life every day on this planet.