How data will be used, and shared, are still open for debate.
"The cloud is the new normal. The question is no longer if, it's how fast will we move to the cloud," said Arno van den Haak, head of worldwide business development oil and gas at Amazon Web Services.
The cloud, automation and making data useful were hot topics during the panel portion of "The Next 50 Years of Offshore Developments" at the opening session of the 50th annual Offshore Technology Conference (OTC) May 6 in Houston, Texas.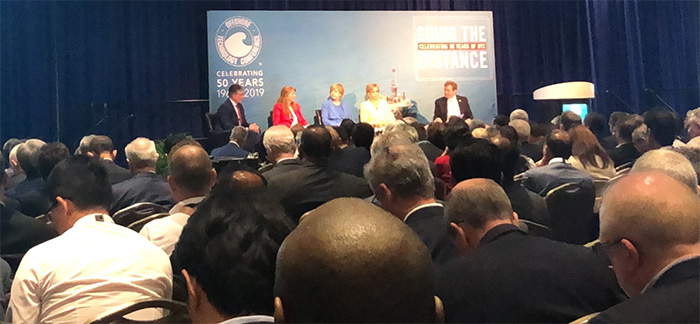 While the panelists agreed that these developments are here to stay, how this will be carried out and willingness to share information are still up in the air.
"We've been sharing data on safety for a long time and it's time to share more—the cloud can be an assistant in this," said Jannicke Nilsson, Equinor's executive vice president and COO.
In the company's Norway offshore operations, Nilsson said automated drilling could result in 15 percent cost reduction, and a 50 percent carbon dioxide footprint reduction.
"We can extract so much more value from that data," she said. "This is so much about our mindset and culture. It's up to us to be bold."
Automation will be critical for efficiency, said Maria Claudia Borras, president and CEO of oilfield services at Baker Hughes, a GE company. She pointed out that humans will help drive the workflows.
"The trust between the companies is a big factor when it comes to automation," Borras said.
Susan Dio, chairwoman and president of BP America, suggested bringing in experts and remaining open to new ideas—for example, her company hired someone to write algorithms who used to work for Pokémon Go.
"We've seen the new startups and rapid change of technology, and we move too slow," Dio said about the oil and gas industry. "We need to think of how to be more agile and learn how to take advantage of the changes that are happening so fast."
Van den Haak said the value of the data being collected "comes from the ability to share it and jointly capitalize on the information that comes from it." He added that perhaps in the future, contracts between companies may be not about price but the ability to share data.
Nilsson said the ability to have quality data is one thing, but you need "clever IT to create value from the data." And companies need to have the mindset to create more value and scale up the knowledge around these opportunities.
"We need to have leaders who are willing to set the direction, [and are] committed to technology and efficiency," she said.
Part of attracting a new generation to the industry is showing them that we're on the forefront of technological advancements, Nilsson said, and that the industry takes climate change seriously.
Dio added that "we do need to educate and talk about the good things we're doing in a provocative way."
More than 2,300 exhibitors from 40-plus countries showcased at OTC in early May. International exhibitors made up 52 percent of those displaying at the conference. More than 59,000 people from 100 countries were in attendance.