Additive Manufacturing Center of Excellence in Michigan helps company meet increasing demand for complex, high-performance components, tools and fixtures.
Srinivas Garimella, global head of the Additive Manufacturing Center of Excellence at Eaton, recently spoke with Pumps & Systems about how the company helped produce face shields for essential workers during the COVID-19 pandemic.
P&S: What was the genesis of the face shield-making project? 
Garimella: Eaton is a power management company. Our electrical solutions form the backbone of safe, reliable electricity supply and our mission critical support is foundational across essential industries. 
Eaton care packages with PPE reach facility managers at 21 hospitals.
We made the important decision to maintain operations during the COVID-19 crisis because our products are critical to the global infrastructure. We're continuing to operate in order to help our communities maintain critical operations with uninterrupted power
In addition, we also looked for other avenues to help during this crisis. We know the ability to respond rapidly and deliver the highest level of care possible is essential in the global fight against this epidemic. We also know that U.S. medical workers on the frontline need immediate access to personal protective equipment (PPE) amidst current shortages. In response to these challenges, we activated our additive manufacturing expertise to rapidly address critical protective equipment shortages to help protect medical workers. 
We worked with multiple hospitals and Cleveland's Manufacturing Advocacy and Growth Network (MAGNET) to design and optimize a reusable face shield for mass production, helping address critical protective equipment shortages. 
The first batch of face shields made at Eaton's Additive Manufacturing Center of Excellence in Southfield, Michigan, were donated to hospitals in Ohio, New York, New Jersey and Michigan.
We're also fulfilling a JobsOhio order for rapid production of 360,000 face shields to strengthen the state's fight. We pulled in Thogus, a local Ohio family-owned custom plastic injection molder, to rapidly produce the critical equipment at scale.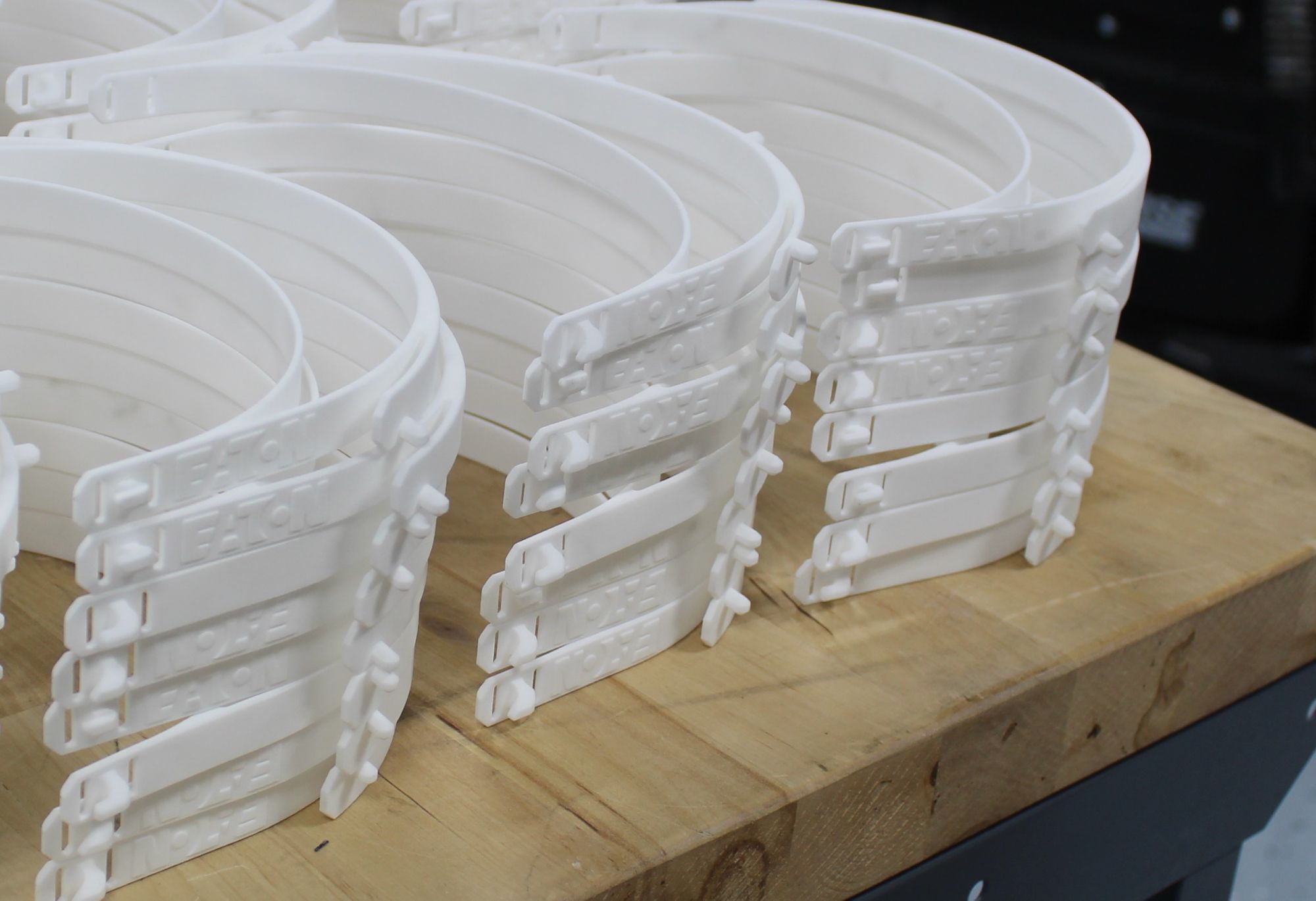 Eaton used 3D printing to address critical protective equipment shortfalls.
P&S: How long does it take to produce a face shield?
Garimella: The power of additive manufacturing is in the ability to fast-track designs while quickly incorporating customer feedback and easily scaling production to meet immediate needs. 
Our additive manufacturing capabilities were instrumental to the fast-paced design of face shields. We compressed a six- to nine-month design process into a process of about two weeks—from proof of concept all the way to scalable manufacturing.
P&S: What can the equipment be used for during a more typical time? 
Garimella: The equipment is ideally suited to produce low volume, complex geometry parts that cannot be readily produced by traditional manufacturing processes. Our Additive Manufacturing CoE has helped us meet increasing demand for complex high-performance components, tools and fixtures, while advancing sustainable manufacturing and compressing product development time. Last year, for instance, we developed an aluminum housing and valve for an aerospace customer. Additive manufacturing helped us consolidate 22 parts into two printed parts, reduce assembly time and improve performance. It also helped our teams reduce part weight and shorten the overall product development time by 50 percent.
We're applying our advanced manufacturing capabilities as well as our strong network of partners to support the needs of our customers and communities both in times of crisis and during normal operation. Now, in the battle against COVID-19, we're using that expertise to develop much-needed supplies, including face shields and noncontact tools. 
P&S: How many face shields does Eaton plan to produce? 
Garimella: Right now, we're fulfilling a JobsOhio order for rapid production of 360,000 reusable face shields. We also donated face shields to hospitals across the country. Thanks to our partner networks and additive manufacturing capabilities, we're also able to meet the changing needs as they develop.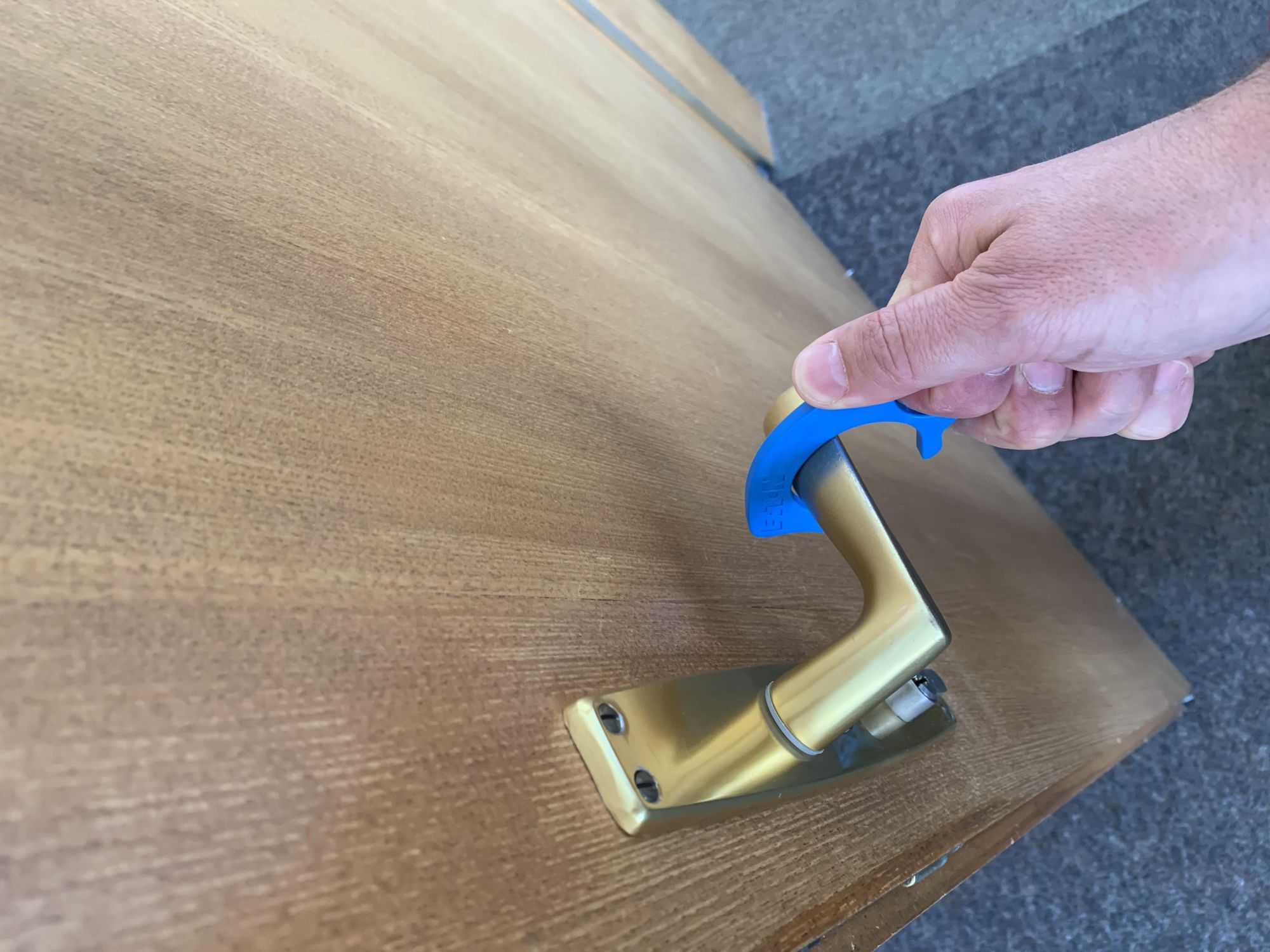 Eaton's touchless tool helps open doors, twist faucets and push buttons without touching potentially contaminated surfaces.
P&S: How else is Eaton helping communities fight COVID-19? 
Garimella: We have made the important decision to maintain operations during this unprecedented crisis because of the vital role our company plays in sustaining global infrastructure and ensuring critical power supply.
Our products and support services are vital to hospitals, emergency services, military sites, utilities, public works, transportation and shipping providers. In addition, data centers, retail outlets, airports and governments, as well as the networks that support schools and remote workers, rely on our products each day to serve their customers and communities. 
We're committed to helping the communities where we live and work by taking steps to aid in the fight against COVID-19. Whether it's donating much-needed supplies to healthcare providers, or providing our power management expertise across critical industries, we're here to help.
In addition to the face shields, we also developed a 4-inch touchless tool that resembles a plastic wrench and is designed to help medical workers avoid contact with surfaces to slow the spread of the novel virus.
A recent study in JAMA indicates that one of the best defenses of healthcare workers is through barrier protection from surfaces that become contaminated. The tool we developed can be used to grab door handles, turn faucets and push buttons on phones and other devices without touching surfaces. 
As the tool and the face shields demonstrate, we're able to use our additive manufacturing capabilities, along with a healthy dose of innovation, to compress product development timelines and rapidly deliver solutions for healthcare workers on the frontline.