Modern technology manages water consumption and maximizes efficiency.
Water pumps have been helping people irrigate for more than 4,000 years, since the Egyptians invented a basic pumping device called a shaduf. Over time, pumping technology advanced, and gears and motors were added. By 1959, most modern pump designs had been introduced and developed into commercial products.
While not all irrigation systems use pumps and wells, more than 53.5 billion gallons of groundwater from 407,923 wells are used daily for agricultural irrigation, according to the National Groundwater Association. Through decreased system losses and managed reductions in crop consumptive use, better water management practices can help producers maximize the economic efficiency of their irrigation systems and the potential for water savings. Relatively few farms, however, use water management best practices and focus on water conservation while deciding when and how much to irrigate. Modern irrigation monitoring technology can help farmers manage water consumption and maximize efficiency.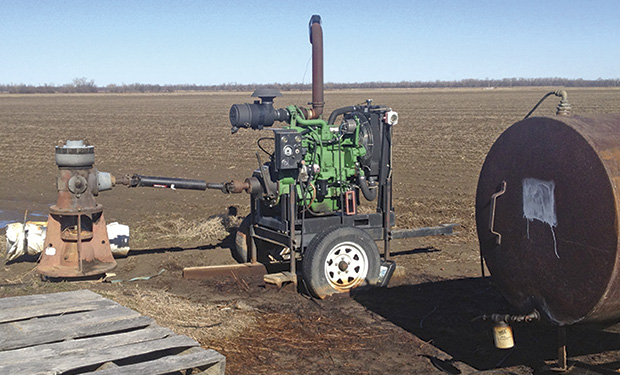 Image 1. A farmer's engine pump with remote monitoring technology waits to be activated using the farmer's smartphone or desktop. (Images courtesy of Net Irrigate)
Remote Monitoring & Pumps
The worldwide growth of electrically driven mechanized irrigation systems since the late 1970s provided many economic benefits for farmers. However, few farmers were able to keep tabs on irrigation equipment from afar with cost effective technologies, ensuring that time, water and money were not wasted. Modern remote monitoring devices add tremendous value to irrigation equipment by boosting efficiency and profitability.
Equipment providers have created remote monitoring devices that work with single-phase, three-phase and engine-driven pumps. These products provide valuable information to farmers, saving time, money and collectively millions of gallons of water by detecting stoppages, flooding and power failure. These types of irrigation solutions allow farmers to remotely monitor and shut down irrigation pumps, eliminating unnecessary pumping time and the need for expensive underground wires. These advanced products provide benefits to operations using both center pivot irrigation and flood or furrow irrigation.
Advanced Features
Remote monitoring devices determine if a machine is functioning correctly and collect actionable information about the equipment. Farmers can streamline maintenance issues by instituting predictive failure analysis, which can identify potential replacement parts before the equipment breaks down. This data opens up a wealth of information and allows users to be proactive instead of reactive. Farmers can also analyze crop yields against irrigation data and weather patterns.
Modern remote monitoring systems also incorporate machine-to-machine (M2M) or Internet of Things technology, which enables devices to communicate on existing wireless networks and standard protocols without human intervention. This form of communication enhances the flow of data between machines and people, making data collection, transmission and assessment easily accessible. M2M technology allows famers to monitor and manage remote assets in real time, aiding in security, remote maintenance and equipment control. Integrating wireless communications can improve device functionality while facilitating more efficient decision-making.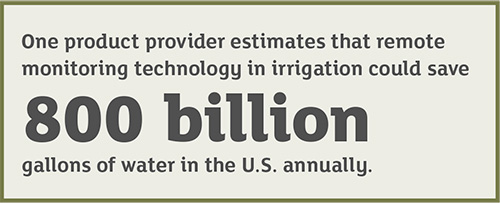 M2M technology also works with websites and mobile apps that help farmers monitor irrigation systems. Smartphone apps give instant access to equipment status, making remote changes possible and creating positive impact on operational productivity. Some remote monitoring technologies allow farmers to be alerted by text message, phone call or email when technical issues such as overloads or power failures occur. These instant notifications allow farmers to react immediately.
Because of the geographic breadth, crop growth and topography associated with agriculture, cellular or satellite based M2M solutions are often the best fit, eliminating the need for line of sight restrictions. Farmers are not limited to staying within a certain distance from their pumps to monitor or adjust them, and they no longer have to sit at a dedicated monitoring workstation to evaluate equipment. Basic cell coverage allows communication with a pump anywhere in the world, negating the need for a central-based station or local area network.
Cloud-based technology provides additional flexibility and integration potential. New features and updates to existing technology can be added by simply updating a mobile app. Wireless systems and remote storage services permit large amounts of data to be collected with less hardware and wiring, which can be subject to localized corruption or access failure.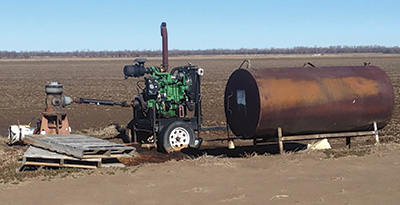 Image 2. An engine-driven pump working in a farmer's flood-irrigated field
This type of communication could prove extremely valuable for farming communities. If thousands of irrigation pumps are connected within the same rural county, a cloud-based system could allow the electrical utility provider to make intelligent irrigation scheduling recommendations to farmers. This system could also factor in weather data, crop yields and water tables to optimize efficiency.
Pages