Company Logo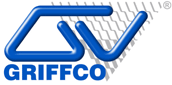 Company Profile
Griffco Valve is an ISO-9001 certified manufacturer of high-quality accessories for chemical-feed and metering pump systems. Products are made in the USA and include back pressure and pressure relief valves, calibration columns, pulsation dampeners, injection quills, corporation stops, gauge guards, y-strainers, and other accessories. Established more than 25 years ago, Griffco Valve has shipped more than 1/4-million valves throughout the world, working directly with OEM pump companies, consulting-specifying engineers and installers, and end-users in the processing industries through our qualified distributors.
Griffco Valve offers a one-year warranty on our products and as part of our "Quick Turnaround Advantage" has a strong track record of on-time delivery. We provide dedicated customer service and expert technical support. Requests for Quotation are handled quickly and customization to meet specific processing challenges is available. For added support, Griffco Valve has 3D CAD drawings in several formats and a Pulsation Dampener Sizing Calculator (Imperial and Metric) on the website.
Chemical-feed accessories help improve the accuracy, efficiency, longevity, and safety of pumping systems. By specifying Griffco Valve accessories and the company behind these products, you are assured of receiving the right accessories for the right pump.