Company Logo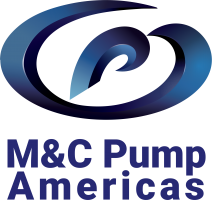 Company Profile
M&C Pump Americas is a Houston-based premier manufacturer of ANSI B73.1 Process Pumps, Self-Prime Trash Pumps, Slurry/Mud Pumps, and Gear Pumps. We also have a huge selection of pump parts such as casings, impellers, stuffing box covers, bearing frames, rotating assemblies, casing assemblies, seal plates, wear plates, mechanical seals, etc.
BEST QUALITY & VALUE
Unlike your typical pump suppliers who source then resell their products from other manufacturers, we ARE the manufacturer! We own the foundry and control the entire manufacturing process, which means you receive the best quality and the most competitive pricing from us.
BEST AVAILABILITY & SERVICE
With our huge warehouse in Houston and dedicated operations & service team, we provide unmatched turnaround time and availability so you get the product you need fast! And when the unexpected happens, you can count on us to take care of you.
---
Visit our website to learn more: www.mcpumpamericas.com
For quotes, call 281-506-7819 or email at info@mcpumpamericas.com
For company updates, follow us on LinkedIn: www.linkedin.com/company/mcpump
Images