Their features and benefits make them ideal for the many liquid-transfer points in the soft drink production chain.

While centrifugal pumps may have a lower upfront cost than PD pumps, they feature some operational inefficiencies that usually lead to higher ancillary costs during the pump's life. Centrifugal pumps are not self-priming, which hampers their efficiency at startup. They can encounter operating issues when pumping at higher flow rates, especially when handling higher-viscosity liquids like corn syrup. They also are unable to deadhead, which can lead to pump damage in a dry-run condition.
Centrifugal pumps also have mechanical seals, which can lead to costly leaks, and their mechanical seals generally cost more to repair than some other pump technologies. Seal damage and breakage can be caused by the heat generated during dry-run operation. Double mechanical seals are required for tacky or sticky concentrates, which increases costs and operational complexity, and requires a water flush for cleaning.
Centrifugal pumps are also powered by electrical motors that must be kept dry during operation, which can be problematic when the product pumped is a liquid.
The Solution
Considering some of the potential shortcomings of centrifugal pump operation, AODD pumps may be a better choice for the numerous liquid-handling links in the carbonated soft drink production chain. Some AODD pumps have been engineered to meet the highest standards for operation in the manufacture of carbonated soft drinks.
For example, one company's AODD pumps possess the ability to safely and efficiently pump a wide range of viscosities and shear-sensitive products, and they work well with corn syrups, phosphoric acids, concentrates and flavorings that play a major role in soft drink production. The wetted-path material is 316L stainless steel with interior-polish levels that range from 0.8 to 1.3 micrometers (μm) (31.5 to 51.2 microinches [μin]) for ease of cleaning.
Some of these are the only pumps in the industry to have earned certification by 3A Sanitary Standards Inc.—which is dedicated to advancing hygienic equipment design for the food, beverage and pharmaceutical industries—for both clean-in-place (CIP) and clean-out-of-place (COP) sanitizing operations. The free-draining flow path, wash-friendly clamp bands and CIP capability simplify cleaning and have enabled these models of AODD pumps to earn certifications from a number of regulatory agencies in the hygienic industry, including 3A, European Hygienic Engineering & Design Group (EHEDG), U.S. Food and Drug Administration (FDA) CFR 21.177, U.S. Pharmacopoeial Convention (USP) Class VI and European Commission (EC) regulation 1935/2004.
Other features and benefits of these specific AODD pumps, which are available in sizes from 1/2 to 3 inches (13 millimeters [mm] to 76 mm), include:
availability of multiple sanitary elastomers
sealless design for superior product containment
delicate, shear-sensitive operation
self-priming or dry-priming operation capabilities
damage-free dry-run capability
flow rates from 15 to 245 gallons per minute (gpm) (57 to 927 liters per minute)
solids passage up to 3 inches (76 mm)
high energy efficiency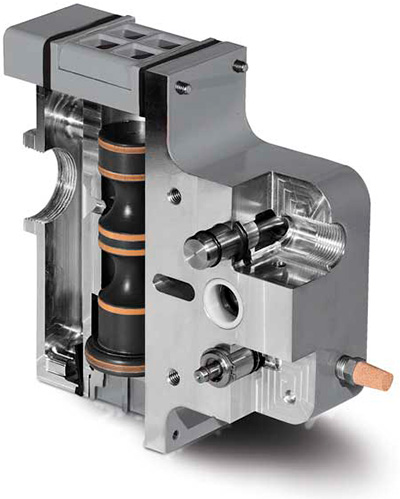 Image 3. This air distribution system (ADS) helps reduce AODD pump air consumption by up to 60 percent while providing higher flow rates per standard cubic foot per minute (SCFM) of air that is used.
Additional features include next-generation diaphragm and air distribution system (ADS) technology that can further optimize the operation and reliability of pump models.
The design of the diaphragm combines food-grade plastics and elastomers with a stainless-steel core in a patented configuration that uses no adhesives or nylon fabric, which can contaminate process fluids in the event of a breech.
The diaphragm features an unbroken fluid-contact surface with no product-trap areas. As a result, the diaphragm has exceptional CIP capability and greatly reduces contamination risks.
The elimination of the outer piston reduces a common abrasion point, which results in longer diaphragm life. Its large internal piston and full-stroke shaft provide greater fluid-transfer displacement while simultaneously allowing the pump to achieve twice the dry vacuum when compared with short-stroke CIP-capable diaphragms.
The availability of a stainless-steel ADS allows certain pumps to be used in a wider range of hygienic or sanitary liquid-handling operation in food-and-beverage manufacture.
This technology achieves up to a 60 percent savings in air consumption over competitive AODD pumps, while providing higher flow rates per standard cubic feet per minute (SCFM). It also costs 50 percent less to operate than electronically actuated ADS units, is submersible and features plug-and-play operation. It has fewer operating parts, which equates to less downtime for repair or simple maintenance.
Pages