How pumps play a role in the WATER-ENERGY NEXUS
Reporting from the International Water Summit, Abu Dhabi, UAE
It is essential to the production of electricity and other energy, to agriculture and industrialization, to comfort and progress.
But in a world of climate change and population growth, a world in which natural and man-made disasters demand better, smarter and more sustainable technologies, the availability of water and energy will determine the future of life itself.
Will there be enough?
As we face this monumental question, government regulators, industry leaders and citizens of the world are beginning to think differently. Energy and water systems have historically been developed, managed and regulated independently and solutions have been considered separately.
Today, there is a growing understanding of the natural nexus between water and energy. To find sustainable solutions, we must start with the basics. We all know the price of a gallon of gas, and we track this cost daily.
But what is a gallon of water worth?
"Most people don't have a common tendency to place a value on water," Xylem President and CEO Patrick Decker said. "This is becoming more and more understandable by our policy and thought leaders around the world that some of the biggest demands on the environment in terms of energy production are the demands placed on water and the scarcity of water.
"In many areas where oil is the most abundant, water is the most scarce. It is simply not going to be sustainable until we have as much of a focus and debate around the value of water—whether that be sources of clean water, the climate of the energy cycle or management of the wastewater."
An integrated, strategic approach can guide technology research, development, demonstration and deployment (RDD&D) to address regional water-energy issues and also make national and global impacts, according to a 2014 report from the Department of Energy ("The Water-Energy Nexus: Challenges and Opportunities").
The World Health Organization predicts that by 2050 two-thirds of the nearly 10 billion people on Earth will live in developed cities, which will create great pressure on global energy and water resources.
In the Middle East, produced water from oil and gas operations wastes more than 73 million barrels per day. In regions characterized by unconventional production of oil, such as tight oil and oil sands, a single well can require up to 5 million gallons of water.
"This is clearly not sustainable," Decker said. "We need resilience for water infrastructure. Water variability is resulting in a rising economic risk for communities around the world. Floods disrupt power plants, oil refineries and other critical energy infrastructure. Managing the movement of water around energy facilities during these times is crucial for maintaining resilience. In arid environments, there are some no-regret moves that can immediately be made, such as water reuse. These are common in the Middle East, Singapore, Australia and the U.S. Reuse can help close the gap between supply and demand."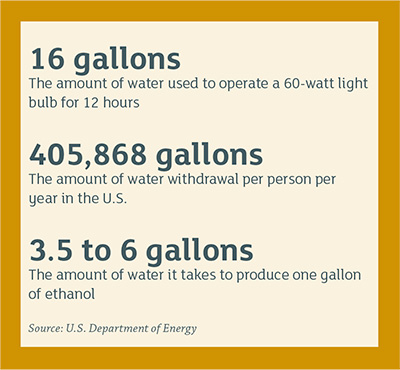 The Role of Technology
Energy sustaining partners should realize the need for less stringent thinking in terms of technology.
"With regard to pump-related technology, the key is energy efficiency and having more data to measure the efficiency. And we need to use partnerships to accomplish this," Decker said. "Partnering is the ultimate catalyst to create water security for the world."
Climate change, population growth and rising sea levels all lead to a higher requirement for water treatment and pumping tasks, said Franz Bosbach, Technology Foresight, KSB Group.
"We enter a vicious circle," Bosbach said. "Renewable energy sources need water. Plants for biogas production need irrigation. Wind generators have to be cooled. Water production and energy generation both depend on each other and the use of resources."
Pumps account for 20 percent of the global energy demand. Energy efficient pumping systems reduce the impact on both energy and water consumption.
"Higher efficiency at machine level (new motor design, new pump design, speed control), combined with the even larger leverage effect of pump system optimization is the logical response here and will reduce the impact on our environment," Bosbach said. "The water-energy nexus will force us to change the types and sizes of pumps we are using. The waste of water in the energy generation process has to be reduced by water recycling and reuse."
This means, for example, fewer intakes from the sea or rivers, improved circulation concepts with a high level of optimization and local water treatment as an integrated step in reusing water, Bosbach explained. "In industrial processes for chemical products, there is progress in optimization from sealing water circuits to zero liquid discharge. Energy generation will, and has to, follow suit."
More innovation is the key, Decker said.
"There is no one single technology that is going to solve all the issues here. We need to partner together and realize that we all have some level of risk aversion. None of us wants to make changes with technology that will put our public health at risk. Having greater cooperation and opening the research capabilities together and having trust in the partnerships is key. Education and awareness will also be difference makers."
Pages