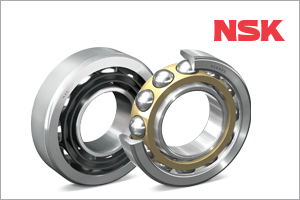 ACBB Bearing
Original equipment manufacturers are consistently looking for ways to engineer more compact machines. And in doing so, they still need to ensure maximum equipment capability including increasing load capacity, higher speeds and improved precision.
NSK manufactures HPS Angular Contact Ball Bearings that are widely used in centrifugal pumps, gearboxes, robots and screw compressors. These bearings fully incorporate the advantages of NSK's world-class design, materials and technology resulting in high speed, high load capacity, excellent running accuracy and great reliability. The bearings also offer ease of maintenance, reduced operating costs, higher efficiency, lower energy consumption along with environmental friendliness.
Key Product Features & Benefits of HPS Angular Contact Ball Bearings
Reduced operating costs of industrial machinery by improving the service life.
The optimal internal design of the HPS bearing and proprietary material technology, improves bearing life by up to 90% in comparison to conventional bearing products. The frequency of maintenance is reduced, and as a result, operating costs are reduced.
Increasing the permissible speed, contributing to high-speed operation of industrial machinery.
The internal design of the HPS bearing along with NSK's precise manufacturing technology increases permissible speed of the bearing by 15 – 20% in comparison to conventional bearings.
Universal design for universal matching.
With precise processing and manufacturing technology, a running accuracy to ISO tolerance class 5 and a dimensional accuracy ISO tolerance class 6, HPS offers high rescission and dimensional accuracy. Manufactured with universal design HPS can be mounted in a pair, triplex or quad set. Assembly and maintenance becomes easier and the efficiency of machinery is improved.
Three types of cages contribute to improved machine reliability.
NSK offers a lineup of cage materials to choose including:
brass
glass-fiber reinforced polyamide 4-6: offering high strength at high temperatures.
linear polyphenylene sulphide (L-PPS) resin: offering superior oil and chemical resistance.
Overall, the entire NSKHPS™ line of bearings help to improve productivity and reduce maintenance costs by increasing reliability. Along with Angular Contact, the HPS product mix includes Deep Groove Ball Bearings, Cylindrical Roller Bearings and Spherical Roller Bearings.
For more information, and to get all the latest news from NSK, sign up for our Uptime Update newsletter. You may also receive technical support by calling 1-888-446-5675.