How the industry is responding to develop curriculum and training opportunities for the next generation.
You have heard it all before. We are losing our best employees. Decades of industry knowledge are walking out the door every day as more and more people retire. The skills gap is going to lead businesses to suffer. What we do not talk about much is what people are doing to combat this problem.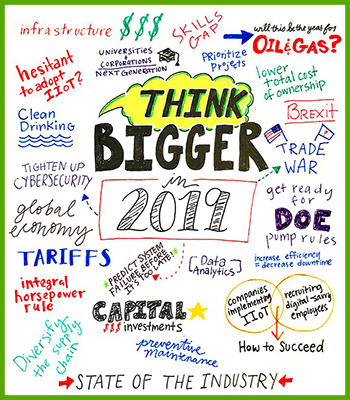 See more of our State of the Industry 2019 coverage.
Pumps & Systems decided to find out, and after speaking with industry executives, it is clear that the various sectors of the pumps industry are not facing this challenge lying down.
The Numbers Do Not Lie
In 2017, Siemens distributed a survey by research firm Tech-Clarity in which 201 companies were asked about their needs as older employees retire. Many companies—69 percent—said they expect to grow their engineering department in the next five to 10 years. Eighty percent said "hiring the right engineers will be either highly or very critical to the future success of their business."
These statistics reflect what the editors of Pumps & Systems have heard at industry events and on the trade show floor.
"Maintenance managers are facing a new reality: the loss of experienced millwrights and mechanics," said Dieter Seidenthal, LUDECA Inc. co-founder and chairman of the board. "Baby boomers are retiring in droves. This threatens to leave a huge void in the manufacturing facilities. The boomers are being replaced by millennials, a generation with an underdeveloped work ethic born into a digital environment. The retiring boomers depart with many years, if not decades, of mechanical knowledge and experience. The millennials have a lot to learn and considerable time must be spent to train them. Yet they tend to job hop much more often than older generations of workers."
Attract & Retain
The solution for many companies facing a looming dearth of knowledgeable employees is to attract and retain new people with the right talents. According to the Tech-Clarity study, top-performing companies are 96 percent more likely to consider hiring the right engineering staff as highly critical to the success of their business. Those top performers, who reportedly do a better job at hiring and retaining the right employees, have employees that stay at a company 7.2 years— 39 percent longer than they remain at average-performing companies, the study shows.
"The fact that many people in the current manufacturing workforce will be retiring in the next five to 10 years is not new," said Doug Keith, large drives business unit lead for Siemens Process Industries & Drives Division, U.S. "It remains a critical management topic that manufacturers attract early career talent into the manufacturing workforce. The next generation of workers are digital natives and expect to work with the most modern tools and platforms. In order to attract and retain talent, chemical companies will need to apply the most modern automation technology, engineering tools and data analytics."
Bring in the Right People
Companies are attracting great employees by:
Pages