Design, vision, technology and a focus on efficiency have shaped the evolution of the pump industry.
The pump is one of civilization's earliest inventions. Considering its use in everyday life, it may be one of the most important. 
Since the beginning of time, there has been a need to push, suck or lift liquid from one place to another. Pumps provide the solution, dating back to 2000 BC when the Egyptians invented the shadoof. The physics of this first known pump was simple. A long suspended rod with a bucket on one end and a weight on the other was used to draw water from wells.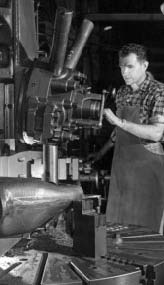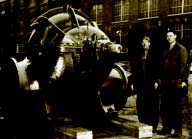 Above: An early 10 Series pump casting being machined on a vertical lathe. Photo courtesy of Gorman-Rupp Co.
Through 4,000 years of evolution, the viscosity of the liquid has varied and so has the direction that it flows. The mission remains the same—to move liquid from Point A to Point B. Thanks to the revolutionary innovation, creativity and vision of the industry's most forward-thinking people and companies, it doesn't matter whether the liquid is water, peanut butter or oil—today there is a pump that will move it. 
 Monitors and digital controls now provide more efficiency. Energy is saved through intelligent pumping with the onset of variable speed and frequency drives. Globalization provides more opportunities to expand the supply chain and reduce the costs of manufacturing. A focus on engineering and design continues to strengthen the industry's development.
All have contributed to the progression of pump technology and society's need for it. 
While most of the industry's key developments did not happen in recent years, veterans in the industry remember some of the greatest moments that helped shape the course of pump history.
 "Imagine a time when, to bypass a system, you had to excavate a temporary wet well and install submersible pumps," says Ron Askin, Director and VP of Sales for Xylem's Dewatering Solutions Business. "Rental access to portable self-priming pumps revolutionized infrastructure development and repair in the U.S. through faster, less intrusive and more economical solutions."
Thirty-three years ago, Lev Nelik (a.k.a. Dr. Pump), came to the U.S. from Russia with $50 in his pocket and a knowledge of pump engineering. He remembers working as a pump designer for Ingersoll-Rand in the mid 1980s under Dr. Paul Cooper. "I was involved in applying a so-called 'bias-wedge' impeller inlet hydraulics that made significant advancements in improving the cavitation characteristics of pumps," says Nelik, who now runs Pumping Machinery, a pump repair consulting company. 
"This design was applied initially for U.S. Navy projects, but also evolved into commercial applications, such as power plants. It helped solve problems of measurable cavitation resistance issues. It helped to further advance the work of such titans as Igo Karassik, Warren Frazer and others.  It was a true game changer."
The Electronics Age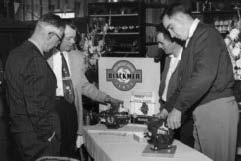 Pumps on display for a product demonstration in 1960. Photo courtesy of Blackmer
Dennis Wierzbicki, president of Grundfos Pumps Corporation, says electronic and digital advancements have created key innovations for pump manufacturers, including, "From providing tools to reduce quotations on large projects from weeks to hours/days, to industries that we can serve with process equipment for production," he says. "But most important, the electronics age has changed the technology shift in our products, from mechanical variable speed of the 1960s and 1970s to variable speed electronically integrated pump, motors and drives with integration to process management systems."
In addition, Wierzbicki says, "Who would have thought a meticulously assembled quote for a $5M capital project that took me as an application engineer a better part of a week to do, can now be done in an afternoon?" 
George Harris, president of Hydro, agrees. "Tools such as 3D modeling, CAD, CFD and other powerful analysis tools enable companies to perform complex engineering analysis and to strengthen our value-added engineering services.
"In terms of the pump aftermarket, rapid prototyping can be an important technology with the potential to bring pump up-grades and rerates to market in a much more responsive time frame than the traditional pattern process."
Intelligent Pumps, Energy Efficient Motors & Drives
Pages