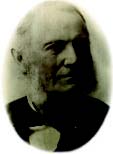 Seabury S. Gould, 1848. Photo courtesy of Goulds Pumps.
1851 John Gwynne files his first centrifugal pump patent. His early pumps were used primarily for land drainage, and many can still be seen today in pump house museums. They were usually powered by Gwynnes' steam engines. By the end of the 19th century, Gwynne was producing pumps of all sizes to cover all industrial applications, from small electric pumps to those rated at 1,000 tons per minute. His company had also begun to produce scientific pumps, e.g., porcelain pumps for chemical works. In the 1930s they were producing almost 1,000 different models.
1857 Worthington produces the first horizontal, duplex, direct-acting steam pumps for boiler feed.
1859 Jacob Edson invents the diaphragm pump and founds the Edson Corporation in Boston, Mass., to manufacture and sell his pump.
1860 Adam Cameron founds the Cameron Steam Pump Works, and becomes another pioneer in reciprocating steam pump engines. Like Worthington, Cameron's first products were used to power merchant marine and U.S. naval vessels. Cameron pumps were later applied in water resources, oil pipeline and refining and boiler feed.
1868 Stork Pompen of Hengelo, Netherlands, pioneers the concrete volute pump for water drainage.
1869 Downs & Company changes its name to Goulds Manufacturing Company. 
1870 UK Professor Osborne Reynolds develops an original design of a centrifugal pump.
1871 Johannes Klein receives a patent on his "boiler feed apparatus." With Friedrich Schanzlin and Jakob Becker, he founds the company "Frankenthaler Maschinen- & Armatur-Fabrik Klein, Schanzlin & Becker" (now known as KSB) to manufacture boiler feed equipment and valves.
1874 Charles Barnes of New Brunswick invents the vane pump.
1874 Wilson-Snyder grows into the premier line of slurry, pipeline and refinery pumps. 
1874 Gotthard Allweiler invents and produces a series of hand wing pumps.
1886 Jens Nielsen, founder of Viking Pump Company, invents the internal gear pumping principal while designing a pump to remove excess water that was seeping into his limestone quarry from a nearby creek.
1886 United Centrifugal Pumps is incorporated. It becomes the world's foremost supplier of high-pressure crude oil and refined product pipeline pumps.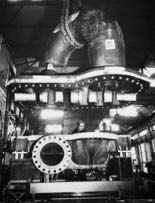 A single and two stage pipeline pump assembly in the 1960s at the Ruhrpumpen plant in Witten, Germany. Photo courtesy of Ruhrpumpen.
1897 Preston K. Wood makes the first deep well turbine pump in Los Angeles, Calif.
1899 Robert Blackmer invents rotary vane pump technology, a pump design that was an important departure from the old gear principle and predecessor to today's sliding vane pumps. 
1900 Siemens files the first German patent for liquid ring vacuum pumps and compressors.
1901 Byron Jackson develops the first deep well vertical turbine pump.
1902 Aldrich Pump Company begins manufacturing the world's first line of reciprocating positive displacement pumps for steel mills and mine dewatering.
1904 Jens Nielsen enlists George "Shorty" Mathes to construct his gear pump design.
1905 Multistage centrifugal pumps are developed.
1905 Two Goulds triplex pumps are installed in the New York Times building, accomplishing the highest lift of water to date—387 feet, 6 inches.
1906 André Petit invents the eccentric disc pump and starts his company, Mouvex, in Paris.
1908 Western Land Roller pioneers the design and manufacture of irrigation pumps.
1908 Hayward Tyler creates its first electric motor for use under water and develops the wet stator motor for use as a boiler circulation glandless motor-pump.
1910 Lewis H. Nash files the first U.S. patent for liquid ring vacuum pumps and compressors.
1911 Jens Nielsen builds the first internal gear pump, founding the Viking Pump Company. The Viking Rotary "Gear-Within-A-Gear" pump (the first of its kind) is placed on the market.
1912 Durion, a universally corrosion-resistant material, is invented by the Duriron Castings Company (later known as Durco Pump) and is applied to process equipment.
1913 Inventor and engineer Albert Baldwin Wood invents the Wood screw pump.
1915 Viking Pump Company wins the Panama Pacific Award for internal gear design.
1915 Albert Baldwin Wood invents the Wood trash pump. Wood spearheads the reclamation from swamp and the efforts to develop much of the land now occupied by the city of New Orleans. Some of Wood's pumps have been in continuous use for more than 80 years without need of repairs. New ones continue to be built from his designs.
Pages