One-fluid-chamber design—As noted earlier, traditional sealless pump design features two fluid chambers that are separated by a bracket. This design creates operational difficulties while limiting the types of fluids that can be handled by the pumps. The improved design has only one fluid chamber with the pump's magnets placed on the back of the rotor and close-coupled, or "piggy-backed," on the rotor gear. This design gives the pump a much shorter, simpler flow path. It also allows the pump to easily handle viscosities in the 20,000 to 30,000 cP range and as high as 50,000 cP, while still maintaining the ability to run thin liquids—such as caustics and solvents. These redesigned pumps can also pump liquids and slurries that contain solids.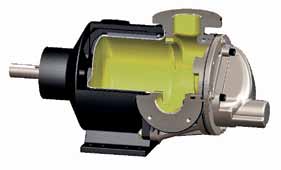 Single-fluid-chambered sealless gear pump
Another feature that this design offers is dimensional interchangeability. These pumps have been designed to be interchangeable with 95 percent of the other gear pumps that are currently available on the market. This means that a plant can run a traditional sealed pump in the morning, have it pulled out in the afternoon and drop this single-fluid chamber gear pump into the footprint while reusing the same piping, gear box, motor and base plate, all while receiving the same hydraulic performance provided by the previous pump.
While this pump is designed to eliminate all the operational concerns found in old-style sealless gear pumps, its simple design—which consists of only seven primary parts: a magnet housing, containment canister, casing, rotor magnet assembly, eccentric spindle, idler gear and head—greatly reduces maintenance and environmental costs.
Conclusion
In the end, the design of these new sealless gear pumps makes them beyond a traditional sealless pump. They are an engineered solution for environmentally conscious fluid-handling that lowers maintenance costs and eliminates environmental costs.
Pumps & Systems, November 2011
Click here to see a Readers Response for this article.
Pages