There are many potential ignition sources in a refinery or a petrochemical plant, including hot work, stationary, mobile and vehicular internal combustion engines, as well as improperly maintained lighting or electrical equipment.
These are typically controlled via measures such as traffic control, hot work permits for welding and burning, vehicle entry permit requirements to operate diesel engines in the posted areas, proper maintenance of electrical equipment and programs to prevent and detect the release of flammable materials. These measures are a good first step; however, due to human involvement at each step, complex processes do not ensure a safe environment. In the case of hydrocarbon release, a running diesel engine will be the first one to consume large amounts of hydrocarbon vapors, quickly enter runway condition and become a dangerous ignition source.
Diesel engine runaway is a serious problem in plants and facilities where hydrocarbon emissions or leaks may occur. A runaway can be described as an engine running out of control on an external fuel source, and the operator cannot shut down the engine using conventional methods. Turning off the engine ignition switch, fuel system, shutting off the solenoid or disengaging the engine's load will not stop a diesel engine. The most effective way of shutting it down is with a diesel engine air cut off valve.
Diesel engine speed is governed by the controlled amount of fuel fed to the engine through its normal fuel system and by its internal speed governor. When additional uncontrolled fuel is present in the environment in the form of combustible vapors, the engine may ingest them. This adds additional uncontrolled fuel intake, which causes the engine to over speed. Turning off the normal shutdown system will only turn off the engine's normal fuel source, permitting the engine to run uncontrolled by the external fuel source.
In a total runaway engine situation, the result can range from minor engine damage to engine explosion, causing catastrophic damage to the equipment and surrounding facilities and/or death or injuries to personnel.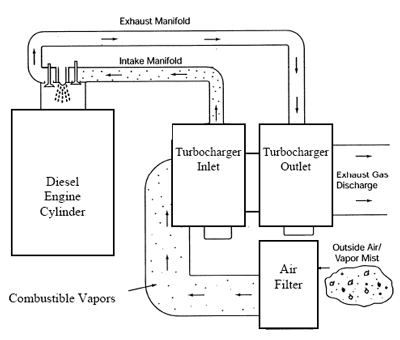 Figure 1. Typical air intake system with a four cycle diesel engine
According to OSHA, there have been 36 incidents related to the release of highly hazardous chemicals in the refining industry since 1992, causing 52 deaths and 250 injuries. U.S. Minerals and Management Service, the U.S. government agency that regulates the offshore oil industry, has determined that  alarmingly high percentages of fires and explosions result in death and destruction. More than 20 people have been killed and 190 injured in just three accidents.
In 1985, the U.S. Department of Labor, Mine Safety and Health Administration established and enforced regulation 30 CFR 7.98, Technical Specifications. Per this regulation, diesel engine air intakes shall be equipped with a device to shut down the diesel engine in the event of runaway. NFPA (1999) permits installation of a manual emergency shutdown device on the intake or exhaust system to prevent engine over speed. The U.S. Coast Guard requires air intake shutoff devices in certain applications.
Pages