The Fourth in a 6-Part Webinar Series for 2016
Given the wide variety of pump choices, how do you decide which type to use in the first place? This free webinar will give insights into how to make that critical decision when specifying pumps for nonresidential HVAC applications. Whether a frame-mounted or close-coupled end-suction, horizontal split-case, vertical turbine, submersible, circulator, vertical multi-stage, or other pump type, this educational session will help attendees choose the most appropriate and optimal pump type for the job. This is not a course on how to select pump sizes and optional features. It focuses only on choice of pump type.
Participants will receive a certificate to submit for CEU credits!
Click here to watch a video playback of this webinar.
Click here to download a PDF of the presentation slides.
SPEAKER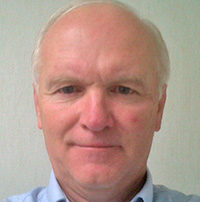 Jim Swetye
Senior Technical Trainer
Grundfos Pumps Corporation
Jim Swetye holds a bachelor of arts from Hiram College, Ohio and a master of science in education/curriculum leadership from Emporia State University. He is a former VP of Knowledge and Education for the Hydraulic Institute and is a certified trainer for Pump Systems Matter.


Sponsored by