Loyal readership and solid industry support helps build a credible brand.
Twenty years after its conception and launch, one thing has remained constant—Pumps & Systems keeps the needs of its readers at the forefront. With this issue, we celebrate the magazine's original editorial mission and its most important commodity—the pump users, pump operators, pump specifiers and pump engineers who read it every month.
In 1992, David Hill was ready for a new challenge.
Since graduating from Loyola Marymount in 1974, the entrepreneur-turned-publisher had successfully launched several trade titles about a myriad of topics ranging from health care software to asbestos to motorcycles. Searching for inspiration, he spread out more than 20 industrial publications on his desk. It did not take long for a new idea to take shape.
"I noticed that there were a lot of pump advertisers out there, but no magazine that offered true editorial support for them," Hill remembers. "There was nothing on pump maintenance ... nothing of real value to the pump industry's end users."
A quick analysis on money spent annually on pumps provided a clear picture of the business potential. A few phone calls helped him confirm solid industry support. He identified about 10 of the industry's leading pump experts and flew them all to his office in Denver, Colo. He immediately secured key industry players, including the Hydraulic Institute's Executive Director Bob Asdal, Vanton Pump & Equipment's George Black, Amoco Oil Chief Engineer John Dufour, Sundstrand Manager of Engineering William Mabe and Goulds Pumps Director of Technology George Wilson, among others.
"I didn't want a cosmetic advisory team," he says. "I wanted a hands-on group. We had a two-day meeting, and I just picked the heck out of their brains."
They all agreed that a pump magazine focusing on maintenance and operations issues was a concrete idea and badly needed in the industry.
"We spent a lot of time with Dave discussing whether we would support the magazine," says current Vanton President, Larry Lewis, whose father Gerald Lewis was president and CEO of Cooper Alloy Company (which owned Vanton at the time) and on the original editorial advisory board. "Identifying the right audience and the editorial direction were important to us. We didn't want to be a part of it if it was just a 'good ol' boy' magazine. We didn't just want to see our name on the masthead—we wanted to get something out of it. From the start, the editorial content was straightforward and useful. From its inauguration 20 years ago to today, I still learn something new in every issue."
Building a Loyal Readership
When Pumps & Systems launched in January 1993, it only took a couple issues to develop a loyal following from its readers. Chris Zielewski was one of them.
"In 1993, I had already been in pump- and machinery-related work for more than 10 years," says Zielewski, who is now a senior staff engineer for ExxonMobil. "At the time, I was getting ready for some major overhauls, and any technically-oriented troubleshooting resource was welcome information. The magazine showed up in my mailbox, and the rest, as they say, is history."
Zielewski found immediate value in the new magazine's content.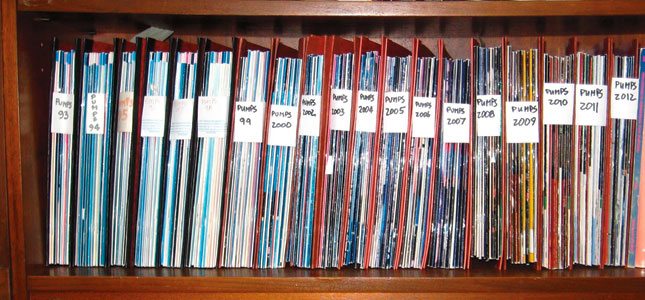 Many readers maintain a library of
Pumps & Systems
for future reference. Chris Zielewski, a 20-year reader, has every issue ever published.
"Machinery and pumps, specifically, continue to evolve," he explains. "At the same time, the underlying basics and reliability principles stay constant. When Pumps & Systems was published, it managed to do a good job with covering both the innovation and fundamentals and also made it interesting. Effectiveness in my job comes from knowledge and confidence. The early issues with articles on vane pass vibration and suction recirculation helped me to quickly diagnose those problems and, more importantly, justify and implement solutions."
Hill immediately took his new magazine to industry trade shows. It premiered at the 1993 Texas A&M Pump Users Symposium, where he received positive reader feedback. "People would come up to the booth and say, 'Your magazine helped me solve a problem,'" Hill recalls. "That was always gratifying for me. I knew we were doing something right."
At the trade shows, Hill also learned the technical side of pumps from readers eager to share their knowledge. At one show, he connected with Bob Matthews, then the lead pump shop maintenance technician at Champion International's Sheldon, Texas, newsprint plant. Matthews became one of the magazine's first regular technical authors.
"Dave asked me, 'Does your company have pumps?'" recalls Matthews, a 20-year reader who is now the reliability manager at Royal Purple. "I said, 'Yes, we have a few thousand of them.' He asked me how big they were. I held out my hands and said, 'Some are this big, and there are others that you can walk through.' He wanted to see them, and that was the start of a great friendship."
Building a Credible Brand
Hill wore many hats in the early days. He served as publisher, editor and occasionally sold ads. He focused on building the right team and learning from his advisory board. "The biggest obstacles in the beginning were building credibility in the industry," Hill says. "We had to prove ourselves. After a couple of issues, people began to understand what we were trying to do, and we got a lot of support from advertisers and readers."
Thomas Tabar was a young applications engineer with MetPro/Fybroc. "I received a free promotional copy of Pumps & Systems and have been a subscriber ever since," says Tabar, who is now a segment support manager for the water and power division of Sulzer Process Pumps, Inc. "Pumps & Systems was a great resource for me being someone new to the pump industry. Each month there is something interesting for everyone and the articles are very well written. Great technical articles on pump applications, troubleshooting, system design, market updates, and product features and benefits are appreciated. I've continued to read Pumps & Systems for 20 years because it is a very useful resource for continuing technical education, and it helps me stay in touch with current market happenings."
Alfredo Ciotola, president of Frontline Industries, remembers the first time he saw a copy of Pumps & Systems. "I was visiting a customer and saw it in his office," Ciotola says. "I had been in the business for more than 10 years and was actually surprised to see a pump magazine. I found out the magazine had only been in circulation a couple of months. For the past 20 years, Pumps & Systems has been of great value to me. It is a great source of information for identifying system problems and pump overhaul procedures. I cannot tell you how many times I have made copies of articles and sent them to our customers with a note... 'Read this, and you will find the solution to your specific problem.'"
Changes in Ownership
In 1999, Hill sold Pumps & Systems to Randall Publishing (now Randall-Reilly), a trade magazine publisher in Tuscaloosa, Ala. George Lake was a young sales representative and was tasked with selling a set of pump handbooks that Hill had repurposed from the magazine's content.
"I remember speaking to a plant manager at a refinery and he said, 'I don't let my new guys touch our equipment until they have read these handbooks,'" recalls Lake. "Knowing that people derived so much value from them made them easier to sell. Later, I found out that the manuals were actually reprinted articles from Pumps & Systems magazine. When I started selling ads for Pumps & Systems, I was extremely confident that our readers were getting valuable information from the magazine and that my customers were getting a very engaged reader.
"I was encouraged by the cult-type following. I remember thinking, 'Man, these guys are passionate about this stuff.'"
In 2002, another entrepreneur, Wally Evans, heard that Randall was interested in selling Pumps & Systems because it did not fit with its niche markets. Like Hill, Evans quickly recognized the industry's potential.
"The previous owners had struggled with the magazine because it was not a great fit with their other endeavors," Evans says. "They were about to shut it down. Circulation was dropping, the editorial and sales staff had been cut, and the quality of the content was beginning to slip."
Despite all that, the magazine had a loyal audience, loyal advertisers and a strong position in a solid, stable, niche market. This got Evans' attention.
"I concluded that it didn't make sense as a small title within a large publishing company at that time, but I thought it could work as an independent business of its own," he explains.
Evans purchased the magazine, formed Cahaba Media Group and published his first issue in January 2003. Lake was the company's first employee and is now its vice president of sales.
"We had a small team of about five people when we started, and publishing Pumps & Systems was all we did," Evans says. "Our economic lives were totally dependent on its success. Since then, we've grown into a multi-industry, multi-title publishing company. But we never forgot the lesson that focus and a stake in the magazine's success are powerful motivators. We have inculcated that into our company culture."
Cahaba Media Group now publishes five trade magazines, 10 monthly e-newsletters and five world-class industry websites. Pumps & Systems remains the company's flagship product.
"The industry inspired me because it was underserved, necessary and fairly strong," Evans says. "Pumps are an essential piece of hardware that is necessary for the functioning of a modern civilization of any size. Anywhere there are big populations of people, there are pumps. Whether you are in Hyderabad, India; Houston, Texas; Riyad, Saudi Arabia; or Mayberry U.S.A., you have to have fresh water, water treatment, power generation, food and gasoline.
"All of those things require pumps."
Evolution of Pumps & Systems
Today, Pumps & Systems maintains the same editorial focus created two decades ago by Hill and his advisory team of pump experts.
Many of its original readers continue to find value within its pages.
"Pumps & Systems was the first comprehensive trade publication to have editorial that focused solely on pumps and related operations," says Bill Thompson, president of Thompson Pump Company. "It quickly became a valued source of up-to-date information about our industry, especially since we were implementing our growth and expansion mode at that time. I have seen Pumps & Systems frequently quoted and referenced as THE media source for pump information. It gets better and better with each issue."
Kerry Baskins was three years out of the military and working as a district sales manager for Viking Pump when Pumps & Systems launched in 1993. He is now vice president of sales for Viking Pump and a current member of the magazine's editorial advisory board.
"Through the years, Pumps & Systems has evolved and the quality of the regular contributors has improved substantially," Baskins says. "I find the magazine to be of tremendous use to me for a number of reasons. I actively read the technical articles, new product articles, advertisements, etc., to understand what is going on in my industry. I also believe that the data that Pumps & Systems puts out relative to brand recognition is very credible. The staff makes it a point to participate in all the major shows, and they are all very well networked. This adds a great deal of credibility to the publication for our industry."
The original editorial mission of Pumps & Systems was simple, according to Hill.
"We just wanted to build solid editorial and give the reader good information," the magazine's creator says. "I am not much of a bean counter. I just wanted to work hard, have fun and create a useful product. This industry is full of fun, hard-working people, and it is an outstanding, viable market. Pumps are everywhere. I always enjoyed the industry, but I mostly related to the readers. I believe the individuals who run this country are the ones who work in the manufacturing plants. Pumps & Systems is all about them."
Why Readers Choose Pumps & Systems
We received answers from 515 readers to the question, "Why do you read Pumps & Systems?" Since this was an open-ended question, we categorized the answers to develop this Top 20 list.
#20 Information about motors
#19 Information about NPSH
#18 Articles about pump monitoring & testing
#17 Information about guidelines & standards (HI Pump FAQs)
#16 Articles about seals, gaskets & flanges
#15 Articles about pump specification & selection
#14 Market information & analysis
#13 Articles about installation & maintenance
#12 Articles about efficiency & reliability
#11 Columnists Joe Evans, Terry Henshaw & Lev Nelik (articles about best practices, basic principles, theory, practical tips, pump design & repair)
#10 Case studies about various applications
#9 To help teach & train employees
#8 Articles about troubleshooting, solving problems & finding solutions
#7 Supplier information, advertisements
#6 To learn about new products, equipment & innovations
#5 To stay on top of industry news
#4 It helps me do my job better
#3 It's all about PUMPS
#2 To increase general knowledge of pumps & systems
#1 The technical articles
These are our Top 20 favorite responses to the question, "Why do you read Pumps & Systems?"
#20 "It is the best resource for pump manufacturers."
– Ivan Dimcheff, President & CEO, 16-year reader
#19 "Pumps are a vital part of any industry."
– Plant Manager, 1-year reader
#18 "It provides a good cross section of the industry as a whole." – Brian Kalfrin, Senior Reliability Engineer, 12-year reader
#17 "To better understand pumps in public water distribution systems. I am the hydraulic modeler for the Indiana American Water distribution systems, and this magazine has been tremendously helpful."
– Randy E. Windhorst, Engineering Technician, 4-year reader
#16 "I read Pumps & Systems to be better informed about the pumps market." – Maintenance Manager, 1-year reader
#15 "I am in the pump industry." – President, 15-year reader
#14 "To keep my students informed about the latest information, and to verify the information I give them." – Mary Gaedt, CEO and Instructor for Oden Training, 10-year reader
#13 "Pumps & Systems provides a great refresher on basics. I like to distribute the articles to our junior engineers."
– Supervising Mechanical Engineer, 10-year reader
#12 "It helps me understand some of the mechanical issues that arise when installing new equipment. Pumps & Systems also gives me different ideas to improve performance."
– Project Engineer, 5-year reader
#11 "It is a great resource. It is like a Bible for me."
– Sanath Palipana, Consulting Engineer (Infrastructure Solutions), 5-year reader
#10 "I have designed pumps and pumping systems for over 25 years. I use Pumps & Systems as a guide to alternative approaches and ideas for applying pump designs."
– Brian Mitsch, VP of Operations & Engineering, 10-year reader
#9 "We are building an industrial maintenance program. In a recent survey of regional industrial companies and water and wastewater companies, 95 percent listed pumps as their No. 1 area of priority training. Pumps & Systems is an incredible resource for us in building our training program and is read by all our students." – Louis Quindlen, Department Chair, Machine Technology, Laney College, 3-year reader
#8 "I have been involved in pump system installation and maintenance in the mining industry for years.Pumps & Systems helps me keep up with advancements in this sector of the industry."
– Tim Dake, General Manager-Project Construction, 10-year reader
#7 "As a pump distributor and an engineering firm, we are always interested in all aspects of pump evolution."
– Stu Kass, VP Process Equipment, 20-year reader
#6 "As a pump designer, the magazine is very useful for me to stay updated on what is happening globally in the pump industry."
– D. Satish Kumar, Senior Engineer, Team Leader, 18-year reader
#5 "To find solutions to our problems, so we don't have to spend money re-inventing the wheel."
– Senior Project Engineer, 15-year reader
#4 "I have spent 35 years in the pump industry and cannot get it out of my blood."
– Account Manager, 20-year reader
#3 "It is an excellent source of information very specific to pumps. It helps me with my job."
– Vice President, 5-year reader
#2 "The magazine is very balanced. Each issue typically covers a variety of topics and caters to the professional engineer, industry sales representatives and end users in all markets."
– Vince Bischoff, Regional Sales Manager, 11-year reader
#1 "It is the most comprehensive pump magazine in the marketplace. When my wife sees me reading your magazine, she says, 'Get a life.' After 35 years, I guess I can't help myself."
– Frank Colosey, President, Merion Pump, 20-year reader
Issue