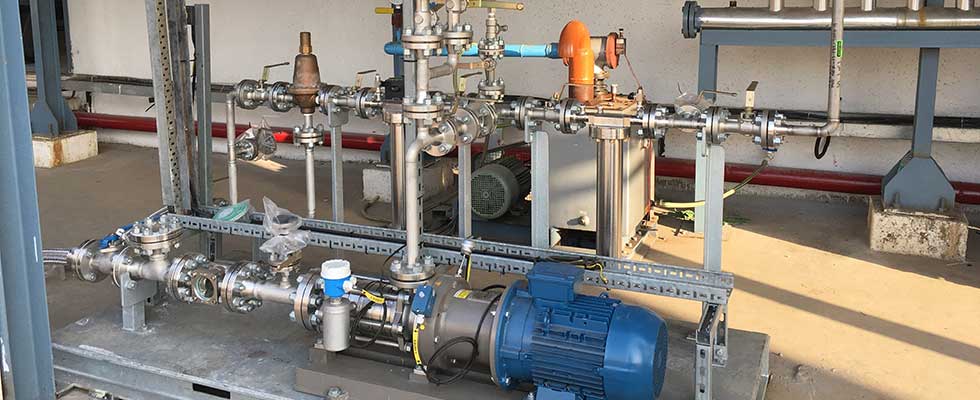 These shifts have affected what companies need from their equipment providers.
Many articles have been written about selecting the right pump for an application. But the global chemical industry is being transformed by forces that make selecting the right flow management equipment supplier all the more critical for long-term business success. Among these disruptive changes are three major trends:
Increasingly strict health and environmental regulations that require compliance with stringent emissions and safety standards as well as voluntary adherence to corporate sustainability objectives.
Digitalization of equipment and processes to precisely monitor and control operations and manage costs better.
Emergence of the circular, sustainable economy in which increasing resource efficiency and the reuse of resources are required to meet not just regulatory and legal requirements but also to reduce costs and extend the life span of materials, components and products. 
The challenge, of course, is discovering ways for chemical companies to not only stay ahead of these trends but also continue to meet the expectations of all their users and stakeholders. It can be difficult to do this well without a high level of support from their top suppliers. Success may be achieved by partnering with equipment manufacturers who possess global engineering and production expertise and proven financial strength. Such partners can design, test, construct and install the innovative chemical processing equipment and systems that will be required to navigate these trends.
In addition, chemical companies should seek out partners who can provide needed aftermarket support and services not just at scale but also locally. This capability is helpful for chemical companies to respond rapidly to market changes, maximize operational efficiency and reduce costs to stay globally competitive.
Trend 1: Increasing Health, Safety & Environmental Regulations
Chemical companies have integrated stringent environmental protection into production along with steps to enhance the safety of processes and products. Nevertheless, stricter requirements and standards are being imposed by governmental and industry organizations. Many are established by companies as sustainability goals. 
To comply with standards and achieve targets, chemical companies need suppliers with a broad chemical pump portfolio that includes sealless and other no- or low-emission pumping technologies. Chemical companies also need suppliers with expertise in environmentally focused processes such as carbon capture or the production of cleaner blue or green hydrogen.
What to invest in
Chemical companies should invest in pumps and other equipment known to be free of emissions to the atmosphere, providing a competitive advantage when handling hazardous process gases or liquids that contribute to climate change (like refrigerants or carbon dioxide [CO2]). 
Look for a supplier that has a broad range of pumps (single- and multistage, sealless, side channel), liquid ring compressors and critical service valves that can minimize emissions in processing, transportation and storage applications. In a CO2 capture system, for example, a range of pump configurations will be needed for:
capture and processing—OH2, BB1 (between bearing), BB2, BB3, ISO 2858 (International Organization for Standardization), ANSI B73.1 (American National Standards Institute)
pipeline mainline—BB3 and BB5
pipeline booster—BB2 and BB3
pipeline injection—BB3 and BB5
Trend 2: Digitalization of Industrial Processes
Digitalization opens new opportunities for chemical companies to collect extensive data in their own businesses, then evaluate and use it to improve operational processes. New internet of things (IoT) technologies also enable the systematic collection and analysis of large data volumes on user behaviors and preferences, usage of products and environmental properties of products. 
Soon, data usage will become more important to improve efficiency by further automating, monitoring and controlling chemical manufacturing and transportation. IoT devices and systems will also enable chemical companies to intensively use operational and external data about the behaviors of markets, users and competitors. As a result, advanced methods of analysis for making decisions and increasing efficiency with predictive maintenance and networked logistics are now possible. So are robust systems for simulation design, training and research.
What to invest in
Chemical companies should invest in a connected platform that gives them the tools and insights to monitor and optimize flow control equipment performance. Users can become more agile because IoT solutions enable them to see patterns sooner.
Look for an equipment partner who also provides a turnkey offering from sensors to cloud architecture, analytics and condition monitoring and predictive analytics services. The equipment provider should also have the digital technology expertise to help users implement systems that can proactively identify and address equipment issues before they cause downtime and disruptions. 
Trend 3: Growth of the Circular, Sustainable Economy
Changing user and corporate preferences toward sustainable production and consumption requires the chemical industry to develop new products and business models. Increasingly, users and companies value sustainability; they are prioritizing the purchase and use of products and materials that can be recycled, repurposed and reused to create a new circular economy. And many countries, users and companies want to reduce their carbon footprint to achieve a near- or net-zero carbon position.
This shift is further driven by regulatory proposals intended to reduce waste and extend the life span of components and products.
What to invest in
Chemical companies should partner with a fluid motion and control equipment supplier that possesses engineering expertise to help them redesign processes and products to eliminate waste. Examples include energy recovery pumps and hydraulic turbines integrated with an IoT platform to optimize gas scrubbing, hydrocarbon processes and desalination and single- and multistage pumps for pipeline energy recovery.
How Chemical Companies Can Respond 
As markets change, energy costs fluctuate and environmental factors continue to evolve, chemical companies are challenged to efficiently manage aggressive, corrosive, erosive and hazardous substances while also delivering against operational, business and sustainability goals. To successfully address the three major industry trends identified here, chemical companies will need a partner who: 
Possesses expertise in the design and operation of high-efficiency fluid motion and control equipment and systems
Optimizes equipment and systems to provide the lowest total life cycle cost solution
Offers engineering and technical resources for application support and ongoing life cycle cost reductions
Responds quickly through its network to provide parts, repairs and support locally
Maximizes equipment availability and enhances operational efficiency, safety and environmental compliance with condition monitoring and maintenance services
Trains chemical company teams in the selection, operation and maintenance of pumps, energy recovery devices (ERDs), seals, valves and actuators
In addition, users can leverage all of these capabilities by choosing an equipment partner who provides a single point of contact. 
Experience with integrated solutions in multiple industries also can be valuable. For example, know-how and insights learned about fluid control in water supply applications, or carbon capture in oil and gas applications, can be helpful in the chemical industry—so can a global network of response centers to provide quick, local access to application engineers, maintenance and repair technicians and spare parts. 
Issue