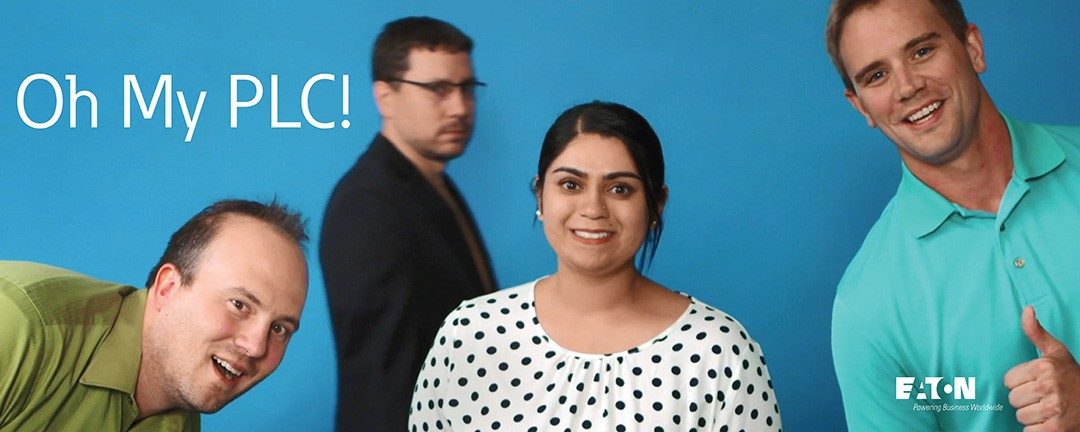 How Eaton's "Oh My PLC" campaign addressed its customers' needs.
When it comes to marketing products to customers, those in the pumps industry know that technical details and proven success are prime selling factors.
But entertainment? Well, that's not always expected.
Last fall, Eaton embarked on a marketing campaign called "Oh My PLC" that mimicked game shows, addressing questions customers may have about programmable logic controllers (PLCs) in a Jeopardy-like setting. In each episode, three characters—Josh, Travis and Asma—compete to answer questions posed by the host, Eaton product manager Adam Bainbridge. The campaign was devised to educate customers on the Automation Compass HVAC, which guides panel builders and system integrators through the control options available in nano PLCs.
"I understand the industrial world and the engineering audience," said Jen Manswell, divisional and regional segment marketing communications manager at Eaton. "[The] dry sense of humor and jocularity of working with the two males, plus the sweetness of Asma, gave the good mix—all of these characters allowed the audience to connect with the different personality characteristics."
The goal with the Oh My PLC videos—six episodes which are housed on Eaton's website and viewable on YouTube—was to make the features of Automation Compass easier to understand, and to capture the attention of new people.
"It goes down deeper into specific control methods and applications that you would solve using PLCs," Bainbridge said.
"Anytime you look at more advanced technologies there's a group of people who are content with how they've always done it or they're intimidated—they think it's high a cost or it would be hard to diagnose once it's installed," he continued. "[This] uses a language that engineers are used to."
The questions on the game show came from Google research—understanding what people are searching for in regard to PLCs. Also, some of the questions were born from the product, Bainbridge said, letting people know what's truly unique about this product that was engineered in for a reason.
"We wanted something light-hearted, easy to consume, short," Bainbridge said. "[We] had some easy technical language, [and] kickstarted your appetite."
"You want to increase your visibility in front of people who want to purchase from you," Manswell said. "We'll always chase after those opportunities."
But Manswell said Eaton's dedication to taking care of its customers is what drives the team, and what led to this campaign focusing on seeking answers to the questions customers often have. 
"I have never encountered a team that works harder at taking care of their customers," Manswell said. "They'll lose sleep. They will hunt the solution down so the customer is taken care of."
Cick here to view the "Oh My PLC" episodes and for more information.