The essential service of water, creative watershed management solutions, plus optimizing aeration systems.
Here are the important takeaways from sessions attended by the Pumps & Systems' editors at WEFTEC Connect Day 3.
Diversity is Needed in Water & Wastewater Workforce 
Anna Maria Chávez was the keynote speaker for the session "Meet Me in the Middle: Making Workforce Connections." Chávez was the first woman of color to lead the Girl Scouts of the USA, and she is the CEO of the National Council on Aging. Chávez spoke on the importance of diversity in leadership and workforce overall as the water workforce looks to solve the issues facing the water industry in 2020 and beyond. She gave viewers five key points to take away from her 30-minute session.
For Chávez, there have been multiple catalyst moments throughout her life that have led her to make real change in herself and in the communities she's passionate about. When she was in elementary school in Arizona, she was punished by a teacher for speaking Spanish with a classmate. Coming from a household that spoke both English and Spanish, Chávez was both hurt and confused by speaking Spanish being seen as a negative. For months to years, she did not speak Spanish, but she eventually used this moment to push her to fight for diversity in all spaces and to help serve the communities that might be seen as different. 
Chávez spoke on how to foster change in our workforces and push to include more diverse backgrounds and perspectives that should not be seen as a barrier, but an opportunity. Leaders in the water sector should take the excitement of change to push others to come along.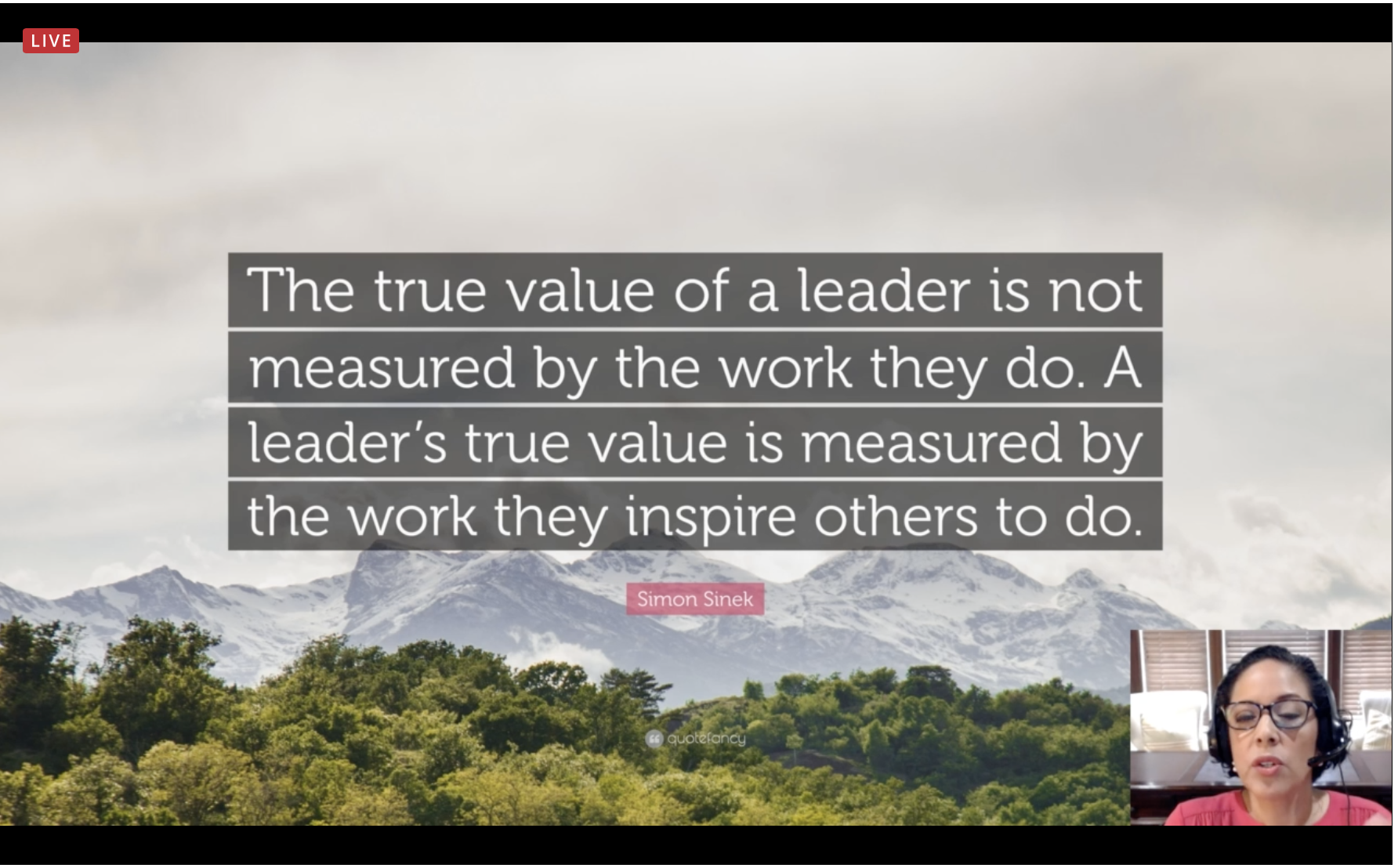 Chávez told another story about working for the Arizona governor's military commission. During one of her first gatherings with the commission, another committee member called her out and said, "What makes you think you have the qualifications to serve this commission?" 
The question shocked and hurt Chávez, but an attaché for one of the generals told her on the drive back from the dinner that she should stop trying to impress people with her credentials. He told her that ultimately, you have to dig in and let the work show your competence. Eventually, the person that questioned her presence on the commission pushed to get her nominated for an award presented by the U.S. Secretary of Defense.
Chávez said that if you are in a new job or trying to get a new position on your team, surround yourself with people who will set you up for success. Do not let inexperience be a barrier, but instead, push yourself and let the work do the talking. 
Chávez spoke to many of the challenges facing the water sector today and where the industry has room for improvement. Here are some of the main challenges that Chávez highlighted during her session:
10,000 people per day are turning 65 years old in the U.S. This is leading to high staff vacancies, and employers are struggling to employee skilled workers. 
Water utilities are in disadvantaged communities made up of diverse residents, but the workforces that serve them do not often reflect those communities.
More than 2 million Americans lack access to clean water or a working toilet in the home. 
This data affects real people. Chávez spoke to the hope of equitable water access in our lifetimes, but noted that those in the industry will need to uncover the data that shows disparity and use it as an opportunity to make the path to clean water and a strong water sector possible.
Chávez gave examples from a resource provided by the U.S. Water Alliance of communities that are still struggling in regards to clean water. 
In McDowell County, West Virginia, residents depended on an uncovered tank and an unreliable network of pipes for their water. The water was intermittent and often came out cloudy or dirty. Local firefighters offered a temporary solution by allowing residents to fill jugs from fire hydrants, but even then, residents would spend hours hauling water for drinking and household chores.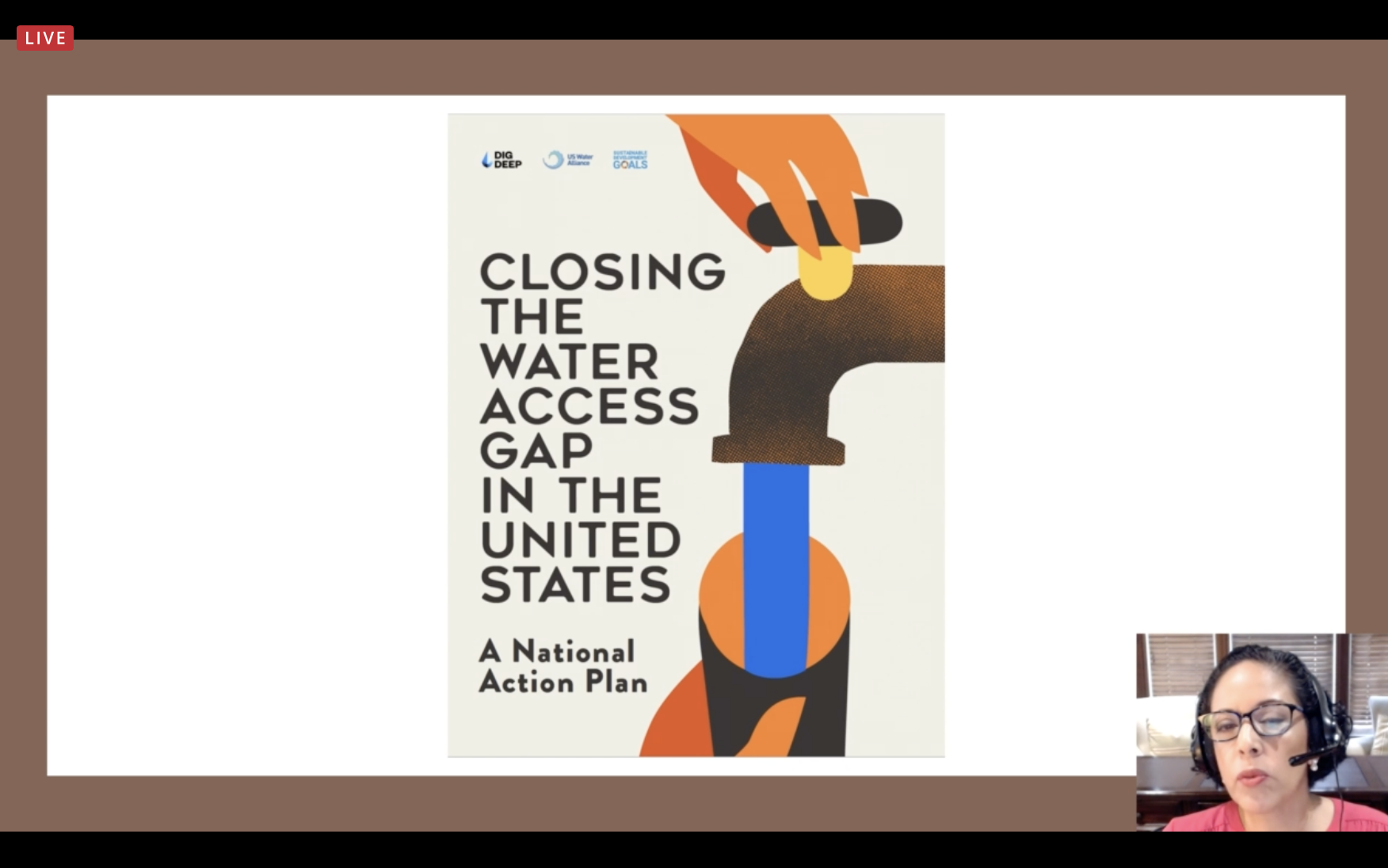 In Arizona on the Navajo reservation, more than 30 percent of people lack access to running water. Though the region has a wealth of water resources, the Navajo community was left out of compacts for water allocation. The community's rights to water have been violated repeatedly despite U.S. Supreme Court rulings to protect tribal water rights. 
Chávez ended her session by discussing the lack of diversity specifically in the water and wastewater industry. 
55 percent of the water workforce is between the ages of 35 and 64
Women account for 46.8 percent of the national workforce, but in the water industry, women only make up 14.9 percent
Only 6 percent of all water and wastewater utility CEOs are women
Black and Asian workers only account for around 11 percent of employees in the water and wastewater industries
There is clearly room for growth when it comes to creating a more diverse water and wastewater industry, and Chávez encouraged viewers to embrace their leadership journeys and push to create a better world not just for themselves but for those that do not share the same background. She ended her session with a challenge for the industry. She told viewer to ask themselves, "How is this going to translate into creating a workforce for the future and that it is diverse to meet the needs of the communities you're serving?
Water: An Essential Service 'Held to a Higher Standard'
Joone Lopez of the Moulton Niguel Water District, which serves six cities in south Orange County in California, gave the keynote address during the session "Knowledge Development Forum: Utility Leadership Opportunities and Lessons Learned from COVID-19 Experiences." Lopez highlighted the lessons resulting in long-term positive changes and impacts to utilities.
"We can't stop," Lopez said. "We can't have losses. We can't fail. We are held to a higher standard because the public relies on us and depends on us. We have to think about what the next event could be."
Some keywords she highlighted:
Connectivity: It is uncertain that things will get back to what they were before. One thing her district has learned is the importance of workforce, and this event has really magnified that. Their workforce model is HERO (honesty, effort, respect, one team). There must be a strong camaraderie with conscientious communication. Relationships have to start before they are really needed. Several years ago, the district implemented advanced meter structure (smart meters). It gave customers more information and, since the coronavirus pandemic, 95 percent of customers who responded to a survey said they saw no lapse or interruption in customer service.
Innovation: Use imagination to help others around you. One big example was how their field crews are in two teams to limit cross-exposure, but some events call for more people. The teams are color-coded. One team wears red and the other green. There are red and green caps, face masks, wristbands, stickers on vehicles and more. You look at colors and try not to get near people wearing the other color.
Collaboration: Encourage the staff to work beyond the water and wastewater universe—working with others to see how they can collaborate.
Equity: Crises affect communities differently. The impacts are not the same. There are more than 3,000 water providers in California, and some systems have fewer than 10 employees. What if one system gets wiped out because of coronavirus quarantines? People need to be prepared to step in and run another system other than the one where they work because communities rely on that. "In California, we talk about the big one all the time. We have no idea when it's going to hit," Lopez said. She also mentioned digital twins, a concept she was recently not familiar with. With digital twins, you can replicate the system virtually and run different simulations to see what could happen in the other system if you run X, Y or Z without actually touching the real system.
Optimizing Aeration Systems
"Not Just Blowing Hot Air" was a technical session focused on optimizing aeration systems due to their potential for saving on the otherwise large costs involved in implementing and operating these systems. The session featured five people who presented on their aeration-related experiences.  
Hiroyuki Kamemura from the city of Yokohama spoke on the theme of conventional control. His work focused on optimizing the number of blowers based on air flow rate, specifically studying the relationship between temperature and inlet air flow rate.  
Gustavo Andres Baquero Rodriguez from the Universidad Militar Nueva Granada presented on the "Evaluation of a Novel Ultrasonic Cleaning Technique for Fine Pore Diffusers." His research involved collecting samples from diffusers by attaching it to an aerobic reactor. Notably, they also made use of ultrasound to successfully clean their small-scale diffusers.  
Oliver Schraa from inCTRL Solutions described his dynamic blower design where modeling was used "to establish the blower operating window under varying loading scenarios." His team studied a reclamation plant in California to come up with blower control strategies and provide system curves for blower design. 
Sam Reifsnyder from the University of California Irvine also studied the same reclamation plant in California. He specifically studied the impact of manual valves on air flow distribution between the five parallel units of this plant.  
Maren Deal of Brown and Caldwell presented her work that involved installing aeration control valves in three parallel tanks operated in an anaerobic/aerobic configuration. 
Creative Watershed Management Solutions
The creative and innovative approach to protecting water quality at the local level was nothing short of awe-inspiring during the session "Watershed Strategies: Going Beyond Watershed-based Permitting, Integrated Planning and Trading." Five different municipalities presented ways that they are achieving successful watershed management programs in their part of the country.
Jamie Hughes from Clean Water Services in Oregon shared a. video explaining how 40 partners from public, private and nonprofit sectors restored 120 river miles and planted 8 million native plants in their Tree for All program.
 
Matthew Wooten, an aquatic biologist with the northern Kentucky sanitation district, spoke about how altered hydrology can cause stream integrity loss and the implementation of hydrologic restoration efforts has taken one stream in their area from flowing only whenever it rained to perennial flow, and wildlife coming back in another test area. "If we can restore hydrology, we can restore the habitat," Wooten said.
 
Karen Sands with the Milwaukee Metropolitan Sewerage District said having the resource of Lake Michigan nearby puts them in a unique position. "It is our duty to not only use it but protect it as best we can," she said. They have found success in providing funds to help municipalities take on green infrastructure programs, helping with green infrastructure design tools, and protecting upper areas of their watershed that flow downstream to Milwaukee with conservation easements; they have protected 3,400 acres thus far.
For more examples of creative watershed management, view this session on-demand.