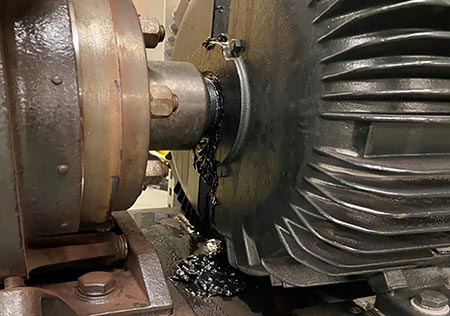 This technology is for more than just troubleshooting.
Looking at the abilities of ultrasound over the past four decades, it is clear manufacturing facilities have seen a drastic change in technology. Recent innovations have taken a new stance in not only how rotating assets are being monitored but also how they are maintained by lubricating bearings from anywhere in the world where a web browser can be opened. This article will show a better understanding of how the technology behind structure-borne ultrasound has advanced.
How Do You Harness Ultrasound Technology? 
In order to properly use ultrasound, listen for changes in friction levels in rotating equipment at a certain frequency (kilohertz [kHz]) setting and then monitor the decibel (dB) level over time. Based on the delta value movement of the dB, as it shows friction go up 8 dB above a previously set baseline, there is now a need for lubrication. 
At the 16 dB range above a baseline, failure stage can be heard. An increase above 35 dB would put the asset in a catastrophic failure stage.1
For decades, pre-1990s, many users saw ultrasound as a troubleshooting tool or a simple compressed air and gas leak detector. Do people still use ultrasound troubleshooting? Absolutely. It is a great way to quickly confirm an underlying issue with a motor or drive. Many people may have walked onto a production floor touching a piece of equipment thinking, "Yep, that one sounds different, we're pulling this one this weekend." If not, grab a structure-borne ultrasound device and try it, because it is an eye-opener. One of the main reasons it was known as a troubleshooting tool was due to ultrasound equipment being purely analog. It works with this approach, but users are not able to save or store any data, meaning that any documentation must be done by hand with pen and paper.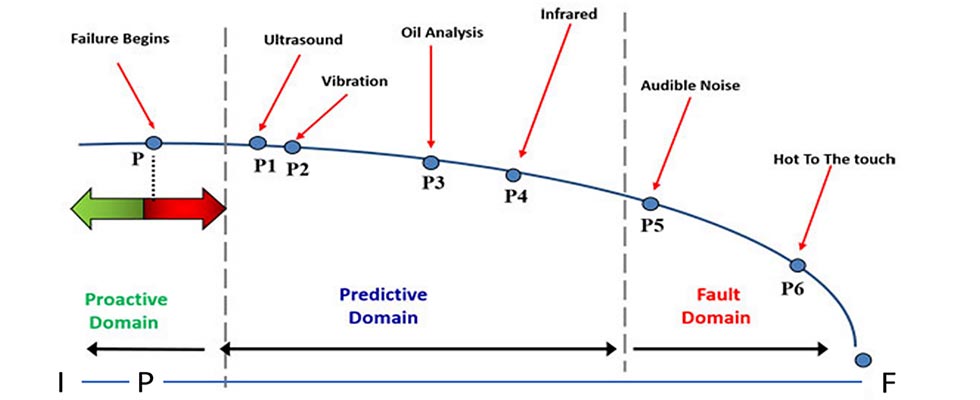 In the early 1990s, the digital ultrasound age arrived. Software now allowed users to create bearing routes to upload to the equipment. This gave users the ability to record a dB level to trend the alarm levels over time using compatible software on a local computer. A user could now see if their bearings needed grease after they ran an ultrasound route. This can help users keep a pulse on assets and understand where equipment is on the I-P-F (installation-potential failure-failure) curve (Image 1).
This Installation-Potential Failure-Failure (I-P-F) curve illustration can be used to help understand which technologies can detect an anomaly or potential failure. When talking about lubrication and bearings, ultrasound is at the top of the I-P-F curve. As time goes on, if a bearing has a lack of attention, the asset will eventually enter a state of functional failure. At this point, the asset might be audibly noisy, hot to the touch or even physically vibrating. 
The further down users get on the curve to that catastrophic failure, the more expensive it will be to replace or change out the asset due to stoppage in production. This can also mean users have to overnight parts unless they already had them in inventory. Forcing overtime hours is almost a given at this point to get the assets back up and operational.  
One common issue with route-based data collection is time. Typically, every time users go out and collect data from their assets, the results indicate that most of them are OK, while a select few might require attention. It has been shown that friction is not the enemy, but rather that time is public enemy number one. A large amount of time is spent:
getting equipment and loading a route to it
physically walking and gathering data 
coming back to the software offloading the data
analyzing the data
going back out into the field to lubricate the few assets that have risen to an alarming level
checking it after the fact to ensure that everything has been done properly
Ask, "Is there a way to save time and stay to the left of the P before failure begins?" Take a look at how ultrasound has evolved in the last year. 
Modern-Day Ultrasound Capabilities
Modern-day ultrasound equipment has revolutionized how users can monitor and maintain bearings on motors, drives and pumps. The ability to monitor online, 24/7, year-round has been a great moment in the world of technology, but why stop there? Ultrasound has blazed a trail of being able to not only remotely monitor rotating assets but also remotely lubricate those bearings on a motor, drive or pump with a single point lubricator from anywhere in the world. Take that in for a moment.
Ultrasound can mitigate 80% of premature bearing failures2 such as:
insufficient lubrication 
long time without renewing 
unsuitable lubrication
lubrication contamination
By using friction levels from remote sensors and establishing prescriptive alarms, users can now command, anywhere with internet access, a single-point lubricator to either manually grease a bearing or automatically lubricate that bearing until algorithms have been satisfied. This addresses that 80% of premature bearing failure listed above. The technology is monitoring when grease is needed and injecting a small amount until the friction levels drop back to the baseline, without overlubricating. This ensures that users will stay to the left of P (Image 3). 
Users no longer have to worry about remembering the last time they greased the assets because the advancements in cloud service software track data such as dB, lubrication amount in the single point lubricator, amount of grease dispensed, when grease was dispensed and what the ending dB level is. 
Users will know which grease is in the single-point lubricator because this will be preselected. Lastly, having a single-point lubrication system on the rotating equipment will prevent contamination into the bearing. 
Ultrasound is no longer just a troubleshooting technology. In fact, the advancement from spot testing to route-based data collection to 24/7 monitoring with the ability to maintain a bearing without concern of inducing major premature bearing failure displays just how far this technology has advanced. Ultrasound has become a true plug-and-play technology that mitigates 80% of premature failures. Using the wrong lubrication, going a long time without renewal of lubrication, unsuitable lubrication and lubrication contamination are now failures of the past.  
References
Alarm values are examples seen in ISO 29821-1 section 8.5 Assessment criteria.  
SKF Bearing Corporation, Bearing Failures and Their Causes
Issue