The importance of material selection when handling corrosives.
When it comes to dealing with caustic chemicals, not all pumping technology is created equal. If a system is going to last, the materials of construction must be compatible with the pumped media, or corrosion will quickly become an issue. System design is also a consideration. Systems with many wear parts are sometimes less suited to harsh conditions than other options with fewer individual components. Below are two examples of facilities upgrading to purpose-built technologies in chemical applications.
Going Sealless in Scrubber Towers
A Florida utility company has installed sealless, magnetically driven pumps to serve the scrubber towers in its odor control system. The waste treatment facility serves a population of approximately 200,000 residents and visitors who are sensitive to effluent disposal practices. Odor control must be given high priority. The facility is in an area with residences and commercial business on three of the four sides of the plant, so scrubbers being down for any length of time is not an option.
Flow enters the facility through 36-inch pipes emanating from the two beach communities it serves. Pretreatment consists of screening to remove solids and grit, which are conveyed to a dumpster for off-site disposal. After pretreatment, the screened liquid flows directly to the effluent tank. Reuse water is filtered through deep-bed filters. Performance and reliability of the sophisticated scrubbing towers are critical to meet U.S. Environmental Protection Agency (EPA) odor control standards and to please the surrounding community.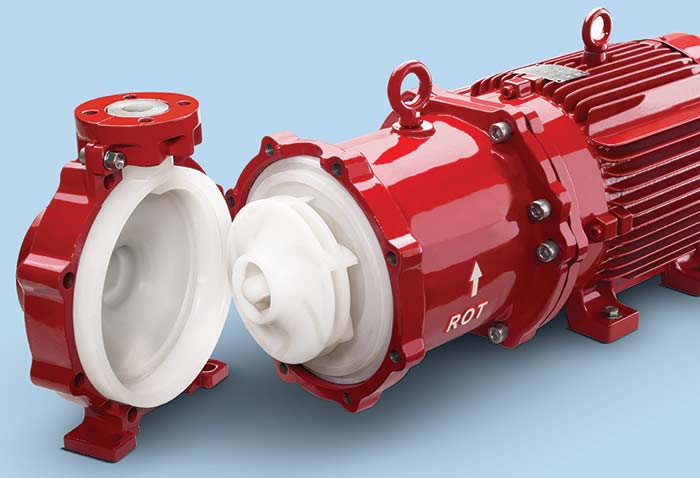 Image 1. Open view of wet end mag drive pump depicting rugged, stand alone, injection molded polypropylene stuffing box cover and impeller supported by chemically resistant epoxy coated cast iron (
Images courtesy of Vanton Pumps & Equipment Corporation
)
Operators lower the pH in the scrubber using sulfuric acid in the first stage followed by a second stage of chlorine. To handle these corrosive chemicals, all fluid handling equipment—pumps, valves and piping—were specified in thermoplastic materials.
The plant originally employed conventionally sealed horizontal centrifugal pumps of polypropylene construction to meet the flow requirements, which the design affords fluid contact only with nonmetallic components. The pump casing and stuffing box cover, flanges and impellers are solid, homogenous molded polypropylene and the stainless steel shaft is sleeved on the wet end with polyvinylidene fluoride (PVDF). The mechanical seal is reverse mounted, restricting fluid contact to nonmetallic materials.
With mechanically sealed pumps, leakage and wear are typically expected. Planned maintenance programs are implemented to limit the costs of labor and downtime. Plant operators looked for an alternative to these mechanically sealed pumps. The answer was provided by substituting sealless, magnetically driven, horizontal centrifugal polypropylene pumps that meet American National Standards Institute (ANSI) process design standards.
Power is transmitted by permanent rare earth magnets. The inner magnet rotor assembly is encapsulated with PVDF, keeping it isolated from the fluid being pumped. The design uses a reinforced nonmetallic containment can, avoiding eddy currents that can reduce pump efficiency by loss of magnetic force. The issues with mechanically sealed pumps had been resolved.
The new pumps are sealless, single-stage, volute-type centrifugal pumps that meet ANSI B73.1 process pump specifications and conform to Hydraulic Institute (HI) standards. All fluid contact components are made from solid, stand-alone, injection molded, chemically inert plastics as described below:
The mag-drive are 3-inch by 2-inch flanged polypropylene pumps with 6-inch dynamically balanced keyed impellers, nonmetallic containment can assemblies, high performance rare earth magnets and no metal components in contact with the fluid.
The casing, casing cover and impeller are made of precision molded, homogeneous polypropylene. The containment can is made of reinforced plastic. A fluoropolymer sleeve and end cap isolates the stainless steel shaft from the fluid.
Extra-large stationary bearings of silicone carbide and rotating sleeve/thrust bearings of ultrapure alumina ceramic are locked into place by antirotation keys of polypropylene.
Since the thermoplastic casings are protected by chemically resistant epoxy coated structural metal armor, these pumps can withstand the same nozzle loadings as metal pumps and their conformance to ANSI specifications permit for direct replacement of conventionally sealed centrifugal pumps.
Chemical System Eliminates Environmental Hazards
The designers of a petrochemical manufacturing plant were faced with the various problems associated with creating an environmentally safe, minimum maintenance and versatile neutralizing system for handling corrosive and hazardous acidic and alkaline chemical waste fluids under outdoor service. So they turned to specialists in the design and build of packaged and customized pH adjustment systems.
The criteria for the system included these challenging fluid handling problems:
The flow of the system is an average flow of 50 gallons per minute (gpm) with a peak flow of 100 gpm.
The pH values range from highly acidic to highly alkaline.
Temperature fluctuates from 50 to 150 degrees F.
Small suspended solids (salt precipitates) are present.
The original specifications for this system indicated the use of 304 stainless steel, but with more than 20 years of experience with highly corrosive fluids in industrial processes, the design engineers concluded that the suggested use of 304 stainless would not be suitable and that the use of more exotic alloy materials would be costly. They recommended the use of chemically inert thermoplastics for the pumps, piping, tank and all other fluid handling components.
Vertical centrifugal pumps with all fluid contact components furnished in solid polypropylene were chosen. All fluid contact components were injection-molded or fabricated of homogenous polypropylene. The stainless steel shaft was isolated from the fluid being pumped by a polypropylene sleeve assembly.
Polypropylene was chosen for the fabricated treatment tank. Epoxy-coated steel reinforcement ribs, encapsulated in polypropylene, around the perimeter of the tank provided additional wall support.
Chlorinated polyvinyl chloride (CPVC) was selected for the piping and fittings.
Thermoplastic materials were specified for this application since it involves exposure to both highly acidic and highly alkaline discharge flows and subjection to temperature and pH changes.
The application also potentially involves harsh outdoor weather conditions. Thermoplastics offered long-term reliability, safety and minimum maintenance.
The installed system can rapidly neutralize hot caustic concentrations—up to 5 percent in a brief period of time—and handle 98 percent sulfuric acid as it is injected into the caustic stream, which undergoes rapid and significant temperature elevation.
The spent chemical neutralization system was supplied as a completely fabricated skid-mounted turnkey package. A polypropylene containment drip pan with 8-inch high walls isolates the epoxy-coated steel skid from potential leaks or spills and provides for drainage to a sump.
All recirculation, transfer and discharge lines were provided in solvent welded CPVC schedule 80 pipe and the reagent delivery lines made from flexible PFA pipe double contained within a clear flexible PVC hose.
This system has proven to ensure minimum maintenance as well as be economical to operate and easy to service.
Issue