Strategic realignments are a driving factor; valuations remain high.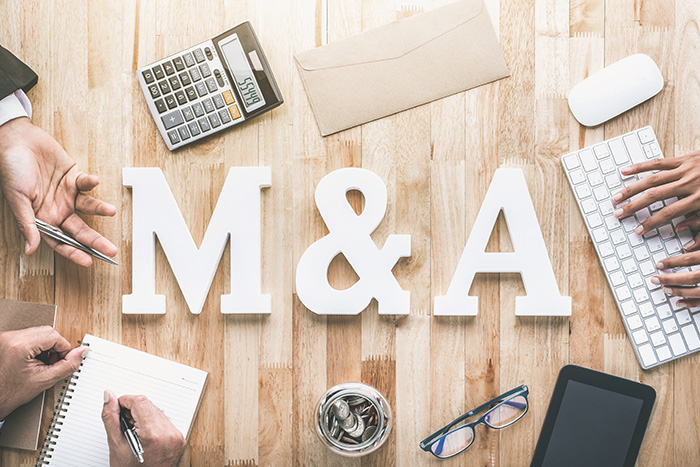 Here are the mid-year highlights of the fluid handling industry mergers and acquisitions (M&A):
Q2 deal activity is about average—The 15 transactions announced in Q2 was down somewhat from the 17 transactions announced in the first quarter of 2019, but up slightly from 13 transactions in the second quarter of 2018.
 
Year-to-date, deal activity has softened versus 2018, but it is still strong historically—The 32 transactions announced year to date through June 2019 compares to 39 announced transactions through June 2018, but this is still a relatively strong level of deal activity compared to recent years.
 
Strategic realignments are a significant factor driving deal activity—Some major industry players are making portfolio changes.
 
Valuations seem to remain steady—The disclosed valuations cover a wide range but seem to indicate that valuations are remaining at a high level. Demand remains strong with favorable M&A conditions.
 
Deal Activity The first half of 2019 was strong with 32 transactions, which over the last five years is second only to 2018. The activity in the first half of 2019 is down 18 percent versus the first half of 2018 but with more historical perspective we can see that the first half of 2018 was exceptionally strong. Based on our conversations and listening to earnings calls, it seems the demand side remains strong.
If the activity level softens in the second half of 2019, it will most likely be a pause due to short-term uncertainty around trade issues and Brexit, as well as the possible buyers' view that valuations are too high.
Notable Transactions
As anticipated, and reported in the May report (search "fluid handling" at www.pumpsandsystems.com), we have seen companies taking advantage of the favorable M&A market conditions to review portfolios and increase focus on their core strategies.
Ingersoll Rand completed their acquisition of Precision Flow Systems from BC Partners Advisors and the Carlyle Group in a transaction valued at $1.45 billion. Ingersoll Rand then agreed to sell their industrial division, including PFS, to Gardner Denver in a transaction valued at $7.7 billion, creating an increased focus as a pure play climate solutions company while Gardner Denver becomes a $6.6 billion (pro forma) revenue flow creation and industrial business.
Weir Group completed the sale of their flow control business, which serves the power and downstream oil and gas markets, to private equity firm First Reserve for $358 million. This will enable Weir to increase their focus on the after-market dominated end-use markets of mining and upstream oil and gas production.
Dover Corporation divested Finder Pompe to Gruppo Aturia, part of WPIL India and acquired All-Flo Pump Company. Together the moves reduce Dover's exposure to the upstream energy markets while strengthening their air operated double-diaphragm (AODD) pump portfolio and expanding its geographic and channel reach.
Colfax Corporation announced they are selling their air and gas handling business to KPS Capital Partners. This transaction follows the sale of the Colfax Fluid Handling business in 2018 and the acquisition of DJO Global (medical technology) in Q1 2019. According to the company, this completes their strategic realignment to diversify end-market exposure, reduce cyclicality and increase profitability. It will also enable Colfax to pursue bolt-on acquisitions for their medical technology and fabrication technology segments.
SPX FLOW, Inc. has announced a plan to sell their $500 million annual revenue power and energy business consisting of engineered pumps, valves and filtration technology. The sale will enable SPX FLOW to focus on building its process solutions enterprise currently consisting of food and beverage and industrial segments, as well as their Bran+Luebbe metering pump product line.
Genstar Capital acquired major industrial distributor Ohio Transmission Corporation (OTC) from Irving Capital. OTC serves more than 13,000 customers in a variety of end-use markets including transportation, industrial machinery, metals, chemicals, and food and beverage from 38 branch locations. OTC has completed 16 acquisitions since 2010.
Target Industries
Water is the predominate industry served by target companies that have a specific industry focus. However, in Q2, two-thirds of the transactions involved target companies serving multiple industrial segments.
Target Geographies
North American-based businesses have been the predominate targets in the first half of 2019, accounting for almost 72 percent of the transactions, compared to 54 percent for the full year in 2018 and 63 percent for the full year 2017.
Valuations
The disclosed transaction values seem to be remaining steady and at a high level. Demand remains strong for quality acquisitions with a continuation of favorable M&A conditions.