Distributors and users will be directly impacted by the upcoming Department of Energy requirements.
For four years, we have been anticipating the effective date of the United States Department of Energy (DOE) commercial and industrial pump rulemaking—effective Jan. 27, 2020. Pump manufacturers have been hard at work updating product lines, testing and labeling products to
be compliant.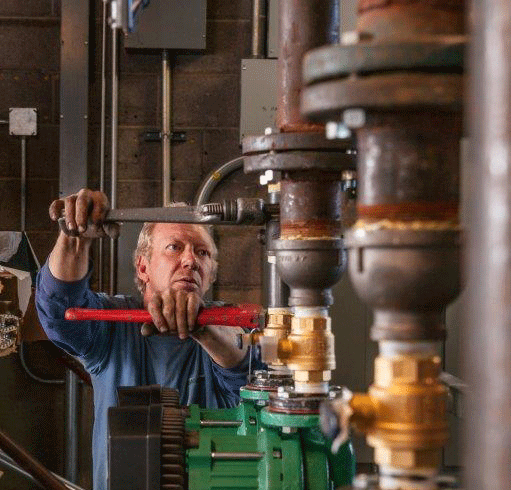 Systems installers will work with higher-efficiency pumps after Jan. 27. (Images courtesy of author)
For buyers of pumps, anyway, all of these changes seemed a bit vague: coming, yes—but not imminent. Well, the time for implementation has finally come, and it will have a substantial impact for distributors and users of pumps throughout the U.S. and Canada.
On Jan. 27 one of the industry's broadest systemic changes in North America goes into effect. The purpose: to force improved energy efficiency across a wide range of commercial and industrial clean water pumps. In Canada, the new regulation (Natural Resources Canada "NRCan" Amendment 16) mirrors DOE requirements, and also takes effect Jan. 27. There is an additional third-party verification requirement: pumps will need to carry an energy efficiency verification mark from a certification body accredited by the Standards Council of Canada (SCC).
Certainly, manufacturers—those who wish to sell their products and technology in North America, anyway—must comply. However, the industry has taken the rulemaking as an opportunity to push the efficiency of products well beyond simple minimum compliance.
After all, we can agree that the move to improve the energy efficiency of manufacturing, in buildings, municipal water works operations and by delivering water more efficiently to grow food is good for the environment and improves energy sustainability.
The Hydraulic Institute (HI) took this opportunity to strengthen its position as an industry voice. HI updated standards referenced in the DOE rulemaking, initiated a third-party test lab approval program, introduced a customer-centric energy efficiency label and certificate, leveraged the group's training resources, and engaged with utility programs to encourage them to incentivize high-efficiency pumps and pumping systems.
A Major Shift
The rulemaking set a minimum efficiency level that basically eliminates 25 percent of the least efficient pumps that were being sold. That is a quarter of all pumps sold in 2014 that now will not be available in 2020. Virtually every product line at every manufacturer was touched in some way by this. Manufacturers have spent tens of millions of dollars upgrading not only the noncompliant pumps, but entire product lines to maximize the overall efficiency.
Included under the DOE requirements
Users can certainly expect some specific models that may have become a favorite choice may no longer be available. Invariably, alternate, higher-efficiency pumps or circulators will be available, yet perhaps from alternate sources or with a slightly different size or configuration to achieve the required efficiency level.
The Rating System: PEI
DOE established the Pump Energy Index (PEI) as a new metric to rate the energy performance of pumps. The PEI is applied to pumps with constant load (PEICL) and variable load (PEIVL).
PEI numbers will be stamped on the nameplate of every pump and will be the single indication of compliance (the ability of the manufacturer to sell or import the product into the market on and after Jan. 27).
The PEI metric is a ratio of the pump being rated—basic model, tested performance, PERCL or PERVL—over the representative performance of a minimally compliant pump (PERSTD, or standard) for that specific pump type (e.g., end suction close coupled or inline) and speed (1,800 or 3,600 revolutions per minute [rpm] nominal).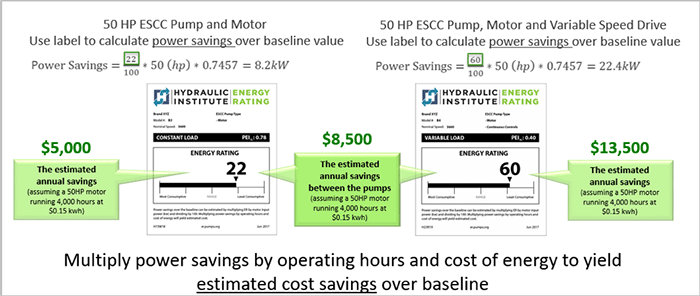 Hydraulic Institute energy rating label
PEICL is used when rating bare pumps or pumps with a driver/motor. PEIVL is used when the pump is rated with a driver and integrated continuous or noncontinuous controls, such as a variable speed drive or a multispeed motor respectively. Because it is a ratio, only pumps with a PEI less than or equal to 1.0 can be sold.
Pump testing must comply with the HI 40.6 test standard. This means that, for the first time, there will be a required uniform testing procedure to compare pumps on an apples-to-apples basis.
Industry Labeling Initiative
Although the PEI rating determines compliance and ability to sell a product into the North American market, the industry went a step further and has introduced an HI Energy Rating (ER) label that provides additional information to help the specifier or end customer make a more informed decision based on efficiency and potential electrical savings.
The HI ER label is based off the DOE PEI number but provides additional value by requiring third-party lab testing approval and allows for the creation of a certificate if a motor or drive is added in the commerce stream.
The labeling initiative also provides a database (er.pumps.org), offers an easy comparison to determine estimated energy savings, and is suitable for utility programs to enable deemed incentives.
The customer-friendly design will be familiar, as it looks like those currently used on white goods or other Energy Star-rated products.
Savings Calculations
The HI ER label is designed to clearly indicate power savings obtained from pump system upgrades and changes. The savings is calculated over the baseline, which is a minimally compliant pump as of Jan. 27. Manufacturers can use the ER label to differentiate products by power consumption. Utilities can use the ER label to determine energy savings for incentive programs and rebates. Pump specifiers may also use the label to help justify the purchase of higher-efficiency pumps or perhaps adding variable speed controls to a constant speed pump, when applicable.
In the example in Image 5, two power savings calculations are presented. One for variable load (PEIVL) and one for constant load (PEICL).

End users should see energy savings
The label on the left with a 22 ER shows that by specifying a more efficient pump like this, a user could save 8.2 kilowatts (kW) over a minimally compliant pump. If operating hours and electrical costs are known, one can easily convert this to an estimated energy and dollar savings (based on the standard DOE load profile). In this example, the more efficient 22-rated pump could save the end user an estimated $5,000 per year over a minimally compliant constant speed pump. It also demonstrates that by adding a variable speed drive to that same pump and bumping it up to an energy rating of 60, one could save $13,500 per year in electrical costs.
Industry Alignment
In summary, the DOE rulemaking at the regulatory level with the metrics, data analysis and calculations for the PEI rating to determine compliance are now in line with the Canadian requirements. And the industry standards are now in line with how the DOE references the HI test standard and that is validated through the HI-certified test lab program.
All of this wraps up at the industry level into the HI ER label, which is easy to use, intuitive and flexible. It adds value, trust and speed to multiple levels of the market in specifying and selecting higher-efficiency pumps. The HI ER label is also being used by the utility incentive programs to design new programs and move more incentive money into the pump market, allowing everyone to embrace and promote high-efficiency pumping.
Issue