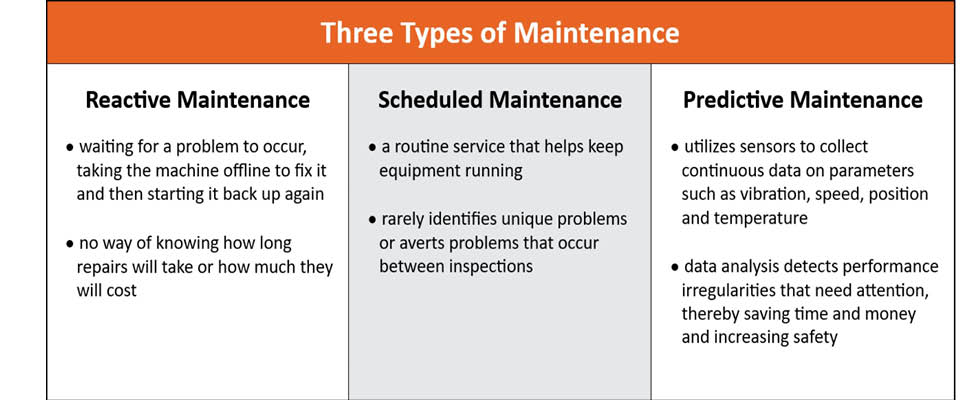 Avoid costly downtime with predictive maintenance.
---
"How often do you check on the health of your machines?"        
It is a simple question, but the answers received when asking engineers and plant managers about their operations are amazing. Responses range from "with today's technology, I know they are in good shape," to "our line workers tell us when something is wrong."
A favorite response is when an engineer proudly says, "I check every machine on the first Monday of the month."
But what if something goes wrong on the first Tuesday of the month?
The examples above may elicit a chuckle, but in all honesty, the days of relying on humans to monitor machine health are over. When so much is tied to performance, including profitability, users cannot afford to have a strategy that brings human error into play. Instead, consider shifting from a preventative or reactive maintenance plan to more predictive maintenance.
Defining 3 Types of Maintenance
Before defining predictive maintenance, here is a quick summary of the two more common types of maintenance seen in industrial settings. Reactive maintenance is just as it sounds—waiting for a problem to occur, taking the machine offline to fix it and then starting it back up again. In this instance, users react to a problem that has already occurred, but there is really no way of knowing how long the machine will be out of service, and the costs to repair it could be astronomical.
To avoid unplanned downtime and repair costs, many engineers have shifted to preventative maintenance, or in other words, the "first Monday of the month" walk-through. It is the scheduled service (like an oil change in a vehicle) that should help keep everything running, but it rarely identifies problems, and if an error occurs weeks or months before the next scheduled maintenance, a facility could be riddled with costly repairs and extended downtime.
In contrast to those two types, predictive maintenance puts sensors to work by monitoring and logging different parameters such as vibration, speed, position and temperature, thereby capturing transient events and malfunctions in real time.
This data is quickly processed (often by a reliability partner) and presented to the user or facility manager with actual solutions. It is less about making a bold prediction about what is going to happen and more about using performance data to detect irregularities. Predictive maintenance saves facilities time, money and resources.
2 Possible Solutions to Consider
When looking for remote monitoring solutions, here are two primary ones to consider:
Smart sensors – A smart sensor, also called a health sensor, is a device that is mounted to the machine to detect performance issues by measuring changes in vibration, temperature or other relevant parameters.
Valve sensing platforms – Valve sensing platforms are similar to smart sensors but are uniquely created for monitoring valve position.
With remote condition monitoring through smart sensors and valve sensing platforms, industrial engineers and managers can quickly, accurately and cost-efficiently predict future machine performance issues and plan for resolution before problems occur.
Benefits of Smart Sensors & Valve Sensing Platforms
While saving time and money are the two primary benefits to condition monitoring, there are a few added features that need to be considered so these sensors and sensing platforms provide extra value for plant managers and operators.
First, it is beneficial when manufacturers of these sensing technologies offer them in compact designs. Complex machinery does not offer a lot of extra real estate for added components. So having a sensor that can fit in one hand is advantageous for those difficult-to-reach spaces in a facility. The compact design combined with availability of multiple installation methods and mounting kits means this technology can be applied in virtually any setting.
Once the technology is installed, it often needs commissioning or calibration. This is usually not a problem with newer sensors and sensing platforms that can be programmed via a downloadable app or web-based platform. In fact, once a sensor is installed and the app is downloaded, automated diagnostics can begin to recognize issues on day one. Some sensing platforms also come with a dongle that can calibrate the device on-premise in less than one minute.
These devices may also offer some additional features, including over-the-air updates for remote delivery of the latest features and functionality to the sensors, as well as Bluetooth connectivity that allows the operator of the valve sensing platform to remotely control the valve and collect valve performance and maintenance data. They are often packaged in a durable, hard plastic enclosure, and the electronics are fully potted to protect against water damage and moisture ingress.
How to Get Started
Even in older facilities, getting started with smart sensors and valve sensing platforms is a simple, three-step process.
1. Identify poor-performing machines and valves.
If a user does not think they have any poor-performing parts, this is where the line workers come in handy. They know which machines have chronic issues and consistently create more problems than they should. Users can even look back at maintenance and repair records to understand what caused the unplanned downtime and how frequently it occurs.
2. Try a low-impact and cost-efficient remote monitoring technology on the poor-performing machine.
Begin monitoring the poor-performing machine or valve by installing a sensor or sensing platform that is easy to deploy and retrieve data. Many wireless sensors do not require power or communication wires, and some allow users to track data on a free mobile app.
3. Review the collected data to determine feasibility and need for further remote monitoring.
Now that the data is in the user's hand, they should feel empowered to routinely monitor and maintain the equipment.
The sensors and platforms provide continuous health monitoring through early detection of machine failures based on vibration, temperature and runtime monitoring. With data logging, users can compare new information to past performance to contextualize the results they are seeing. From there, they can diagnose, repair and expand their monitoring to other machines.
These three steps represent a flexible and cost-effective approach that will allow users to begin remotely monitoring their machine performance. However, with so much already on their plate as a plant manager or engineer, they could also get further help with their actions by aligning with a full-service monitoring partner who will ensure problems are identified, evaluated and solved expertly and in a timely manner.
If a user's machine health monitoring is still subject to human observation, they may be asking for trouble. Users may save themselves from costly downtime and repairs by implementing a smart monitoring system.
---
Issue