Recruiting Young Workers Series
Editor's Note: The difficulty of recruiting young workers to the pumps industry is an issue echoed in both our reader surveys and discussions with industry leaders. Despite these concerns, there are many up-and-coming employees who are committed to making a career in the industry. Lisa Sasso's story is the third installment of a five-part
Pumps & Systems
series highlighting some of the bright young people taking on pumps careers in 2017. Read other parts of this series and our "Pump Industry Employment Analysis"
here
.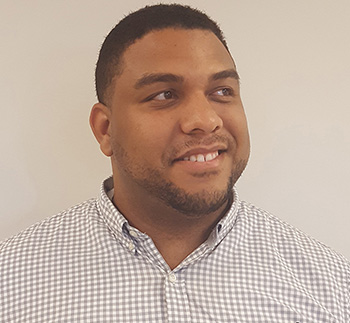 Shannon Baity, PMG Engineer
After graduating with a bachelor's degree in mechanical engineering in 2009, Shannon Baity spent several years on a career path that involved the automotive, aerospace and food service sectors before he decided to work in the pump industry.
"In my previous position, my team and I were faced with challenges regarding pump failures that no one internally had the technical skill set to provide corrective action," Baity said about his experience working for a food service company.
"Having experienced this challenge drew me into specializing in a sector of engineering that would provide me with an opportunity to literally know the ins and outs of pump design. Learning about different facets of pump design from understanding the behavioral science of fluid dynamics relative to controlling fluids and understanding the parameters that impact performance really appealed to me."
A couple of months later, the 31-year-old Baity secured a position as a PMQ engineer at Zoeller Pump Company based in Louisville, Kentucky. In his engineering role, Baity supports the qualification of new manufacturing processes, educates vendors and suppliers about new components in product line, provides root cause/solutions for resolving manufacturing challenges and designs new products.
Just nine months into the job, Baity said he does not envision pursuing employment in another industry.
"Beyond the technical aspects and the growth opportunities, I understand the industry is definitely in need of great pump engineers that know the ins and outs of producing," he said. "I think it's a great opportunity to grow because of the increasing demand we anticipate seeing over the next five or 10 years."
Baity pointed to his college education as an important part of achieving the goals in his career path.
He started at Embry-Riddle Aeronautical University in Florida before transferring to the University of Louisville in Kentucky and earning his mechanical engineering degree.
"Talking about my own experience as an engineer in the industry, I would say having that education is valuable," he said. "It laid the foundation for understanding fluid dynamics. Pumps are one of the biggest components you learn about as a mechanical engineering student along with other things like heat exchangers … That really lays the groundwork for understanding what is in this industry and it gives you a leg up for what to expect as a pump engineer."
Anyone looking to get into the pump industry should pursue a proper college education, Baity said.
"My recommendation would be to understand the principles of fluid dynamics and pumps in your mechanical engineering training," he said.
Baity also said to consider taking on a college capstone project to further understand/apply fluid dynamics in pumps.
"I would recommend in any relative project that you encounter in academia, that you really grasp projects that will lead you down a path to becoming a pump engineer," Baity said.
"What I'm finding from my going on seven years of experience is that it's really important, once you become an engineer, you become very focused on projects, and in working on those projects you become a local subject matter specialist. So taking on projects early on in your academic experience really exposes you to important subject matter that you can capitalize on in your career as a pump engineer."
Baity is optimistic about his career in the pump industry.
"My personal outlook, I would say is really good in the industry and, particularly, Zoeller is an excellent company," he said.
"The fact that they're a world class organization that is thriving within the industry and provide opportunities for new engineers to advance their careers while at the same time allowing professionals to really take stake in the business is very important."
He added, "I think my outlook is extremely bright—being professionally exposed to multiple industries, I've personally witnessed corporate patterns of growth and decline. I feel like I have some insight into understanding the health of a company/industry. The growth of the industry was another point of attraction to my current career path as a pump engineer."
Issue