Companies are now expected to overcome challenges and adopt this technology.
Per a March 2016 Pumps & Systems article, the industrial internet of things (IIoT) is a technological overhaul that has created innovative technologies to enhance and reshape industrial processes, offering longer equipment life, increased return on investment and improved safety on the plant floor.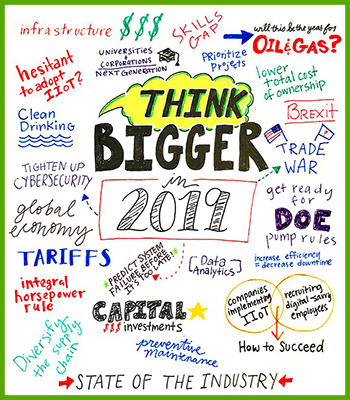 See more of our State of the Industry 2019 coverage.
IIoT uses IoT technology to improve industrial and manufacturing processes. Earlier this decade, it was more of a "hot topic." Now, it is an expectation.
"You're supposed to have some kind of communications platform," said Carlos Uribe, general manager of water and general industry at Milton Roy.
While it is an expectation as we enter 2019, there are still some barriers affecting the pump world. A chief concern is cultural resistance.
"People fear that this technology may take away jobs or replace workers," said Brent Ward, a solutions expert for Voith Digital Ventures, North America.
Ward also chimed in on users' lack of understanding of broad implications and potential long-term value. Other challenges, according to Ward, include the industry's need to show data, or a more immediate return on investment, to prove value.Several other industry experts shared responses to common concerns of the roadblocks to IIoT adoption.
Is it secure? "Personally I have many home devices connected to my personal network and do so with little worry. After all, the data we transfer is of little value. For the industrial customer, however, the risk could be much higher. The worry that data security could be compromised or that hackers might exploit an IIoT connection for nefarious purposes is a strong demotivation."
—Doug Duncan, director of digitalization in processautomation, Siemens
What is the best approach? "...many pumps and pump systems already have intelligent monitoring functions.
It would be wise to invest in these new technologies to experience as many as possible. Then, through use, they begin to recognize the benefits of IIoT monitoring and also be better informed as to which platform they want to deploy more widespread."
—Todd Loudin, president, Flowrox
How do we make sense of the data? "The challenge remains making sense of all the data and determining the best way to commercialize it. There are many questions still open regarding what the 'new business' model will be. This is something we see many or most global companies grappling with. Another issue would be the speed at which we can enhance our customer experience."
—Jonathan Hamp-Adams, president, Grundfos
Can we change the perspective? "Some metering pump manufacturers that were early adopters of IIoT technologies offered proprietary designs (which effectively monitored the health of the pump), but also featured an 'inward-out' perspective, forcing users to monitor a proprietary solution for a single type of pump. Ironically, these early solutions actually added complexity for end users. Pump manufacturers that view IIoT monitoring solutions from an 'outward-in' perspective seek to minimize complexity via seamless integration to existing control systems."
—Axel Bokiba, vice president of product management and business line director, Pulsafeeder
Fluke Accelix vice president Kevin Clark said missing or inaccessible data and reliance on scheduled routes are also concerns. A lack of connectivity between assets, management systems and maintenance and reliability personnel, as well as limited access to data for timely decisions are more barriers.
Despite these concerns, the benefits are starting to spur action. Doug Keith, large drives business lead for Siemens' process industries and drives division in the U.S., said that for an organization to remain competitive, it must embrace digitalization and IIoT technologies. "Manufacturers that digitalize their plants are more efficient, have reduced downtime and have increased flexibility," Keith said. "Plant operators have the ability to monitor equipment in remote locations, even unmanned stations, in a cost-effective way. They can now use predictive maintenance rather than solely relying on preventative maintenance."
New IIoT users have to start somewhere. Some suggestions from Ward include recognizing the IIoT technologies in your life (such as a cellphone or tablet), taking on a small project to uncover information that could provide insights to yield immediate savings, and identifying and mapping the initiatives within the company that best fit IIoT technologies. Adopting IIoT is not scary or complicated, Loudin added.
"Purchase any asset that is IIoT enabled and dive in," Loudin said. "As well, certain companies can capture data on assets that already have instrumentation and begin to perform predictive analytics. IIoT monitoring and analytics can be added to virtually any asset. Some areas that can be natural choices are safety, compliance, assets that are under constant repair, hard to reach areas and the three Ds: dangerous, dark and dull. Those areas where you don't want or cannot have people in those areas are natural places to utilize IIoT monitoring."
And perhaps there is not much resistance to IIoT after all.
"I think everybody understands that this is the way to differentiate themselves and provide the service and the capabilities that the end user is looking for," said Gonzalo Buelta O'Donnell, vice president of OEM sales for Schneider Electric.
Issue