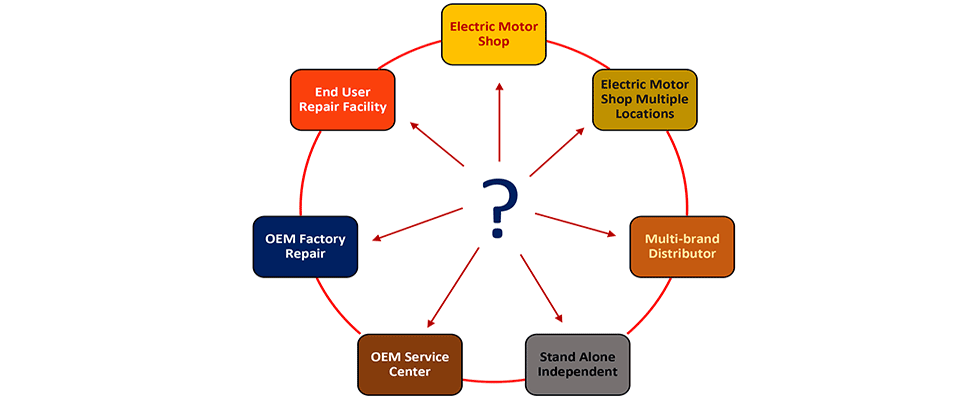 What to consider before deciding on a facility.
IMAGE 1: Types of pump repair facilities (Image courtesy of the author)
Not all pump repair shops are the same. Each shop has specific skill sets and limitations. Selecting the appropriate shop for your repairs depends on several factors. This column will focus on the pump repair facility selection and approval process.
Just as in any profession, you have highly skilled professionals and, shall we say, less than skilled and reputable. Some mean well but do not have the equipment and skill to deliver a quality product.
Wide Range of Pump Repair Facilities
There are many different types of pump repair shops. They range from backyard garages (not be addressed in this article) to factories and all types in between. Each type has pros and cons. Which type is best for your specific needs?
There are several types of pump repair facilities, including electric motor repair shops (stand-alone and multiple locations); multibrand distributors; stand-alone (independent); OEM (service centers); factory (repair performed at factory); and end user repair facility.
Electric motor repair shop
There are quite a few motor shops offering pump repair, and typically these shops perform basic repairs, such as end suction pumps. However, many specialize in submersible pump repair. This makes a lot of sense since the motor is integral to the pump and often the failure mode is moisture ingress. Some stand-alone shops have hired qualified pump engineers as well as mechanics or technicians skilled in pump repair.
There are several motor shops with facilities in multiple locations throughout a specific region or nationwide that have invested heavily in pump repair by hiring qualified pump engineers, mechanics and field service support.
Multibrand distributors
Distributors make up a bulk of pump repair facilities as, over the years, many pump manufacturers have chosen to close their OEM shops and defer repairs and sales in many cases to "authorized" repair facilities. Many of these distributors sell and support brands and products from multiple manufacturers. We will discuss this in more detail later.
Stand-alone (independent)
Stand-alone shops are generally (there are exceptions) owned by former OEM pump engineers and tend to focus on high-end repairs as the owner has the skill set/knowledge to handle the more complex/high-energy pump repairs. There are, however, a few independent shops that hired skilled engineers, mechanics and staff to pursue the more complex pump repairs. Their objective is to minimize the competition since few repair facilities can handle the more complex or high-energy or multistage pump repairs. Given the in-house skill sets, they have the capability of reverse engineering various pumps and manufacturing certain replacement components, as well as running clearances and fits.
OEM (service centers)
Some manufacturers still maintain their own pump repair facilities. It goes without saying that these facilities are staffed with factory-trained engineers, mechanics and technicians. Virtually all OEM shops pursue "non-OEM" repairs. This is necessary to maintain the desired profit margin as dictated by the manufacturer.
Repair performed at factory
Several pump OEMs offer factory repair service (not to be confused with OEM service centers). As stated in the description, the pump is shipped back to the manufacturer (point of origin) for repair. There is a significant benefit to using this service assuming the pump in question is high energy and/or critical service as the factory typically has a test capability to ensure the unit is returned to OEM specification. It should be understood there is additional cost associated with performance testing.
Pump Repair Shop Selection Process
First and foremost, when selecting a pump repair shop, one must first establish expectation. I ran across the following quote (author unknown) that puts everything into perspective: "You don't ask, you don't get." There is no area of life where this principle does not apply. Pump repair is no exception. I have met with numerous clients regarding pump system-related issues. When I ask for the "as found, as built" reports for past and current repairs, I get the "deer in the headlights look" followed with "we didn't receive any documentation."
As the quote states "you don't ask, you don't get"—thus, you cannot hold the repair shop accountable for services you didn't ask for. Would you walk into a car dealership and tell the salesman to sell you a car? I hardly think so. You would most likely have a specific model, features, color and price range, etc., identified prior to walking in. A pump shop is no different. Providing clear, concise expectations in writing eliminates any misunderstanding down the road.
Establish Expectations
When establishing expectations, include all parties with a vested interest in the pumping system. This can avoid issues down the road should there be a problem with the performance and/or reliability of the pump. Team members should include, but are not limited to: purchasing, reliability engineer, maintenance manager, operations manager, production manager, electrical engineer and instrumentation and controls engineer.
This may appear to be overkill. However, if there is a problem with the repair that disrupts plant operations, you will be glad you had everyone's buy-in on the scope and quality of the repair.  It is an unfortunate reality that someone must always take the blame if production is disrupted, resulting in lost profits. Working as a team (safety in numbers) can minimize risk of lost production/profits while maintaining an open line of communication within the plant.
Selecting Industrial Pump Repair Service Providers
To begin the process, the team members must establish two things: Are they OK with shipping the pump out of state, and do they want a full-service shop, that is "push, pull" (removal and installation) and startup? Using a full-service shop is the ideal solution for critical pumping applications because the repair shop has total control of the entire process and limits potential warranty repair claims (finger-pointing) that might be associated with installation and startup. At the very least, if plant personnel performs the "push, pull," it is recommended to have a repair shop representative on-site to witness the installation and startup process.
These two factors can limit your selection process based on input from the team and possible plant management philosophy. Also, it is best to have multiple facilities qualified to provide service, due to availability and lead times. Another consideration is qualifying certain shops for noncritical pump repairs. This would increase the overall number of shops to choose from. Users must be careful when choosing a pump repair service provider. Taking your pumps to an untrustworthy service center could worsen the pump's condition. On the other hand, approaching a reliable repairing center not only helps ensure the pump's reliability and performance but also ensures that the repair is delivered in a timely manner.
Selection Process
Having identified several facilities, the next step is the phone interview. This process can be handled as a team or one member of the team with a list of qualifying questions, again based on criteria and expectations developed by the team. If your team is comfortable with the answers received by the service facility, the next step is to perform a vendor audit. This process requires a site visit by a qualified audit team knowledgeable in quality control procedures as well as pump repair processes. A site visit is necessary to physically validate what was shared during the phone interview and additional information based on the type of pumps you are looking to have repaired.
Questionnaire
The following questions were developed by the folks at National Grid. I found the series of questions very comprehensive and could not think of any additional information I would need prior to a site visit.
What types of pumps do you repair at your facility?

Vertical Pumps

single casing (open pit intake)
double casing (can or suction barrel intake)
inline casing

Overhung Pump Types

flexibly coupled
rigidly coupled
close coupled

Between Bearings Pump Types

1 and 2 stage multistage

Are you a distributor for any pump manufacturers?

If so, which ones?
Are you certified to perform pump repairs for the manufacturers that you represent?
Do you have access to certified drawings from said manufacturers?

Do you have a test stand to performance test the pumps post repair?

If so, is your test stand certified by the Hydraulic Institute?
Do you maintain a list of measuring/testing equipment?

Is your equipment calibrated on a regular basis?

What is the largest pump for which your service center is fully equipped to repair and test in-house?

What is your maximum lifting capacity?
What is your maximum lifting elevation?
Do you have a stacking pit?
Do you have two-plane balancing equipment?

If so, what is the largest rotating element that you can balance?

Do you have a coordinate measuring machine?
How many employees do you have and at what experience levels?

__________ Number of employees
__________ Maximum number of years of experience
Do you have a degreed pump engineer on staff? What is their name, years of experience and where did they gain their experience (pump OEM)?

What supplemental training or professional development activity is offered to service center employees?

in-house training or structured mentoring (describe)
off-site short courses, workshops, or seminars one or more days in length
subsidized evening or part-time classes at college or trade school
attendance at trade conferences or conventions

How much training or professional development do service center employees receive?

___________ Percentage of employees receiving off-site training annually
___________ Average days off-site per year per employee receiving off-site training
___________ Annual training expenditure per employee receiving off-site training

What trade or professional associations is your service center a member of?

Are you a member of the Hydraulic Institute?

Do you have a formal quality management system involving third-party inspection and certification? Do you have a quality manual and/or published directive?
Do you have the capability of taking any brand of centrifugal pump and returning it to OEM conditions via reverse engineering and knowledge of pump hydraulics?
Do you have a pump engineer on staff?
Are you familiar with Six Sigma protocol?
Do you have a safety program in place for shop and field work?
What are the qualifications of your field service personnel?
My next column will address the on-site survey.
Issue