Renewable energy is the future for relieving countries of the high energy costs of desalination facilities, as seen at Al Khafji, the world's largest solar-powered desalination plant.
In an effort to reduce reliance on fossil fuels, the Kingdom of Saudi Arabia will use renewable energy in water infrastructure as the country develops the world's first large-scale, solar-driven desalination plant.
Inspired by an initiative of the late King Abdullah, Saudi startup Advanced Water Technology (AWT) is working with the well-respected Spanish engineering group, Abengoa, to deliver Al Khafji—a 60,000 cubic meters per day (m3/d) SWRO plant that will be co-located with a 15-megawatt (MW) photovoltaic (PV) plant near the Kuwaiti border.
AWT is overseeing the project for its developer, KACST (King Abdulaziz City for Science & Technology), and will operate the US$130 million desalination plant. AWT is led by Chief Executive Officer H.E. Dr. Abdullah Abdulaziz Al-Alshaikh, the former deputy governor of The Saline Water Conversion Corporation and current president of the International Desalination Association.
"In some countries, for example here in Saudi Arabia, there is a plan that by the year 2030 we could achieve the goal that almost 50 percent of our desalinated water will be renewable," His Excellency Dr. Al-Alshaikh said. "Everything is depleting, especially the fossil fuels and all the sources of conventional ways to generate power. So I believe very strongly that solar technology is the future of desalination."
Project Background
The original initiative as outlined in 2010 was to build a facility that could produce 30,000 m3/d. Thanks to demand and more economical solutions, the capacity doubled to 60,000 m3/d.
"There is a lot of growth in the northeast of Saudi Arabia, the location of Al Khafji, with increasing demand," His Excellency Dr. Al-Alshaikh said.
AWT drafted an RFP and invited about half a dozen contractors to participate in the tender. Abengoa won the bid and was selected as the EPC contractor.
His Excellency Dr. Al-Alshaikh said the switch to solar-driven desalination could allow plant owners to significantly reduce costs. A membrane desalination plant spends 30 to 40 percent of its full operating costs on power.
Expected to be operational in 2017, Al Khafji will be primarily driven by a captive renewable energy source, with the PV facility providing the full complement of power to run the desalination plant at peak production hours.
Conventional power will supplement energy supply to keep the plant 24 hours. It will have a system to optimize power consumption and a pretreatment phase to reduce the high level of salinity and the oils and fats that are present in the region's seawater.
KACST and AWT have led the Al Khafji project by championing the use of renewable energy-driven desalination to replace traditional fossil-fuel desalination, reducing the reliance on groundwater supplies.
"Desalination, in general, needs power," His Excellency Dr. Al-Alshaikh explained. "And about 40 percent of the cost comes from the power side. The traditional method is to just burn whatever you have—gas or crude fuels—to generate the power through the furnace. Then you use that power to boil the water and then condense it to achieve desalination. Using a renewable energy for this kind of power is quite an achievement."
Building the power site will require much less time for construction (about 12 months) and will be contracted within the next four months. It will then take 24 months to complete the RO site.
"The good thing about this project is the technology is transferred," His Excellency Dr. Al-Alshaikh said. "The PV is manufactured here locally in Saudi Arabia through KACST. The contractor will be coordinating the manufacturers and other equipment, which is integrated with RO."
Private-Public Partnerships
The project is unique in size, capacity and sustainability.
"What's unique about this project is, first, it is very large. I'm not aware of any project using renewable energy, especially solar, with this size,\'94 His Excellency Dr. Al-Alshaikh said.
"There may be some pilot or smaller scale plants with 300 or 500 cubic meters per day or some may even reach up to 1,000, but never has one been built this size. Plus the transfer of technology is unique."
The future development of solar desalination in the Gulf region is likely to rely on substantial involvement from the private sector. The majority of solar power projects in the region have been procured through privately financed IPP structures. In the case of Al Khafji, AWT is acting as a commercial arm of KACST and seeking to leverage its technology connections to create a water design and engineering business through project partnerships with the private sector, initially in desalination but also in wastewater and water management.
Desalination in the Gulf has traditionally been predicated on the availability of cheap fossil fuel, with the waste heat from oil- and gas-fired power plants readily available to drive thermal desalination plants that would have otherwise been considered inefficient. Despite low prices in oil, the water sector remains a burden to the country in its subsidized energy consumption, removing oil supplies that otherwise would be put on the market or left in the ground for future generations.
The current 30-plus desalination plants in Saudi Arabia use about 300,000 barrels of crude oil equivalent per day. There is a similar trend in other Gulf countries, as well as in Algeria and Libya.
This status quo is not sustainable, according to the World Bank, which describes the elimination of fossil fuel use in desalination as "critical."
"The technology for green desalination is here. It is available. And it's getting better all the time," His Excellency Dr. Al-Alshaikh said.
"The cost has gone down dramatically since 2003 or 2005 and even since 2012. We have the ability to meet the world's increasing water demand in a sustainable way. Of course, this solution, in my opinion, is a very complete, sustainable way of converting salty water to drinkable water."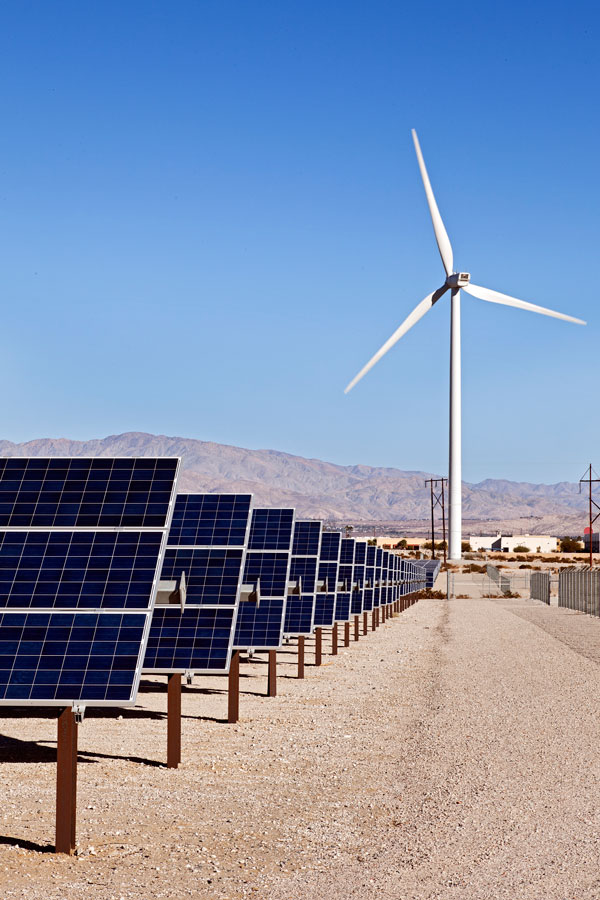 Solar panels similar to the ones seen here will power the Al Khafji desalination plant.
Taking the First Step
The commitment from stakeholders will be key to making the project happen here and in other areas where renewable desalination is needed. "We must increase this commitment and develop ways to work with other world leaders to get it done," His Excellency Dr. Al-Alshaikh said. "The stakeholders have incentivized green technology. It's like a baby. You have to care for it until it grows up and can compete within that market." Al Khafji will feature tracking technology to maximize water production during peak PV power availability hours and will serve about 100,000 inhabitants in the city of Khafji and surrounding areas.
Of course, as with any project of this size and importance, there will be obstacles to overcome.
"When you start any technology, it needs some commitment from the leaders in the world to really support this initiative," His Excellency Dr. Al-Alshaikh said. "Establishing some regulations will help with this. The second thing to consider is we have to think about this planet. The world we inherited from our fathers and previous generations was cleaner that what we have now. So maybe in the future we can hand it over to our children in a better condition than it is now," and do so at a cheaper cost.
With the drastic decrease in the cost of renewable energy, His Excellency Dr. Al-Alshaikh forecasts that this trend of solar desalination will continue. But it will happen in stages.
"The first step is to build Al Khafji, with 60,000 cubic meters capacity," he said. "It is expected that other project developers will wait to see the success of this facility, which will be completed in a few years. Then maybe another project of up to 300,000 cubic meters capacity could be built in Saudi Arabia. I have heard of initiatives this big in the Gulf states and elsewhere. And yes, I think this is achievable in the coming years."
Issue