Permanent magnet motor technology gives users an option beyond surface and submersible choices.
Municipal groundwater pumping operation choices can come from many pumping brands and technologies. When looking for an efficient pumping system to move high volumes of water in continuous- or long-run applications, where should one start?
Ultimately, there are two choices: surface or submersible systems. Surface pumping solutions consist of vertical line shaft turbine systems (VLSTs), while submersible pumping solutions include a turbine-style pump powered by either a classic electrical induction design motor system or the newer permanent magnet motor technology.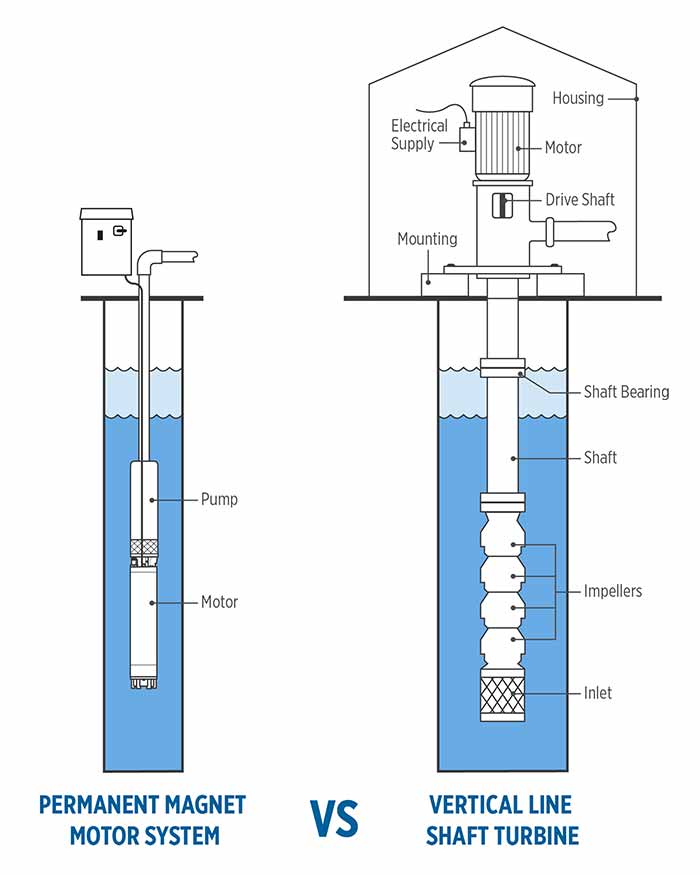 Image 1. Submersible systems offer a smaller overall footprint with no motor housing, line shaft, bearings and drive shaft. (Images courtesy of Franklin Electric)
In the past, VLSTs were thought by some to be more efficient than submersible motor systems and even outperformed them in some cases. However, with the permanent magnet motor technology, the playing field has changed, and an advanced solution now offers its own set of advantages.
Surface vs. Submersible: How do they differ?
The question is: Which solution is best for the application? There are advantages and disadvantages to both choices mentioned above. Take VLSTs, for example. VLSTs use an aboveground motor connected to a submerged pump with a drive shaft. Although these high-flow pumps operate fairly efficiently, they generally require a substantial and costly motor housing to protect the motor and drive shaft from harsh weather and vandalism.
VLSTs tend to be extremely noisy due to line shaft vibration and the aboveground motor, whereas submersible systems are silent. VLSTs also have more moving parts that wear out and require untimely maintenance. The shaft, for example, extends the length of the well and must be stabilized with bearings throughout. If it is oil lubricated, the shaft must rotate within a bearing tube, stabilized by retainers, that is mounted inside the water delivery pipe.
These factors place a substantial increase on both installation and maintenance costs.
There are, however, some advantages. VLSTs tend to be more versatile than submersible induction motor systems as they can operate with a variety of energy supply sources including electricity, diesel fuel and gasoline.
Furthermore, because VLSTs operate above ground, there is no need to pull the motor for replacement or repair. However, those that choose VLSTs typically do so because of the VLSTs' motor efficiency gains.
Submersible Induction Motor Systems
These systems tend to have lower installation costs, smaller well diameter requirements and strong hydraulic performance from a compact package.
Where submersible induction motor systems fall short is in motor efficiency. Because of the bearing system and electrical design, a submersible induction motor generally averages about 10 percent less efficiency than the surface motor found on the VLST. Because the submersible induction motor system is operated underground, it uses a fill solution to cool and lubricate the motor. This creates drag, which ultimately leads to hydraulic performance losses and a lower efficiency.
Because a VLST is designed to operate above ground, with a greater diameter, the rotor can be cooled using air without the hydraulic losses.
Submersible induction motor systems are a good option because of the lower overall cost, lower maintenance needs, better installation aesthetics and flexible performance range.
The primary ongoing cost savings of submersible systems can be due to operating underwater with little annual maintenance, whereas VLSTs require regular lubrication, packing and impeller adjustments. Because the submersible systems do not require routine maintenance, there is no need to keep an inventory of spare parts.
Additionally, because the submersible system does not include the additional moving parts, it can be installed as a complete unit. It can be lighter and easier to handle, and maintenance jobs may be accomplished at a more affordable rate, when or if needed.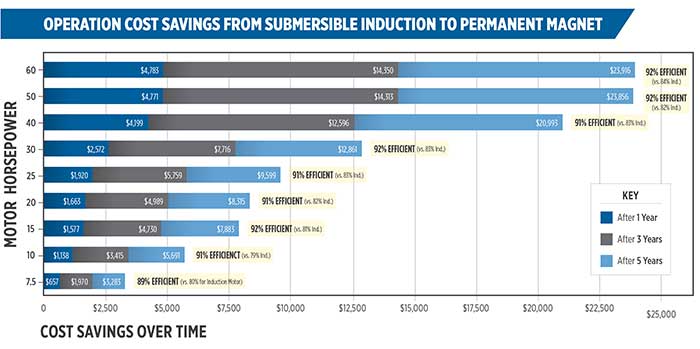 Image 2. Permanent magnet motor systems can offer operation cost savings each time the motor is used. The more you use it, the more you can save. *Based on electric costs of $.010 USD/kWh running at 100 percent duty **Efficiencies generated by Franklin Electric lab tested data
Permanent Magnet Technology
Permanent magnet motor technology is an efficient submersible pumping solution that can be an alternative to VLSTs and submersible systems.
With a similar look, feel and installation process to the submersible induction motor system, the permanent magnet motor system's construction is smaller and lighter, which can simplify the handling and installation.
Permanent magnet motor systems also offer maintenance advantages and noise-reduction benefits that municipal operations prefer, along with cost savings in both installation and maintenance.

Image 3. A high-efficiency motor provides an electrical cost savings via a 90 percent motor efficiency rating.
The primary difference is that the rotor in a permanent magnet motor system does not use input power to become magnetized. Permanent magnet motors use rare earth magnets to magnetize the rotor.
No energy is lost due to magnetization of the rotor, concentrating more power into motor shaft rotation.
Because of this power concentration, permanent magnet motor systems can be run at a synchronous speed, providing improved hydraulic performance.
Packaged with a variable frequency drive (VFD), permanent magnet motor systems run with an efficiency rate of about 90 percent.
A permanent magnet motor system may hold a higher initial price point than a submersible induction motor system, but offers operational cost and efficiency savings.
Conclusion
Moving forward, there are now multiple efficient choices, including VLSTs, submersible induction motor systems and permanent magnet motor systems. The latter offers the familiarity and benefits of submersible systems with the efficiency of VLSTs.
Issue