Drones and other methane monitoring technologies are growing in popularity.
Invisible to the naked eye, methane leaks are a problem that oil and gas companies around the world are under pressure to address. Methane is a colorless, odorless and highly flammable gas and the main component in natural gas. It is a powerful greenhouse gas, dozens of times stronger than carbon dioxide as a heat-trapping gas, despite dissipating more quickly.1 According to the Environmental Defense Fund, about a quarter of human-driven climate change is caused by methane.2
The oil and gas industry is a leading emitter of methane as the gas seeps out of multiple places during the production, processing and transport of oil and gas, such as wells, pipelines and storage facilities. Abandoned oil and gas wells also contribute to the problem. More than a century of oil and gas drilling has left behind millions of abandoned wells, many of which are leaching pollutants into the air and water. These wells go mostly unmonitored, and rarely, if ever, are checked for such leaks. Nationwide, the number of documented abandoned wells have jumped by more than 12 percent since 2008.3 In 2018, more than 3.2 million abandoned oil and gas wells together emitted 281 kilotons of methane in the United States.3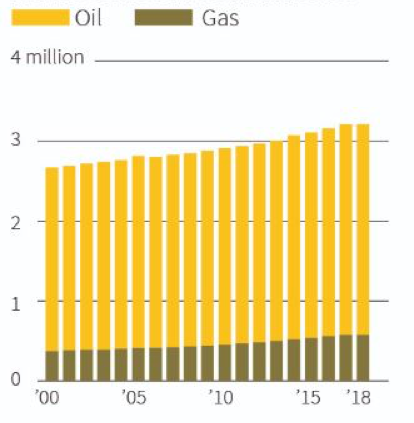 Last year, global atmospheric methane reached a 20-year high.2 The International Energy Agency estimates total methane emissions from the oil and gas sector hit 80 megatons in 2017, or 6 percent of the energy sector's global greenhouse gas emissions. In the U.S., unwanted emissions from the oil and gas industry amounted to $2 billion in lost revenue; globally, the value of leaking gas is $30 billion.4 
If the industry is sincere about stopping these leaks, experts say there is an urgent need to incorporate new methane monitoring technologies into their operations. As more companies monitor these emissions, it is spurring the formation of startups focused on leak detection and management. There is also a growing group of engineers and entrepreneurs working to develop and deploy novel technologies to address the issue.The problem is so pervasive that in 2016, the U.S. Environmental Protection Agency (EPA) moved to reduce methane emissions across the natural gas industry. However, last fall the EPA moved to roll back these regulations. In addition, companies that are part of the Oil and Gas Climate Initiative, an industry organization whose members include Exxon Mobil Corp. and Chevron Corp., have pledged to collectively cut average methane emissions to less than 0.25 percent of gas sold by 2025.5 
As the problem will require more than one technology solution, a variety of new products and services are needed to cover the entire supply chain. For example, drones are better for identifying leaks along pipelines, whereas lasers are much better suited to monitoring a dense field of wells or a storage facility. The key to large-scale deployment is to match the strength of each technology, like speed, accuracy and cost, with the right leak detection application.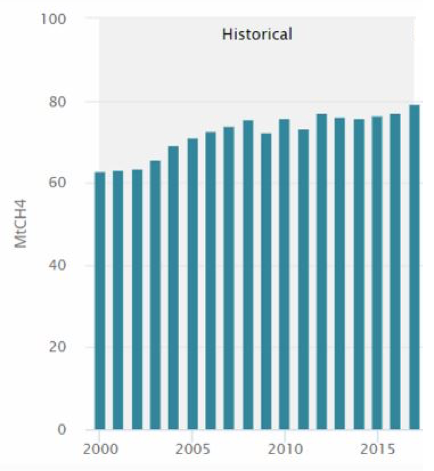 Some of the new technologies being developed include: aerial light detection and ranging sensors to pinpoint and measure leaks (Bridger Photonics); airplane sensors that are coupled with weather and atmospheric information to measure emissions (Scientific Aviation); airplane-mounted spectrometers with simultaneous optical imagery and geolocation (Kairos Aerospace); helicopter-mounted, gas-imaging surveys (Leak Surveys); drone-mounted gas sensors (SeekOps); the use of satellites to measure methane concentrations (GHGSat); truck-mounted autonomous sensors (mAIRsure); and stationary methane and wind sensors (Troposphere).
While scanning for emissions from a mud volcano in a Balkan province in western Turkmenistan in January, a satellite controlled by a Canadian company called GHGSat noticed a large methane plume coming from a nearby gas facility and pipeline. It was the first time that a methane leak has been detected and confirmed from space.1 GHGSat is among the first of what could be a fleet of such space-based emissions detectors. For example, the nonprofit Environmental Defense Fund is developing a satellite called MethaneSAT, while others are in the works.
In April, ExxonMobil announced that it is conducting field trials of emerging methane leak detection technologies at nearly a thousand sites in Texas and New Mexico. In West Texas, BP has begun monthly flights over its wells by a drone equipped with methane detection equipment. The flights generate data on the location and size of leaks that BP uses to identify faulty equipment and direct repairs.
This surge of invention presents a considerable opportunity to reduce emissions at a lower cost and at a much faster pace than what is currently available. If these technology investments are realized, the benefits could multiply beyond the removal of pollutants from the atmosphere. 
With close to a million active wells around the U.S. that would require ongoing monitoring, and 300,000 miles of interstate gas pipelines, along with thousands of compressor stations and over 100 liquefied natural gas facilities, methane detection using all of these new tools could be a boost for the economy. It has the potential to create economic opportunity for contractors out in the field and a whole host of support services throughout the industry.
Sources
Forbes, Detection Of Methane Leak From Space Could Herald A Revolution, Nov. 27, 2019.
Environmental Health News, Oil and Gas Methane Emissions in U.S. Are At Least 15% Higher Than We Thought, April 23, 2020.
Reuters, Special Report: Millions of Abandoned Oil Wells Are Leaking Methane, a Climate Menace, June 16, 2020.
Yale School of Forestry & Environmental Studies, Methane Detectives: Can a Wave of New Technology Slash Natural Gas Leaks?, Oct. 31, 2019.
The Wall Steet Journal, The Leaks That Threaten the Clean Image of Natural Gas, Aug. 8, 2019.
Other Sources
Journal of Petroleum Technology, ExxonMobil Field Tests New Methane Leak Detection Systems, April 14, 2020. 
Science News, Promising Mobile Technologies Find Methane Leaks Quickly, Sept. 10, 2019.
Jordan, Knauff & Company is an investment bank based in Chicago that provides merger and acquisition advisory services to the pump, valve and filtration industries. Please visit jordanknauff.com for further information. Jordan, Knauff & Company is a member of FINRA.