Given their presence in a number of process industries, metering pumps offer considerable growth opportunities for pump suppliers. As industrial output declined to historically low levels after the advent of the current global economic crisis, the impact was felt through decreasing investments from end users who became conservative with spending. Under the current market scenario, a key question in the minds of market participants is whether the market still offers growth opportunities. The answer is yes, as a number of compelling factors like demand for water and sanitation, government regulations and need for smarter solutions are expected to outweigh the restraints due to the financial downturn.
Europe is predominantly bound by regulations directed towards improving standards and quality and being green. These factors are expected to drive the metering pumps market. The European Hygienic Engineering and Design Group (EHEDG), a consortium focused on non-contamination of transferred media, has increased focus on improving hygiene standards particularly in sectors like pharmaceutical and food and beverage. This, coupled with the European Union health and nutrition directive in 2006, has increased demand for metering pumps, including peristaltic pumps, which are currently the highest growing product segment.
Furthermore, the majority of the European Union member states are set to achieve greenhouse gas emission targets as a part of the Kyoto protocol. This is expected to drive customer focus on reducing energy-related costs, thereby increasing the need for energy efficient metering pumps. The compounded annual growth of demand for energy efficient pumps between 2005 and 2009 was approximately 10 percent and is expected to increase in the future.
Other areas driving demand for metering pumps are the growing need for clean drinking water and sanitation in Europe. Regulations and directives aimed at improving water quality standards (like the Water Framework Directive) are expected to push upgrades and refurbishments of plants across Europe, and increase the need for metering pumps. Applications like flocculation, chemical treatment and disinfection in the treatment of potable water are expected to drive demand. With corrosion occurring in the treatment of brackish water, the diaphragm pump is expected to outrun its competing product line, the piston/plunger pump.
Regionally, Eastern Europe is set to attract significant investments in the water and wastewater sector and will offer immense potential for pump suppliers. A major chunk of the European Union stimulus package is assigned to infrastructure developments in the Eastern European nations. Poland, the largest economy in Eastern Europe is set to attract nearly 80 percent of this stimulus package. In addition, individual country stimulus packages are also focused towards infrastructural developments. All these are expected to act as major drivers for growth in the metering pumps market.
Although product price still remains a key competitive factor, customers have started realizing the advantages of reduced total cost of ownership, which has resulted in a greater attention towards product life cycle costs. With the level of sophistication involved in customers' processes, services like predictive maintenance are expected to generate greater attraction in lieu of reducing downtime, thereby offering a life cycle advantage. With metering pump suppliers integrating interoperable BUS communication systems with their products, it is evident that end users are looking for smart pumps and systems.
An increased adoption of intelligent pump systems (IPS) by 2012 is expected due to:

Drive towards reducing total cost of ownership
European Union regulations focused on reducing energy consumption
Industries like construction, chemical and pharmaceutical are more receptive to adopting new technology, unlike some industries like oil and gas. With growing concerns over monitoring metering pumps in remote locations, customers tend to look for options such as BUS and Ethernet communication protocols integrated with these pumps. Although the approach of such industries is conservative, it is expected to change in the future. Figure 1 shows the revenue forecasts for metering pumps in Europe.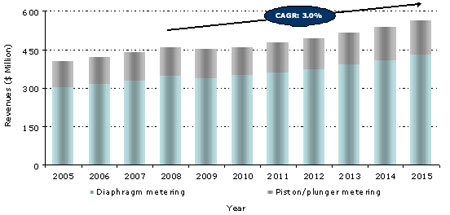 Figure 1. Metering Pumps Market: Revenue Forecasts (Europe), 2008-2015
Although the short term picture appears bleak, Frost & Sullivan expects the market to overcome the current economic challenges in the future. As presented in the "European Metering Pumps Market" report, the metering pumps market is expected to experience a compounded annual growth rate of 4 percent (2009-2015) on 2008 base year revenues of approximately $460 million.
With respect to products, diaphragm pumps hold a major share of the total market against piston/plunger pumps. This is expected to increase in the future with piston/plunger pumps losing their share to hydraulically actuated diaphragms due to improved non-leakage characteristics and noise reduction. Although there is evidence that peristaltic pumps will gain prominence against competing product lines, this product market is still in the nascent phase but is expected to positively impact the total market. Peristaltic pumps may replace traditional metering pumps in certain applications, but the trend is not expected to significantly impact the short to mid-term timeframe.
The current level of opportunities in the metering pumps market in Europe offers an environment conducive for suppliers to enhance their growth prospects. Smart metering coupled with services and government initiatives such as regulations and funding are likely to fuel growth of the metering pumps market in Europe, especially in the water and wastewater, food and beverage and pharmaceutical and chemical industries.
Pumps &Systems, March 2010