The labor shortage could cause these to run together in newer buildings.
Currently, the United States economy is strong and experiencing historically low unemployment rates; therefore, one could assume construction projects are running smoothly and on time. But even with the decline in unemployment rates, the amount of skilled labor is declining relative to the construction demand—there are simply not enough skilled workers to build all the needed projects in the same manner as in the past. 
The U.S. construction industry was developed under the assumption that the work would occur on the final building site. This work also includes design, procurement, contracts, logistics, financing, insurance, building codes, materials handling, labor laws and safety. This assumption is no longer valid; many, possibly all areas of the construction process, must be revisited. In the past five years, there has been a growing trend that is addressing the decline of available skilled labor: modular construction.  
The modular construction market is projected to grow at a compounded annual growth rate (CAGR) of 6.9 percent from $112.4 billion today to $157 billion by 2023. Plus, buildings constructed through off-site, prefabricated modular units are stacking increasingly taller.1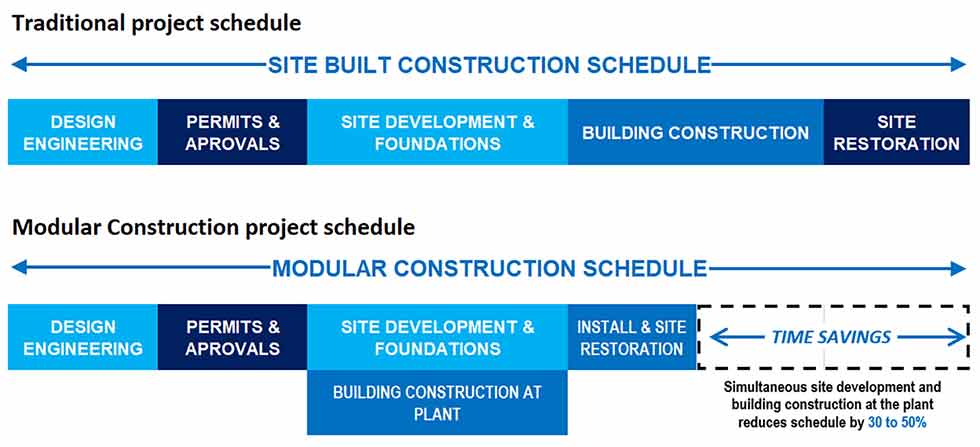 IMAGE 1: Timeline showing site-built construction vs. modular construction (Image courtesy of Grundfos)
What Is Modular Construction?  
According to the Modular Construction Institute: Modular construction is a process in which a building is constructed off-site, under controlled plant conditions, using the same materials and designing to the same codes and standards as conventionally built facilities, but in about half the time. Buildings are produced in "modules" that when put together on-site, reflect the identical design intent and specifications of the most sophisticated site-built facility, without compromise.
There are two types of modular construction: permanent modular construction (PMC) and relocatable building (RB). Many opinions of modular construction is what is seen on one of those "wide-load" marked flatbed, semitrailers rolling down the highway. These fall into the RB category as they are designed to be reused or repurposed multiple times and can be moved from one location to another. RBs are commonly seen at schools, medical clinics and construction sites. 
The growing trend lies within the scope of PMC, which involves modules, sometimes referred to as pods. These modules can come in the form of wall panels, complete bathrooms or even complete hotel rooms. These modules are delivered to the job site and pieced together like building blocks. 
Recently, research has come out supporting modular construction as an efficient construction process that is poised to help the construction industry grow.
Benefits to Modular Construction
Factory-controlled environment
Probably the No. 1 benefit is that the process is factory controlled, allowing for tighter construction, fewer site disturbances and less waste. Speaking of less waste, modular construction is a green approach. 
When building in a factory environment, waste is eliminated through the recycling process. Factory environments also allow for controlling inventory as well as the protection of building materials. 
Another green aspect is that modular buildings can be disassembled and relocated or refurbished for new use. This reduces the demand for raw materials and substantially reduces the amount of energy expended to create a building for the new need. 
Factory-controlled environments also have improved air quality because construction inside allows for use of dry materials, so the potential for high levels of moisture being trapped in the new building is nearly eliminated.
Speed
With the construction of modular buildings occurring simultaneously with the site foundation work, projects can be completed 30 to 50 percent sooner than traditional construction. Since 60 to 90 percent of the construction is completed inside a factory, weather becomes a nonfactor to the construction timeline. Buildings can be occupied sooner, creating a faster return on investment. An example of such a timeline is shown in Image 1.2
Built to code & safe
Modular buildings are built to meet or exceed the same standards and building codes as structures built on-site. The same materials, as specified by the architects, used in conventionally constructed buildings are used in modular construction projects—wood, concrete and steel. Modular units can be designed to fit in with external aesthetics of any existing building, and modular units, once assembled, are virtually indistinguishable from their site-built counterparts.
Connection to Pump Systems  
Since the building moves in a modular construction methodology, the components going into that building also take the same approach, leading to pumps. The traditional way of building a pump system, sourcing it component by component, can be at odds with this new methodology. Think about the traditional way of installing pumps in a building: pouring foundation, housekeeping pads, mounting the pumps, motors and controls, and all the ancillary components (e.g., isolation valves, check valves, gauges and sensors). 
With the skilled labor shortage and the need for speed when building these modular buildings, there will be an increased demand for pumps and pumping systems to follow suit. Users can look to packaged pump systems to follow the methodology of modular construction.
Benefits of Packaged Pump Systems
Factory-controlled environment
Many of the site-built activities can occur in a factory-controlled environment. The pumps, motors and drives can be installed on a base frame along with all of the isolation valves, check valves, gauges and sensors. The drives and controls can also be mounted on the base frame, prewired with controls preprogrammed to job site requirements from the factory. This can save hours of job site labor, both mechanically and electrically, and the high quality of work can be repeatable in the controlled environment. Just as with modular construction, factory-built pump systems also eliminate waste.
Speed
Production of the packaged pump system can occur at the same time as the site foundation/mechanical room. Pumps, motors, drives, controls and all of the ancillary items arrive as one module. Modular construction of complete pump systems in their own building is also done today, especially in the municipal market.
Built to code & safe
Packaged pump systems are built to meet or exceed the same standards and building codes as pump systems built on-site. Tasks such as welding, pipefitting and wiring up electrical equipment may be safer in a controlled environment. 
In the case of meeting water quality standards, this can also speed up the inspection process as a complete pump system can carry the required approval (NSF 61, for example), which includes all ancillary components, whereas the inspection agency would have to verify compliance on job site installed components separately. 
With new Department of Energy (DOE) efficiency requirements for individual pumps becoming effective last month, packaged systems with multiple pumps allow for greater system-wide efficiency levels on top of what the DOE requires.
Changing the Culture
The biggest hurdle for both packaged pump systems and modular construction is cultural. Even today, many design professionals, contractors and owners do not understand it or they see it as a luxury and feel that doing the work on-site will cost less. 
Those who have taken the modular or packaged system approach were able to see the value in terms of the quality of the product, the ease of installation and the shorter timeline for project completion.  
Reference
1. Slowey, Cowin and Beeton (2019, January 7). 7 trends that will shape commercial construction in 2019, retrieved from constructiondive.com.
2. What is Modular Construction, retrieved from www.modular.org.
Issue