Emergency dewatering equipment was deployed to handle the aftermath of the estimated 6.9 trillion gallons of rainwater dumped on Louisiana in August.
It has been called the worst U.S. natural disaster since Superstorm Sandy in 2012. The flooding that devastated parts of Louisiana in August 2016 resulted in 13 deaths and damaged more than 60,000 homes, according to media reports.
One meteorologist estimated that about 6.9 trillion gallons of rain inundated Louisiana from Aug. 8-14, according to CNN. Damage from the disaster—called a 500-year flood event—has been as much or more than $30 million.
Response to the flooding has been tremendous from government, agencies and a myriad of companies, including those in the pump industry. Here are some examples of pump companies in action.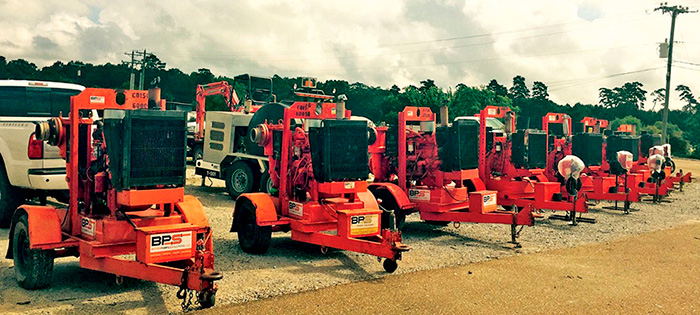 Image 1. Godwin pumps are gathered and ready to be installed at flooded municipal and industrial sites across Louisiana.
(Courtesy of Xylem)
Xylem Mobilizes Emergency Pumps
Xylem, with its local partner Better Pumps & Solutions, brought its 24/7 rapid-response capability to the affected areas. They quickly mobilized hundreds of high-performance, portable, diesel-driven Godwin pumps, miles of piping, as well as turn-key solutions.
"We have an outstanding network of rental locations and distributors across the U.S. who are a big part of our 'always on and close by' promise to customers," said Gregg Leslie, N.A. distribution manager for Xylem's Dewatering business. "In this case, pumps from across the state of Texas have been brought to the flooded areas, (in addition to) activating pumps based in Louisiana."
Xylem worked ahead of and after Superstorm Sandy to remove floodwaters. Better Pumps & Solutions supported the recovery when Hurricanes Gustav and Ike hit in 2008.
Better Pumps & Solutions President Billy Guidry said, "The scale of this extreme weather event is very challenging for the Louisiana community. Our team is working with most of the 20 parishes affected, supplying emergency dewatering pumps and sewer lift station pumps."
The work by Xylem and Better Pumps & Solutions includes:
Keeping infrastructure operating: They have been working with a municipality in the Denham Springs area, supplying 20 to 30 lift stations to wastewater treatment plants that needed to be backed up. Supporting this effort are 30 4-inch and 6-inch portable diesel Godwin pumps.
Keeping businesses in business: The team deployed a Godwin CDM225 pump to a flooded industrial facility to safely pump away caustic wastewater that was emanating from the facility.
Flood control: The team activated a Godwin CD400M pump and emergency response support to a waste management landfill operation that needed flood-control support as well as standby pumps along the Amite and Comite rivers to prevent flooding in neighboring areas.
Tsurumi Assists with Dewatering
Tsurumi Pump was able to get ahead of the recent flooding in Louisiana, where a large shipment of gas-powered centrifugal pumps and electric submersible dewatering pumps were sent to the town of New Iberia. The shipment of pumps is helping New Iberia-based Iberia Rental serve customers within a 50-mile radius.
Kyle Cox, owner of Iberia Rental, said that the shipment is making a difference as floodwaters recede and remediation begins. "Tsurumi's efforts to directly work with us and supply the equipment we need has been essential in the cleanup," Cox said. "The gas-powered trash pumps have been especially useful, as many areas are still without power, and the pumps can move some 40,000 gallons per hour in a frame that's light enough for two men to easily move."
He added, "People down here are suffering and need dewatering solutions fast—we're glad to have a company like Tsurumi in our corner as we recover."
Water-related catastrophes, from the flooding in Louisiana to storms like Hurricane Sandy, are prompting Tsurumi Pump to actively monitor flood-prone areas to ensure that customers have access to needed equipment before severe weather strikes.
"We're a pump company first and foremost, but we're also here to help people," said Glenn Wieczorek, the company's managing director. "At Tsurumi, we don't shy away from investing in our inventory, which helps us stay prepared in emergency situations like these, where large amounts of equipment need to be trucked in before bad storms hit."
Issue