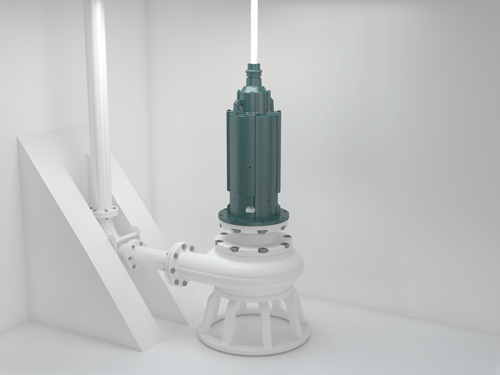 Review a comparison of submersible and immersible motor types.
Certain industrial and municipal pumping applications require a motor that is designed to be fully submerged (wet pit) or operate in a continuous-in-air (dry pit) environment. A submersible motor solution allows the pumping application to operate while fully submerged in fluid or in areas that are prone to day-to-day (even hour-to-hour) intermittent flooding. Not every motor can function while fully submerged; to do so requires special features to ensure performance in both wet and dry pit applications.
A basic electrical safety rule is that water and electricity do not mix; however, alternating current (AC) induction motors must function in or under water to operate pumps, mixers and aerators in industrial water and wastewater applications. Submersible motors must be specially designed and manufactured to prevent water/effluent from contacting any part of the electrical circuit while providing long life in these harsh applications.
Operating locations of these motors are extremely demanding, and repairs and maintenance can be difficult and time consuming. Applications such as slurry pits with gritty, sandy effluent; stormwater drainage systems; and, most commonly, clean water and wastewater treatment facilities demand that the submersible product line is designed and built to withstand the harshest of submerged conditions.
Motor Types
Motor manufacturers generally offer two types of motors suitable for operation in wet pit and dry pit environments in this market segment: submersible and immersible.
Submersible motors are usually designed to operate continuously in water/effluent and up to 15 minutes in dry air for wet pit applications. They can also be designed to operate continuously in air for dry pit applications. Submersible motors are mounted directly to the pump volute, so the pumped fluid always lubricates the outer drive end seal. They can operate in depths as low as 160 feet and are available for both hazardous (Underwriters Laboratories [UL] Division 1) and nonhazardous locations.
Typical design features of submersible motors include a totally enclosed, nonventilated (TENV) cast-iron construction, stainless-steel shaft and hardware for corrosion resistance, dual-mounted inner and outer shaft seals separated by an oil-filled chamber, a moisture detection system and thermostats as required for UL Division 1. They are suitable for either vertical or horizontal mounting. Submersible motors are generally available from stock, but many are engineered to order. Tandem seals on submersible motors for both wet pit and dry pit applications must be operated in the wet condition (lubricated by the pumped fluid).
Immersible motors are designed to operate continuously in air for dry-pit environments or other applications where the possibility of flooding exists but would not normally occur. Immersible motors are typically mounted to the pump by means of a bearing frame, a flange mounting or a close-coupled arrangement like standard industrial pump motors. They can operate continuously submerged for up to two weeks at a maximum depth of 30 feet. Immersible motors are not typically suitable for hazardous locations and were originally developed as an alternative to continuous-in-air submersible motors.
Immersible motors typically feature either totally enclosed, nonventilated (TENV) or totally enclosed, blower cooled (TEBC) cast-iron construction, space heaters, thermostats and specially designed sealing systems. The TEBC design employs a separate blower motor that drives an external fan for constant-velocity cooling. They are primarily intended for vertical, shaft-down mounting with C-face or P-base end brackets as standard, although they may be horizontally mounted under certain conditions. Unlike submersible motors, shaft seals on immersible motors may operate in the dry condition (not requiring contact with the pumped fluid). Immersible motors are typically nonstock and engineered to order.
Determining the Best Solution
Several factors must be taken into consideration when determining the best solution for a specific pumping application or environment. Key factors include the fluid type, the submerged depth, duration and frequency, the required mounting configuration, certification requirements and serviceability.
Fluid type
Submersible motor/pump assemblies are primarily used for water and wastewater treatment applications. While submersible motor manufacturers offer a variety of tandem mechanical seal face types (carbon ceramic, silicon-carbide, etc.) or slurry seals to handle various levels of solids and fluid viscosities, their usage is primarily limited to water or similar liquids and ambient fluid temperatures up to 194 F (90 C). Immersible motors offer more flexibility in the type of liquid being pumped since the motor seals are not in direct content with the liquid. Neither the submersible nor the immersible motor is typically suitable for highly corrosive environments.
Motor manufacturers primarily use gray cast-iron construction and low-alloy stainless steel hardware that make these motor types unsuitable for direct contact with harsh chemicals or other aggressive fluids. Pump equipment manufacturers typically employ immersible pumps with the motors mounted above the potential flood plain in highly corrosive environments to avoid direct contact between the motors and the fluid.
Submerged depth, duration and frequency
Submersible motors are normally designed for continuous operation in liquid at a maximum depth of 160 feet and for 15 minutes when operating in air. Manufacturers can also design submersible motors to operate continuously in air by increasing the frame size versus the output rating (horsepower or kilowatts) to achieve the required heat dissipation when operating continuously in air instead of submerged in liquid. Motors that are designed for continuous operation in air are also capable of operating continuously in liquid, making them an ideal solution for dry-pit environments that are prone to frequent flooding or may flood for prolonged periods.
Immersible motors are designed to operate continuously in air and for typically up to two weeks when submerged in liquid at a maximum depth of 30 feet. Because of the limited depth and limited operating time while submerged, immersible motors are recommended for areas where flooding is infrequent and of short duration.
Mounting configuration
Submersible motors are typically mounted in a vertical, shaft-down configuration, but may also be horizontally mounted due to their TENV construction, if they are oriented per the manufacturer's directions to assure proper function of the moisture detection system.
Immersible TEBC motors where the external blower motor is on the same axis as the primary motor shaft extension must be mounted in a vertical, shaft-down configuration to assure proper operation of the blower motor until it is taken offline by the user-supplied float switch and the primary motor is able to be cooled by the liquid. Since immersible TENV motors do not require an external blower motor, they may be mounted in either a vertical or horizontal configuration.
For immersible motor applications requiring a horizontal mounting configuration that would normally be provided as TEBC, manufacturers recommend that the motor be provided as a TENV design to eliminate the need to externally cool the motor during continuous operation in air. This normally requires a larger than standard frame size for the output rating. If it is not feasible to provide the TEBC design as TENV due to space or size constraints, the motor manufacturer should be consulted regarding other options for providing external cooling to the primary motor.
One advantage of specifying immersible motors over standard TEFC motors in immersible pump applications is the ability to reduce the number of components and complexity required to mount the TEFC motor above the flood plain.
Certification requirements
The potential for the presence of flammable gases or liquids and combustible dusts can affect the design of motors that operate in water and wastewater applications. Methane gas is formed by decomposing solids. It is potentially explosive and could require a motor to carry a UL Division 1, Class I, Group D certification or other similar certifications for hazardous areas.
Users are responsible for specifying the hazardous area certification requirements of the motor. Typical references for these requirements include National Fire Protection Association (NFPA) 70, National Electrical Code (NEC), which defines the hazard rating of the space or envelope or NFPA 820, the standard for fire protection in wastewater treatment and collection facilities, which defines the hazard and classification for the process areas.
Submersible pump motors with a 15-minute in air duty cycle may be operated in potentially explosive gases or vapors when the wet well is being dewatered, when the pump motor assembly is being lowered into the well and flow is needed to clear solids from the discharge for proper seating, when low-level cutoff controls fail or when low-level sensors are positioned at the bottom of the pump assembly. Immersible motors are not typically used in hazardous locations and are therefore not certified for these areas, primarily due to the type of conduit box connection and the type of blower motors that are used for TEBC designs.
Serviceability
Submersible motors for either wet pit or dry pit applications that are properly applied and with monitoring devices properly installed do not require periodic inspection of motor seals. The moisture detection system and thermal protection provide advance warning of impending failure and allow the user to plan a maintenance program before failure occurs. Certain submersible motor designs with UL Division 1 certifications allow for replacement of the cable connector assembly and the lower/outer seal on tandem-seal designs without  negating the UL listing.
Other types of repairs or modifications may require the unit to be returned to an agency-authorized service center. The manufacturer should be consulted prior to any repair or modification activities on motors certified for hazardous locations.
Since submersible motors designed for dry pit applications are also capable of operating continuously while submerged, no additional inspections or maintenance procedures are required to return the motors to service when flooding subsides.
Immersible motors are typically designed to operate for up to 14 days when submerged at a maximum depth of 30 feet. When the motor becomes submerged, a float switch disconnects power to the external blower motor on TEBC designs and the motor is then cooled by the liquid. Every time the motor (TEBC or TENV) is operated in a flooded environment, it must be disassembled and maintenance performed per the manufacturer's recommendations. Typical items for inspection and/or replacement include bearings, O-rings on brackets, shaft seals and lubricants.
If the blower motor on TEBC designs is submerged, it must also be serviced. Manufacturers typically provide a washdown-duty (Ingress Protection [IP] 55) blower motor as standard, which should normally be replaced before returning the TEBC motor to service. Motor manufacturers may offer an immersible blower motor design as an upgrade. These immersible blower motors typically require inspection and rework by an approved repair facility before being returned to service.
Issue