Michael Michaud, executive director of the Hydraulic Institute, spoke with Pumps & Systems about how end users can prepare for new Department of Energy rules and policies.
Take us through what we know and don't know about the federal government's pump efficiency regulations, their impact and what we can expect this year.
See more of our State of the Industry 2017 coverage.
Early in 2016, the U.S. Department of Energy (DOE) released its commercial and industrial clean water pump (CIP) Energy Conservation Standard and Test Procedure for Pumps, essentially requiring that by 2020, pumps within scope that are sold into the market will need to be redesigned or reconfigured to meet new efficiency standards.
We estimate that these requirements will eliminate some 25 percent of the pumps currently available. Certainly for pump manufacturers, this is not news as they have been preparing for this for some time. This is relatively new to most of the end users I speak with, however. They are wondering how it will affect them—if there will be a significant change to the pumps available in the marketplace and if they will need to change their procurement practices.
What do we know now about the impact of these changes?
Manufacturers are already starting to implement the changes. Many have rolled out or will be rolling out new models incorporating more efficient technologies or designs—either completed internally or acquired through some of the recent merger and acquisition activity you have reported on. So I know the pump manufacturers will be ready in 2020.
Does this affect currently installed pumps or only new pumps?
The next few years will present some very interesting options for end users. The DOE energy conservation standard does not require any change to currently installed equipment or pumps. However, as more highly efficient pumps become available in the marketplace and utility incentive programs become available, end users will have some interesting choices.
When you do a life-cycle, cost-accounting analysis of pumps, most end users find that more than 75 percent of the lifetime cost of ownership is various operating costs. Energy costs alone represent the largest share at 40 percent. The upfront cost to purchase the new pump is generally only around 10 percent, with installation coming in at 7 percent.
Incentives will further reduce the upfront expense, making it even more affordable to purchase a new, more efficient pump, which will have the added effect of producing more energy savings.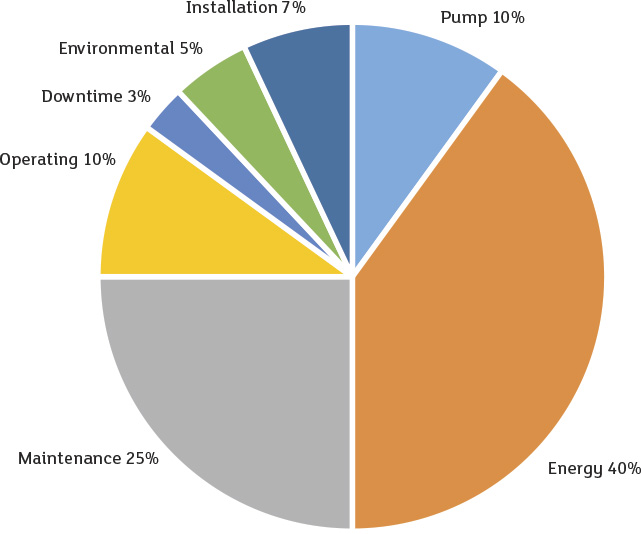 Figure 1. Typical life-cycle cost for a pumping system
(Courtesy of Hydraulic Institute)
Tell me more about the Utility Incentive programs.
The Utility Incentive programs are designed to transform markets quickly. Utilities like to think of these programs as building "nega"-watt plants—essentially taking a "negative" amount of energy off the grid. Utilities have been doing this successfully with lighting and variable speed drive (VSD) rebates.
Some pump-related programs already exist, but they tend to be what the industry calls "custom programs." These are generally used for a larger pump installation where there is a lot of engineering, testing, data collection and validation—and obvious energy savings.
More recent activity is moving toward "deemed incentives." This approach collects the data to analyze and validate the energy savings up front. Doing this allows public utilities to put in place a prescriptive rebate program that can be adopted everywhere. The savings have been predetermined, and the administrative process is essentially streamlined. The Hydraulic Institute (HI) is providing the data so this testing and validation can be done now, but more fundamentally, we have also developed an Energy Rating Label specifically for this purpose.
Tell us more about the Energy Rating Label.
HI worked with the DOE to develop the test methodology that manufacturers use to measure performance. The Energy Rating Label is essentially HI 40.6 (the pump test standard that also happens to be a requirement by the DOE) plus some additional calculations consistent with the CIP regulation.
The Energy Rating Label has some administrative requirements as well, including test data coming from an HI-approved pump test lab. This step is very important for the utilities that require an additional level of assurance that the performance on the label will actually be seen when the pump is in use.
What is the timing on this? When can we expect these to transform the market?
Timing is a great question. Obviously, the earlier these programs are put in place (prior to 2020), the larger the impact. HI's Pump Test Lab Approval Program (PTLAP) has close to a dozen manufacturers/labs involved now. The Energy Rating Label program is set to launch in Q1 2017. We have been working with utility groups for several years already and have been sharing data all along, so the utility program side should also be ready to go in early 2017. The early adopters will start to see some impact in 2017, and we expect the program to be well-established in 2018.
What will happen after 2020? Will market incentives still be available?
The general consensus is that there will still be incentives in the marketplace. Pump systems account for 25 to 30 percent of the electricity usage, so it will take a while to replace or upgrade that amount of equipment. And even if the regulatory or incentive levels change, the Energy Rating will still be the yardstick used.
Pages