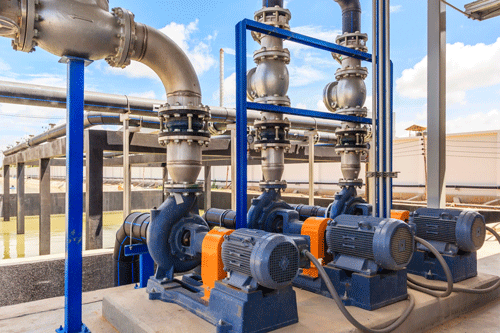 Ensure appropriate equipment is installed properly.
In almost all aspects of life, safety ranks as one of the more important things to think about. When it comes to wastewater lift stations and pumping equipment, safety needs to be a top priority in all phases of the system life cycle, from equipment design and selection to long term maintenance and repair.
System Design & Equipment Selection
The first thing to understand before initiating the design process is the nature of the application. While most residential and smaller commercial applications may be fine using standard equipment, there are many applications which require the use of equipment designed and certified for use in hazardous locations. These applications, often referred to as classified locations, require specifically designed pumping and controls equipment constructed to prevent them from being a source of ignition in a potentially combustible environment.
Sometimes referred to as explosion proof, pumps rated for hazardous locations (hazloc) have detailed requirements, ranging from material selection and geometry of the cast iron housings and joints to stringent power cord and epoxy-potted cord entry designs. Control panels must be intrinsically safe, which means float switches or other sensing means must be isolated from higher energy equipment in the control panel.
Even materials used in the guide rails and pullout flanges need to be selected to eliminate potential sources of ignition. This generally translates to the moving portion of the pullout flange being constructed of bronze to prevent sparking when sliding down the iron or stainless steel guide rail pipe. The exact equipment requirements depend on the nature of the environment and are defined by the National Fire Protection Association (NFPA) 820.
System Installation
Once the appropriate equipment has been selected, ensuring the hardware is installed properly is of equal importance. Installers must be adequately trained and equipped with the appropriate tools and personal protection equipment (PPE) to do their job safely. Electrical installations must meet all applicable codes and standards, and in the case of explosion proof equipment, conduits must include accommodations for potting, which prevents gases from traveling to the control panel. Thermal sensing circuits and current overloads in the panel must be connected and set to appropriate levels to match the pumps. It is also important to ensure controls are adjusted to achieve proper turn-on and turn-off levels, as some pumps may require a minimum level of submergence for proper cooling and temperature control.
System Maintenance & Repair
Any pumping system will eventually need some type of maintenance or repair. When it comes time to service a wastewater lift station, safety remains a critical aspect. In addition to standard electrical safety and fall protection protocols, operational wastewater stations pose additional hazards to technicians. Wastewater wet wells need to be treated as confined spaces and approached with appropriate PPE to deal with the biohazards and harmful gases that may be present. It is also important that technicians are properly trained in relation to the equipment they are servicing to ensure long-term reliability of the station and the safety of those individuals who will use or maintain it in the future. Proper connection and resealing of electrical interfaces, proper replacement equipment selection and even things as simple as properly securing access hatches are all critically important to the overall safety of the station.
Safety must be considered at every stage of a lift station's life cycle. Many risks can be mitigated by working with qualified suppliers and manufacturers who can provide a comprehensive design solution using a systems approach and by ensuring that personnel are properly qualified by taking advantage of training opportunities.
For more information on SWPA, please visit swpa.org or call 847-681-1868. SWPA
is committed to its mission of educating the wastewater community and periodically hosts two-day pumping systems and controls training seminars lead by industry experts.
Submersible Solutions is produced by the Submersible Wastewater Pump Association to inform and educate in the design and operation of submersible wastewater pumping systems. For more information, visit www.pumpsandsystems.com/swpa.
Issue