Pump manufacturers must be aware of industry trends to meet changing consumer demands in the food and beverage processing industry.
The food and beverage industry is complex with multiple value chain partners operating in tandem to deliver to a global clientele. Challenges that are specific to the industry include highly perishable items, constantly changing customer tastes, increasing demand, the need for safety and a global supply chain.
Health & Wellness
With the rise in the conscious selection of healthy foods, strong growth is seen in some segments, such as fortified beverages and energy drinks. Demand in other segments, such as beverages with high sugar content has decreased.
The mature population in North America is turning toward healthier foods as government programs to sensitize issues of obesity are initiated. Organic and natural foods are a growing segment. In the emerging countries of the Asia Pacific, the growing middle class results in opportunities for high-end products, such as organic foods, showing a move toward developed economies. This trend has also led to new segments, such as nutraceuticals and nutricosmetics, which improve health and beauty.
Private Labels
Private labels began growing significantly during the 2008-09 recession for price-conscious consumers and continue to grow as quality and value have improved. Private labels have gained much popularity and offer competitive advantages to retailers. The penetration rate of private labels in India is expected to reach 30 percent in 15 to 20 years, compared with Europe's private label market, which took 50 years to mature.
The large, unorganized food manufacturing sector in countries such as India provides huge potential for private labels.
Convenience Foods
Another major trend impacting the landscape of the food and beverage industry is the need for convenience in food consumption. Consumers want quick food options, such as ready-to-eat or microwavable products, which is leading to several innovations in the industry. This trend is emerging in developing countries as well, where the lifestyle of the growing middle class is undergoing changes. With rising income levels and exposure, processed foods are expected to constitute a significantly large segment in the industry.
Food Safety
Along with health concerns, the safety and quality of food is also a growing issue. Food manufacturers aim to produce the best quality food for the market in accordance with governmental regulations. The Food Safety Modernization Act by the Food and Drug Administration aims to begin a proactive approach to food safety by manufacturers. Similar measures in Asian countries are expected to highlight the importance of safety procedures and sanitary equipment.
Sanitary Pump Market Overview
The growth of the global sanitary pump market is forecast to cross the $2.5 billion mark in 2020 (see Figure 1). The trends previously described play a key role in boosting the demand for sanitary pumps in food manufacturing processes.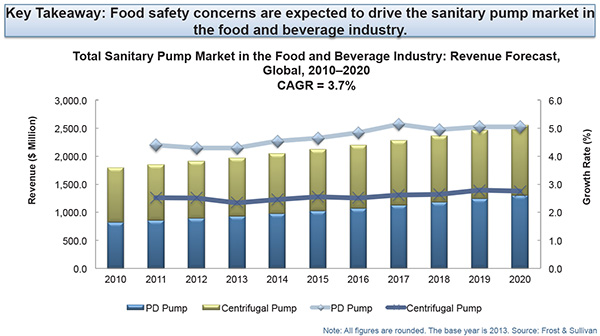 Figure 1. The revenue forecast for the total sanitary pump market in the food and beverage industry
Vertical segments—which include meat processing, processed foods, bakery and confectionery, dairy, and beverages—are impacted differently. The demand from the beverage and dairy segment constitutes 50 percent of the revenue, with key opportunities in fortified dairy products, energy drinks, bottled mineral water and others. The processed food segment is expected to experience the highest growth rate as demand for convenience foods rises.
Figure 2 provides the regional forecast for sanitary pump revenue. While the global demand for sanitary pumps grows, many regional trends play a key role. Regional analysis shows that the Asia Pacific will have a growing domestic demand for processed foods and bottled mineral water during the forecast period.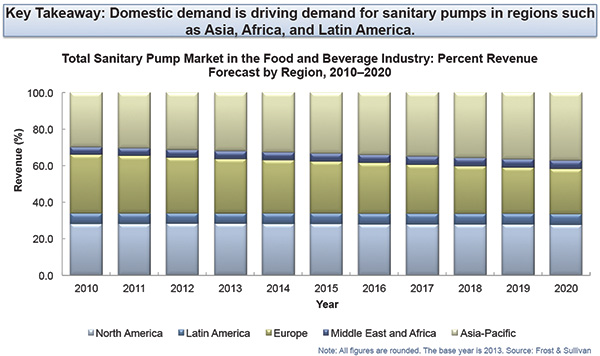 Figure 2. The percent revenue forecast by region for the total sanitary pump market in the food and beverage industry
Low exports are expected to reduce the demand for sanitary pumps in Asia and Latin America. The North American market shows a consistent growth rate because investments in new facilities and expansions are expected in segments driven by health and wellness.
Issue