The new HI Energy Rating Program uses a label to indicate the power savings obtained from pump system upgrades.
Federal energy regulations for pumps made significant advancements in 2016 with the publication of an Energy Conservation Standard (ECS) and Test Procedure (TP) covering certain clean water pumps, as well as the development of proposed rules for Dedicated Purpose Pool Pumps (DPPPs) and a term sheet for circulator pumps. However, leadership changes at the U.S. Department of Energy (DOE) and President Donald Trump's regulatory freeze bring uncertainty around current regulations, compliance and future rulemaking activities.
Clean Water Pumps
The ECS and TP for certain clean water pumps is published in the code of federal regulation (ecfr.gov) at 10 CFR 431 Subpart Y and Appendix A. This regulation became effective on Feb. 24, 2016; compliance to the regulation became mandatory for all representations of the Pump Energy Rating (PER) and Pump Energy Index (PEI) on July 25, 2016; and certification with DOE is required by Jan. 27, 2020.
This regulation has been written about extensively, but it is complex and the industry continues to have questions related to its scope and compliance. The regulation covers clean water pumps within certain performance and design parameters, as shown in Table 1. The Hydraulic Institute (HI) has a dedicated website, pumps.org/doerulemaking, where regulatory updates and historical information on the rulemaking process can be found, as well as a PEI calculator, frequently asked questions, and images with definitions of the pump types within scope.
Dedicated Purpose Pool Pumps
The DPPP working group negotiation was completed in 2016, and DOE published in the Federal Register (82 FR 5446) a Notice of Proposed Rulemaking (NOPR) for the Test Procedure and a Direct Final Rule (DFR) and NOPR for the ECS simultaneously. These rules specify definitions and standard levels for self-priming and non-self-priming pool filter pumps and pressure-cleaner booster pumps. Integral sand and cartridge filter pool pumps must be distributed in commerce with a timer.
DOE estimates implementation of the standard levels will save 3.8 quads over a 30-year period—approximately the annual electricity use of 22 million homes. The DFR indicates that the effective date for the ECS is May 18, 2017, unless adverse comment is received by May 8, 2017. If the received comments provide reasonable basis for withdrawal of the DFR, a timely withdrawal will be published in the Federal Register and the DOE will instead proceed with the Proposed Rulemaking process. The DOE will then consider and respond to all public comments received on the NOPR when the Final Rule is published in the Federal Register.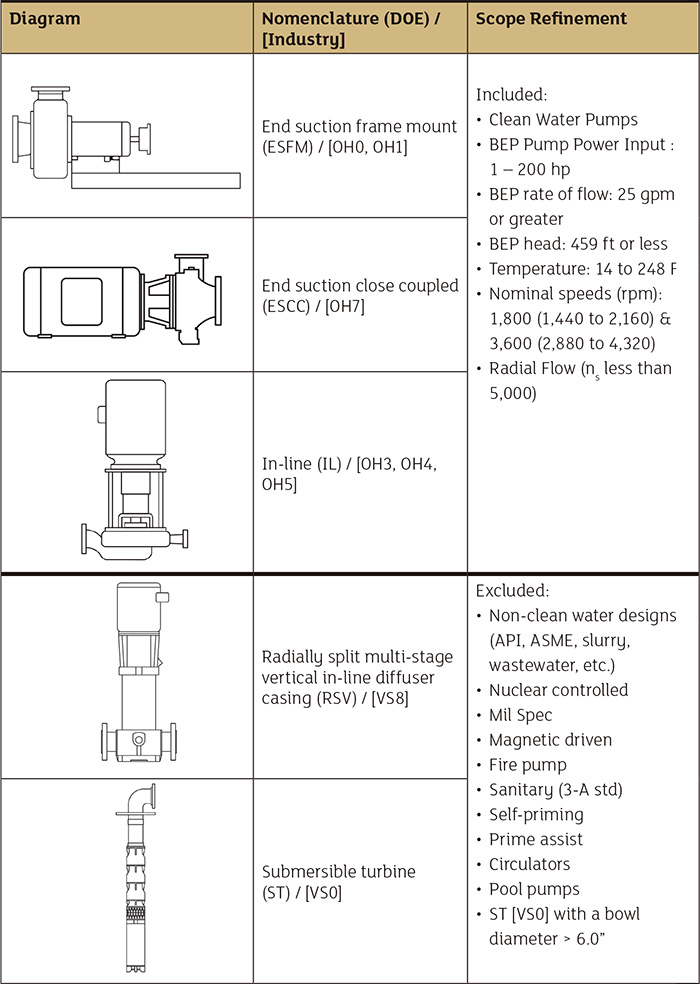 Table 1. Summary of pump types covered (Courtesy of Hydraulic Institute)
Circulator Pumps
The circulator pump working group negotiations were completed in 2016. Circulator pumps are small in-line pumps designed and primarily used for hydronic heating and domestic hot water recirculation. The negotiations resulted in a term sheet defining circulator pumps and recommending terms for the development of a Test Procedure and Energy Conservation Standard.
The working group agreed to a standard level that would effectively shift the circulator pump market from induction motor technology to the more efficient electrically commutated motor (ECM) technology. This shift would save more than 0.7 quads of energy—approximately the annual energy use of 4 million homes. The term sheet recommends that circulator pumps need to meet the new standard level four years from issuance of the final rule in the Federal Register, which equates to an end-of-2021 target.
Uncertainty
It is not clear what impact the leadership changes at DOE and the 60-day regulatory freeze will have on the final and proposed rules, but the working groups involved are in agreement that the recommendations will benefit everyone, including end users.
HI will continue to track pump-related regulations and regulatory changes in an effort to provide clarity to the industry.
Energy Rating Program
Estimates indicate that pumping systems account for 40 percent of industrial energy use. HI is committed to developing standards, technical resources and programs that encourage safe and reliable operations and improve overall pump system efficiency. HI recently launched the HI Energy Rating Program, which utilizes a label that clearly indicates the power savings obtained from pump system upgrades.
Pump manufacturers use the Energy Rating Label to differentiate their energy-efficient products compared to the dated installed base of pumps. Public utilities use the label as the underpinning for incentive programs that will accelerate the adoption of energy-efficient pumps and extended products. Public utilities are implementing the first-ever deemed incentive programs for commercial and industrial pumps three years ahead of the regulatory compliance date by utilizing this program.
Additionally, HI is managing a public database of listed pumps. For more information, visit www.pumps.org.
Issue