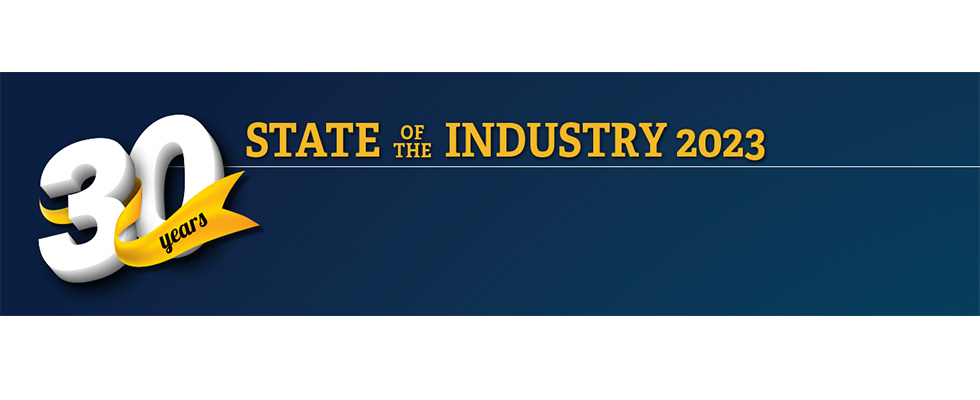 Howe provides his insights to issues impacting the industry and his expectations for 2023.
James Howe, Executive Vice President–Chief Technology Officer, Corporate Accounts, Digital & eCommerce, and Strategic Pricing for Motion answered the following questions from Pumps & Systems for the 2023 State of the Industry issue. 
Pumps & Systems is celebrating our 30th anniversary in 2023. What do you think has made the biggest impact on the industry in the last 30 years? What do you think needs to happen to push the industry forward in the next 30?  
There have been many significant industry changes over the last 30 years, but I think technology has had the largest impact. Technology has influenced how we operate and connect with our customers. Our customer communication 30 years ago was mostly over the phone and fax. Today, we are connected electronically with many of our customers, and with industrial internet of things (IIoT) connectivity starting to extend into more products, our customers can leverage that technology.  
What are your thoughts regarding Build America, Buy America? How has that impacted your company? 
I think support for American manufacturing benefits our industry. We are seeing more reshoring and increased investment in our manufacturing base. The increases in supply chain issues, shipping costs and global uncertainty are also driving investment in U.S. manufacturing, which is good for America and our industry. 
How have any price increases of products or materials impacted you or your company? 
We have experienced unprecedented price increases over the last two years, creating many challenges. In addition to larger than usual price increases, many suppliers had multiple price increases per year. Keeping our systems updated and in sync was a unique challenge for many of our larger customers that are electronically integrated with our digital catalogs. Fortunately, our customer relationships are very strong, and we were able to navigate these issues together in a positive way.    
What needs to happen in regard to improvements in the short term? 
We have an industry where many companies have an aging workforce with unique skills and talents. Attracting young talent to our industry and transferring knowledge to a new generation is definitely going to be a focus.  
What issues have you seen with any material shortages or supply chain issues? 
Motion hasn't struggled with many material shortages or supply chain issues over the last two years. In 2020, we did not draw down inventories during the downturn. We increased inventory investments in late 2020 and 2021. This allowed us to continue servicing our customers with minimal stocking issues. The supply chain seems to be normalizing in late 2022, with manufacturers catching up with demand.   
What industry trends are you seeing as we go into 2023?   
We are seeing a moderation of growth rates going into next year but are very optimistic about our prospects in 2023 and beyond. While 2022 was very strong across almost all customer segments, we expect 2023 to be more of a mixed environment, with some customer segments in a strong growth environment while other customer segments experience headwinds.   
What's on your mind/what are you most concerned about? 
I am not sure I would say concerned, but I am definitely focused on our people in 2023. We need to keep our team healthy, energized and engaged. We went through a pandemic together, which was very stressful and difficult for many, followed by two strong years of frantic growth.  
What are you most looking forward to in 2023? 
Motion has been improving many aspects of our 75-year-old business model over the last four years, creating the environment for our strong gains in performance. We have many new initiatives scheduled for 2023 that will improve our customer experience, our operating efficiency and the effectiveness of our associates in the field—I am excited to see the results. Regardless of the economic environment in 2023, Motion is well positioned to deliver a strong value proposition to our customers, which will optimize our company performance.    
Issue