Industry leaders say 2019 will continue to ride the ups and downs of geopolitical tensions.
In recent weeks, Pumps and Systems staff reached out to about 75 industry thought leaders to ask about their expectations for 2019. The dozens who answered let us know that, in the final hours of 2018, they all have a lot on their minds.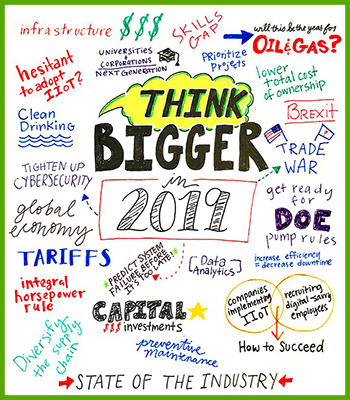 See more of our State of the Industry 2019 coverage.
What keeps you up at night?
When asked this question, the majority said they worry about the global and U.S. markets, tariffs, rising interest rates, the implications of Brexit, other geopolitical issues, the lack of skilled workers and government regulation.
And—regardless of the location of a company's headquarters—leaders say moving into 2019 they are most shaken by the ongoing U.S./Chinese trade war.
U.S. President Donald Trump fired the first shots in this skirmish when he established $34 billion in tariffs on Chinese imports in March of 2018. A 25 percent duty on steel coming from China struck a particularly harsh blow to some manufacturers.
"The unprecedented scope has triggered substantial opposition from trading partners, defense and foreign policy establishments, and consumers—as well as many members of Congress," reported Eric McClafferty of Kelley Drye & Warren at the 2018 fall Hydraulic Institute (HI) conference in October.
Meanwhile, President Xi Jinping's Chinese government retaliated with $34 billion in tariffs on U.S. imports. China also ignored U.S. complaints about weak intellectual property protections, unfavorable licensing agreements, along with other issues, according to a report from the Global Business Policy Council (GBPC).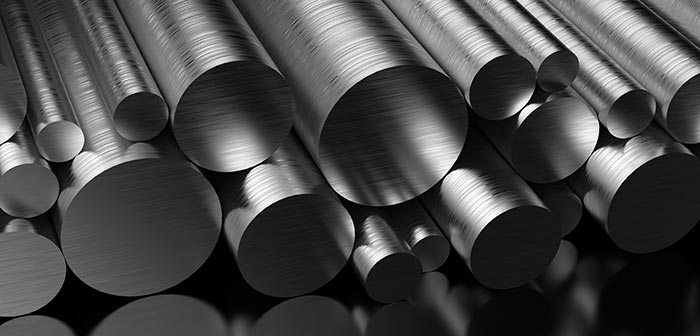 Some countries are exempt from the steel import tariffs, including Argentina, Australia, Brazil and South Korea.
Temporary exemptions for Mexico, Canada and the EU ended at the end of May, but talks are ongoing.
McClafferty also reported that Turkish imports were doubled to 50 percent for steel and 20 percent for aluminum.
Damaged relations are troublesome, said Trey Walters, president and founder of AFT.
Walters spoke of U.S. relationships with "Asia and Europe, and recently with Mexico and Canada. That worries me with our global economy. We have some forces that are making trade more complicated."
In 2019, these trade tensions and geopolitical alliances will continue to shift, according to the GBPC. The group predicts the trade war will only intensify in 2019, and that "the Xi-Putin relationship will be the world's most consequential bromance," referring to Russian President Vladimir Putin. The results of the investigation into Russian interference in 2016 U.S. elections could add to the widespread uneasiness.
Merely worrying about the possibilities is a useless exercise, leading many OEMs to take action. At the HI conference, McClafferty explained the "first sale rule," where goods pass through two separate sales transactions— creating a middleman to limit duty spending. Some companies are undoubtedly pursuing this option, while others are adjusting supply chains to avoid price hikes and further potential disruption.
"The scope of products and components, as well as the rates applied, are both growing. ... Fortunately, we have a global supply base and are able to move to the locations that will best serve our customers. This still takes time to accomplish," said Henk van Duijnhoven, Nidec Motor Corporation CEO.
Those who have taken steps to redirect equipment, parts and material movement expect to benefit this year. "The foreign trade tariffs have a considerable impact on our import business. Proco has done a great job in diversifying our manufacturing locations to countries that are 'trade friendly,' but other manufacturers that we rely upon for other products are facing steep price increases and material shortages due to longer lead times," said Mike Lassas, Proco vice president of administration.
Foresight could be the key to continued success. "Being a global company, we do have factories in different regions.
We can move around and get products from India instead of China, and France instead of Asia," said Carlos Uribe, general manager of Milton Roy.
Gino Mersino, CEO of Mersino, said, "We have always sought to have a diversified supply chain, one that provides flexibility given the propensity for changing geo- political winds."
SEEPEX is looking for ways to make necessary adjustments. "The U.S. economy has been expanding at a robust rate for 108 months with the average increase in GDP at 2.2 percent per year. Trying to keep costs in check at such a time is difficult. New import duties have started to decidedly impact prices, even from domestic suppliers. Steel prices, especially steel tubes, have increased dramatically, even from domestic mills," according to SEEPEX president and CEO Mark Jones.
Of course, exports are an issue on their own. Pumps to be exported must be classified under the Commerce Control List with the appropriate export control number (usually 2B350 or 2B999, said McClafferty). More than 60 companies in the industry have been penalized for export and sanctions violations, he said.
Import/export tariffs are not the only issues raising economic concerns in 2019, although the duties seem to have given some domestic steel producers license to hike material prices. "Some are increasing the cost of steel over and above the tariff. Brexit may just affect us because we manufacture for Europe in England. We're really waiting to see what the Theresa May government comes up with," according to JWC Environmental president Greg Guard.
Inflating steel prices are impacted by ongoing political tensions and low unemployment. "Embargos on Iran, Russia and Venezuela have fueled an expansion in U.S. production, but much of that production is now being exported. Duties, especially on metals and all of the elements needed to make metals, transportation and the tight labor market have driven up all costs," said Jones.
Interest rates are also a concern. Rates on the rise directly impact costs for borrowing and trade credit. The whiplash of conflicting reports on the status of diplomatic talks does nothing to ease unsteady nerves. In fact, in December (at press time) the stock market had begun an historic slide that concerned economists and exasperated investors alike.
Some industry leaders believe the trade war will have a lasting effect on the global process industries—but a positive one. George Harris, president of Hydro Inc., is in that camp. "While some imbalance will inevitably occur in general, the long-term benefit of establishing fair trade is efficient for global trading," Harris said.
The bipartisan infrastructure bill that passed in late 2018 is expected to spur activity in the U.S., particularly in water/ wastewater. The bill, which Trump signed in October, boosts federal water/wastewater infrastructure dollars from $2 billion a year to $7 billion a year. And the broader $1 trillion infrastructure bill promoted by both parties in the 2016 election cycle may have the best chance of passing this year.
"That the government recognized the issues in budgetary constraints that many of our municipal customers face [provides] hope that the increases will allow our customers to make the necessary improvements to their collection and treatment plants in 2019," said Jacqueline Boudreau, product marketing director at Crane Pumps & Systems.
Regardless of the specific prognostication, everyone who spoke with Pumps & Systems agreed on one thing: change is going to come. In the year ahead, which will certainly include technological advances and innovations, Proco's Lassas recommends that companies, "always be prepared and open minded about advancements in age-old designs. In our economic political arenas, change is always inevitable."
Issue