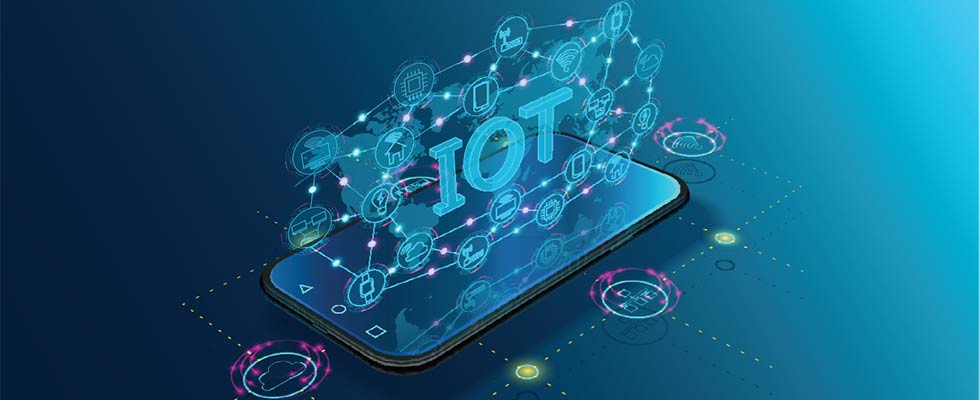 5 Ways IIoT Can Help Manufacturers
If management has been waiting until the time is right—or the pandemic is clear— to begin focusing on industrial internet of things (IIoT) initiatives, it is understandable. For a year or longer, times have been uncertain. But your company may be falling behind your peers.
Today, the concept of interconnected applications, equipment and technology is more than just an abstraction. Pandemic or not, the IIoT market is projected to grow to $110.6 billion by 2025 from $77.3 billion in 2020, at a compound annual growth rate (CAGR) of 7.4%, according to www.marketsandmarkets.com.
Moreover, a survey conducted by a solutions provider prior to the COVID-19 pandemic determined that 50% of the maintenance and reliability professionals who responded already had IIoT projects in the planning stages.
Earlier evidence of expected growth in the IIoT market came in a December 2019 paper from the Journal of Manufacturing Technology Management titled, "Customer Expectation From Industrial Internet of Things (IIoT)."
It notes how "the rush of technological change will consolidate the worldwide reach of the internet with more capacity, specifically to control the physical world, including the machines, industrial facilities and frameworks that characterize cutting-edge technology."
The paper's findings state, "The IIoT has the potential to provide a high level of synergies between the 4 Ms of manufacturing, namely, man, machine, material and method."
In other words, there's a lot ahead to look forward to, and we will get there.
Bridging the Digital & Physical Worlds
The IIoT is all about the connections between the digital (e.g., mobile devices and computers) and physical worlds (e.g., plant equipment and test equipment) and how they improve information exchange by enabling the two to communicate more effectively.
This capability has prompted technicians to expand the use of IIoT technologies in factories worldwide. The results are impressive: An SAP study found that organizations that implemented IIoT-enhanced systems were more likely to be industry leaders and "world-class" organizations. More importantly, they were more likely to have larger profits than similar companies that did not implement IIoT devices.
Turn Data Into Action
The beauty of IIoT devices is their flexibility. Users are finding ways to leverage technology in virtually any scenario where machines generate conditions that can be read and interpreted as data.
For example, vibration, temperature and/or power data from a critical machine can be captured automatically by sensors and sent to the cloud and a computerized maintenance management system (CMMS). It then immediately informs teams of an alert situation and potential failure.
Real-Time Data, No Matter Where You Are
Companies learned a great deal about remote working in 2020. For one thing, they discovered (or rediscovered) the ability to maintain business-critical machines with many maintenance and reliability professionals working away from the plant. As a result, technologies that maintenance organizations may have viewed as possible purchases for "maybe later this year or next year" are now regarded as more urgent.
As we navigate toward a post-pandemic environment, companies continue to seek solutions for monitoring asset health, managing teams and prioritizing maintenance activities remotely.
Users can apply that to the concept of remote monitoring. This approach uses IIoT technology to eliminate dependence on physical routes and operator input. It's about preferring meaningful data to big data. Remote monitoring provides the flexibility to send data to multiple destinations and prioritize work based on organization needs. And it has the advantage of leveraging real-time data.
5 Ways IIoT Can Help Manufacturers
At the manufacturing plant level, synergies between the "4 Ms" reflect the value companies are discovering as they implement IIoT devices that can:
1. Empower maintenance teams with semi-fixed and fixed sensors that are easy to install.
2. Receive faster knowledge of, and react sooner to, potential failures with alarm notifications sent to mobile devices.
3. Stay aware of conditions with the ability to view data remotely on computers and mobile devices.
4. Discover patterns and insights for machine health with real-time and historical trending information.
5. Perform more in-depth analysis and generate reports on equipment by exporting critical data.
 
Thanks to the internet and remote monitoring software, users can view machine condition data from across the planet. For example, devices that monitor vibration, among others, employ IIoT capabilities for pushing collected data to digital dashboards, human-machine interface (HMI) systems and email notifications.
That means plant managers, engineers, vibration analysts and technicians can check machine health from their computer or mobile device at home or in the office. This real-time data helps teams make decisions wherever they're working.
The future looks bright, but we're already making major headway.
Issue