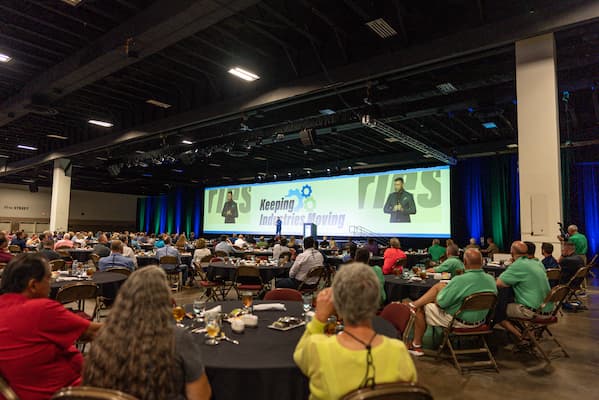 Emerging technologies, frame sizes part of motor hot topics at conference.
FORT WORTH, Texas - Attendance may have been down from past EASA conventions due to COVID-19 international restrictions, but those in the electromechanical industry were thrilled to see colleagues and customers face-to-face for the first time in nearly two years nonetheless.
EASA, which stands for Electrical Apparatus Service Association, could not hold last year's convention due to the coronavirus. Its last convention was held in 2019 in Las Vegas. This year, it was held in Fort Worth, Texas.
For the Pumps & Systems team, this was a chance to meet with editorial contributors and customers.
 "We expected attendance to be around 30% lower," said Linda Raynes, EASA president and CEO. "As we continue to process onsite registrations at this writing, we are thrilled with the turnout—especially considering most of our international members could not attend due to travel restrictions still in place. Everyone was very happy to be meeting in person, and that added a special energy to the event we could not have predicted. We're getting very positive feedback, which is great."
One reason attendance was lower this year was because of the lack of international attendees, as different countries have their own health regulations including, but not limited to, quarantining after travel.
"It's really nice to just get in front of our customers again just to see faces and talk to people and not have to do it over a computer screen," said Jason Putnam, marketing specialist at Inpro/Seal. "It's been really good for us."
Permanent bearing protection was the biggest topic of conversation at the Inpro/Seal booth, as that is a main focus for the company. Over at the GE Industrial Motors booth, Hannah de Jong said one of the company's big draws there was the ultra-vertical shaft motor. Many new products were on display from companies during the show.
"It's just refreshing," said de Jong, the company's marketing manager. "Definitely, this show just kind of re-energized everyone and it's made them more excited for the end of the year and of course for next year and also just that maybe we're getting back to normal."
Matthew Conville, technical support specialist at EASA, pointed out several talking points at this year's convention.
For one, medium voltage motors are starting to get smaller in frame sizes, and that should continue as their price points become more reasonable. Conville said that as we continue to see a rise in efficiency needs, the International Efficiency (IE)4 and IE5 machines will become more commonplace. These machines are typically permanent magnet or a reluctance variant design. These machines will take a much bigger place in the market in the future as they continue to go up in frame size and horsepower. Electric machines are also getting smarter.
 "We've all heard about the emerging technologies, but that's actually here right now," Conville said. "We're starting to see the drives integrated into the motors up to about 10 horsepower. This will have great benefits for end users by reducing installation time and costs. The IIoT (Industrial Internet of Things) devices for condition monitoring that's also starting to be built in, so I don't see that going away in the near future. I expect a much greater acceptance by end users in the future."
OEMs have adjusted to the legislation and demand for smarter and more efficient machines quite well, Conville said.
"In the near future I'd say it's going to be the end user market that will drive this demand for intelligent machines, and the supply chain is going to have to get used to these changes and make adaptations," Conville said.
Conville said he is excited about the trends the industry is seeing in intelligent motors. This can lead to higher system efficiency and sustainability. 
"I think our industry is an industry of people, so there was a large change in not being able to do face-to-face interaction," Conville said. "Everybody had to change to Zoom and that had a major impact on how we do business and the reliability of machines." 
This shift in focus to remote work will also help drive the remote monitoring systems on machines.
Conville is excited about the EASA convention in 2022. "I can't wait to see the international contingent [next year] whom we missed this year, and we're looking forward to a great 2022 convention."
The next EASA convention will be held in St. Louis, Missouri, from June 26-28, 2022.